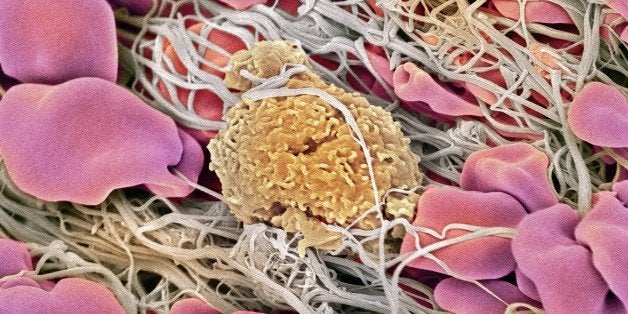 By Rachael Rettner, Senior Writer
Published: 12/19/2013 02:12 PM EST on LiveScience
A type of cancer treatment that directs the body's own immune system to fight cancer cells has been named as the "breakthrough of the year" by one of the world's top science journals.
The journal Science said today (Dec. 19) that research into cancer immunotherapy was the year's most groundbreaking scientific achievement, even though that research is still in its early stages.
Cancer immunotherapy is causing a paradigm shift in the way cancer researchers think about treating people with the disease, the editors of Science said. Instead of targeting the tumor itself, cancer immunotherapy harnesses the immune system to fight cancer.
"Cancer specialists are convinced that they are seeing the birth of an important new paradigm for cancer treatment," Tim Appenzeller, chief news editor of Science, said in a statement. However, Appenzeller stressed that research in cancer immunotherapy is still experimental, and not everyone who has received the treatment has been helped by it. "It's important not to overstate the immediate benefits," Appenzeller said.
One type of cancer immunotherapy, called T-cell therapy, takes a person's T-cells, a type of white blood cell, and uses genetic engineering to modify the cells' genetic code so it recognizes and targets cancer cells. In March of this year, researchers reported in the journal Science Translational Medicine that in a small study of five adults with acute leukemia — a disease often lethal in adults — three patients' cancer went into remission after they underwent T-cell therapy.
And this month, a larger study of T-cell therapy found that 45 out of 75 children and adults with leukemia went into remission, although some later relapsed, the Science editors said.
Another type of cancer immunotherapy works by "unblocking" T-cells so they are able to carry out a full attack. This is done through the use of antibodies, one of which is called anti-CTLA-4 (brand name ipilimumab), and another called anti-PD-1.
In a study testing anti-PD-1 in nearly 300 people with different types of cancer, tumors shrank by at least half in 31 percent of patients with melanoma, and 29 percent of patients with kidney cancer, the researchers said.
"For physicians accustomed to losing every patient with advanced disease, the numbers bring a hope they couldn't have fathomed a few years ago," Jennifer Couzin-Frankel, a reporter at Science, wrote in the journal. But researchers still don't understand why some people are helped by the treatment, while others are not. Future research may help answer this question, as well as make the therapies more potent, Couzin-Frankel said.
Copyright 2013 LiveScience, a TechMediaNetwork company. All rights reserved. This material may not be published, broadcast, rewritten or redistributed. ]]>
Related