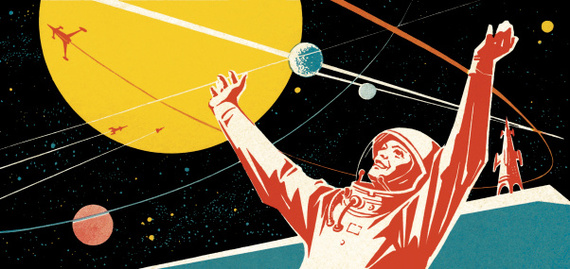 In 1971, President Nixon declared a War on Cancer and signed the National Cancer Act of 1971 . So why, 45 years later, is curing cancer the nation's new moonshot? What has happened in the intervening years to think this is now possible?
In his 1971 State of the Union address, Nixon boldly stated, "The time has come in America when the same kind of concentrated effort that split the atom and took man to the moon should be turned toward conquering this dread disease. Let us make a total national commitment to achieve this goal." In 1971, an estimated 3 million people were living with cancer in the US. Today, there are nearly 14 million cancer survivors. It is estimated that approximately 1.7 million people will be diagnosed with the disease this year, and nearly 600,000 will lose their lives. Part of the dramatic increase in these numbers can be attributed to better awareness of the disease and better screening methods, which are detecting more cancers. But many people don't realize that the greatest risk factor for cancer is age, and with the aging of 77 million baby boomers, the number of cancer cases in the US annually is expected to increase dramatically.
Since Nixon's declaration, we have seen tremendous strides in cancer research and treatment, including, most recently, the advent of immunotherapies, which was hailed by Science magazine in 2013 as the "Breakthrough of the Year." We are seeing more targeted therapies, less toxic therapies, and a wider range of second and third line treatment options when other approaches fail.
But back to the question, why now? For starters, as both the President and the Vice President have stated - this is personal. Last year, the Vice President lost his son Beau, age 46, to cancer, and in 1995 President Obama lost his mother to ovarian cancer. And as Vice President Biden wrote: "It's personal for me. But it's also personal for nearly every American, and millions of people around the world. We all know someone who has had cancer, or is fighting to beat it. They're our family, friends, and co-workers." At times, these kinds of personal experiences - and perhaps the great tragedy of losing a child - become the drivers and motivators to muster the will to accomplish great things.
And isn't it about time that our great nation take on this bold commitment? After all, we are at much greater risk of dying from cancer than from a terrorist attack, yet in 2013, the government spent $16.6 billion on counter-terrorism while allocating $4.9 billion to the National Cancer Institute. In discussing the State of the Union address with Medal of Honor recipient Col. Jack Jacobs (US Army, Ret.), he remarked: "Both goals are critically important to Americans and should be addressed with equal seriousness and diligence by the government."
Over the past several years, I always sigh in slight disappointment when I read the mission statement of the National Cancer Institute- "The mission and goal of the National Cancer Institute (NCI) is to lead the National Cancer Program and the Nation to eliminate the suffering and death due to cancer." To "eliminate the suffering and death due to cancer?" Is that the best we can do? Doesn't this horrendous disease deserve a more formidable foe? This mission statement doesn't begin to capture the magnitude of the impact of a cancer diagnosis on the patient and their loved ones. Newton's Third of Law of Motion states that for every action, there is an equal and opposite reaction, and the Cancer Moonshot may be just that. Isn't it time, as Vice President Biden says, to bring down the silos and commit in a bold way to progress, to collaboration and to a cure? And I was also extremely pleased to hear the VP say, "We will ensure that the patient community is heard - so patients and their families are treated as partners in care, with access to their own data and the opportunity to contribute to research." Elevating the patient voice and including patients at the table during this conversation will be paramount to its success.
We should take a moment to remind ourselves that there have been large efforts to accelerate research and innovation in recent years, including legislation introduced by Senators Kennedy and Hutchinson in 2009 and the 21st Century Cures legislation which was introduced in 2015. Perhaps we have reached a tipping point as a result of all of these efforts: major legislative pushes to invest in innovation, increases in NIH research funding, breaking down silos in the research community and the personal will to make a difference. Perhaps the time IS now. And perhaps we as a nation are in a position to leverage the cumulative efforts of the past 45 years to make this dream a reality.
Calling all HuffPost superfans!
Sign up for membership to become a founding member and help shape HuffPost's next chapter