For many, obtaining a 4.0 GPA seems like an almost impossible feat, requiring countless all-nighters, too many energy drinks and too little sleep. Well, this recent college graduate achieved just that while battling cancer.
Blake, who was diagnosed when he was 18 years old, said he had thought that he was close to beating the disease in that first year, News4Jax reported. However, a week before he hoped to return to school in 2010, he fell ill again. After several more rounds of chemotherapy, the treatments eventually stopped working and the cancer came back a third time. He says it was then that he knew he had to make the most with the time he was given, according to the Florida Times-Union.
"The future's kind of robbed from you, as anyone that has cancer, but especially a young adult because you're trying to start your life or go to school or start your career and figure out what's next," Blake told News4Jax, "so I've been forced to live in fast forward a little bit."
On top of graduating with high honors, Blake has also gotten married and started a foundation for adults with cancer, called "Live for Today Foundation."
The Jacksonville, Florida, native who continues to battle the disease still has other adventures planned. Though he doesn't know how much time he has left, he aims to write a book and record an album with his wife, according to the Florida Times-Union.
"You have to be positive. If you give up on what your dreams are and your aspirations, you really just give up on living," Blake told "Today." "And I just had to have goals and keep going and pushing for that graduation and things that I wanted to do before I was diagnosed, because without that, you just aren't living."
Related
Before You Go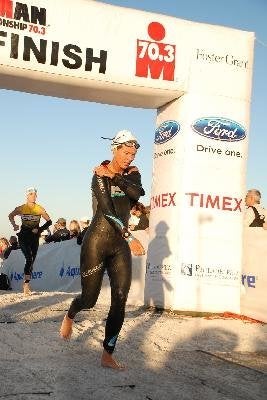 Sindy Hooper, Ironman Competitor And Cancer Patient
Popular in the Community