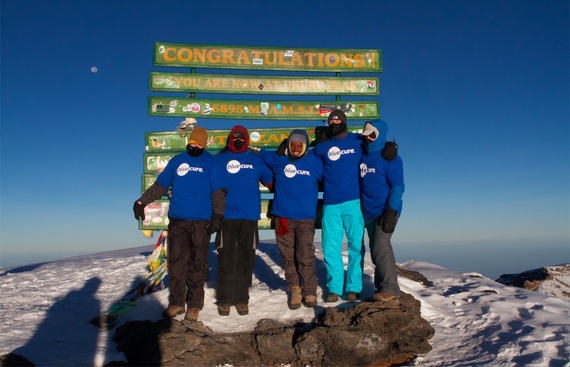 Recently my good friend Ethan Etzel and four of his friends climbed Mount Kilimanjaro in Tanzania, Africa. Reaching its 19,340-foot summit, they all put on Blue Cure T-shirts over their jackets and captured the moment with a very meaningful, symbolic and powerful picture, showing support and solidarity for all the brave people on a cancer journey.
Blue Cure is the cancer nonprofit I founded after receiving a life-changing, rare prostate cancer diagnosis at age 35. Ethan and his friends, in their 20s and 30s, have joined me as cancer prevention advocates. We all want to educate and empower our family, friends and co-workers with the life-saving message of cancer prevention -- of actions we can take now to save lives before a medical cure is found.
Cancer affects us all, indirectly or directly. A staggering 1 out of 2 American men and 1 out of 3 women are diagnosed with cancer in their lifetime. This year an estimated 1,665,540 Americans will be diagnosed with cancer, and 585,720 are expected to die. Sadly, it seems we've accepted this reality as our "new normal" and come to believe cancer is inevitable.
We also must examine the harmful chemicals lurking in almost everything: the air we breathe, our foods, body care and household products and our mattresses and home furnishings.
We don't have answers on the cumulative effect this has on us. Does this contribute to our cancers? Many doctors, researchers and advocates believe so, but we need studies showing definitive cause and effect. We need answers -- now.
We also need more men and women to engage in cancer prevention advocacy, demanding a greater allocation of funds from the National Cancer Institute toward prevention and control. Let's focus on root causes of cancers and take steps to eliminate them.
And let's be clear: Cancer prevention advocacy is not in opposition to continued research for better treatments and ultimately a cure. As my friend Margaret I. Cuomo, M.D., author of A World Without Cancer, says, "America has the funding and the brain power to invest in both cancer prevention and cancer treatments. It is time to make cancer prevention a priority."
February is National Cancer Prevention Month. I appeal to all decision-makers and influencers in government, education, healthcare, media and nonprofits to place a greater emphasis on cancer prevention. We can save lives -- now.
And again, a big thank you to Ethan Etzel, Joram Hadden, Micah Renfro, John Greenway and Fredick Shayo for inspiring me and others from the peak of Mount Kilimanjaro. Together we can raise our voices and shout from our collective mountaintop that real change is needed in our War on Cancer, and that means a greater focus on cancer prevention.
REAL LIFE. REAL NEWS. REAL VOICES.
Help us tell more of the stories that matter from voices that too often remain unheard.