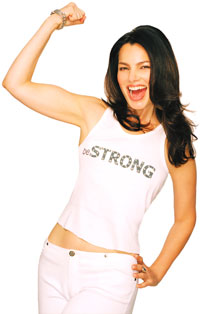 When I say "Cancer Schmancer," it's not to pretend that cancer isn't serious or deadly; believe me, I know firsthand that it is. "Cancer Schmancer" means "Cancer is not the boss of me!"
I got famous, I got cancer, and I lived to talk about it. It took me two years and eight doctors to get a proper diagnosis. You've heard of a second opinion? Try seven "second" opinions. Honey, I got in the stirrups more times than Roy Rogers! After two years of misdiagnosis and mistreatment, I discovered that I had uterine cancer. Fortunately, it is a relatively slow-growing cancer, so it was still in stage one. But I had to get a radical hysterectomy, which is not an easy thing to endure. Other women have it much worse; when you are misdiagnosed you lose precious time.
There are thousands of talented, dedicated men and women who work every day to find a cure for cancer, and God bless 'em. But cures are few and far between. In the meantime, we women must take control of our bodies, and put ourselves on the winning side of this battle.
Here's where my organization, Cancer Schmancer comes in. Cancer is most easily treated when it's in stage one of its growth, but during this stage its symptoms are often mistaken for far more benign illnesses. We all know that medical testing is expensive, and that insurance companies don't want to pay. But what we don't know is killing us. 80% of women with ovarian cancer are diagnosed in the late stages, and 70% of them die. Those numbers are crazy!
What's crazier is that when a woman goes for her basic gynecologic exam, nothing north of the cervix is looked at beyond the archaic and ineffective manual pelvic exam (still standard procedure even though it's been around since my Aunt Ida was a girl! Oy!). That's not because the technology doesn't exist; the transvaginal ultrasound is much more thorough. But insurance companies don't want to pay for thorough testing, and most women don't even know to ask for it.
The mission of the Cancer Schmancer Movement is to arm women with information so they can become better partners with their physicians, transform into medical consumers, and not remain helpless bystanders. Second, we are galvanizing women and alerting Capitol Hill that the collective female voice is louder and more powerful than the richest corporate lobbyist. We're also lobbying for legislation to increase diagnostic tools and cancer screening tests as part of basic health care.
So, help us save lives by ensuring that all women's cancers are diagnosed in Stage 1, when they're most curable. Lock elbows with me. Together, we can demand thorough testing from health insurance companies and vote for politicians who make women's healthcare a real priority.
The daughters of tomorrow will look back and thank us, the visionaries of today, for giving them a world in which no woman has to die of cancer due to late stage diagnosis.
Put on your sunblock, and get ready for a brighter tomorrow. Log onto www.CancerSchmancer.org today, and join our free membership. Together we'll make history while saving our very lives!