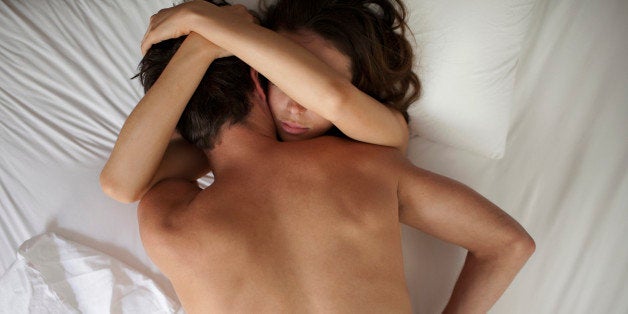 Whenever my boyfriend and I wanted to have sex during my cancer treatment, I'd ask my mom to tape down the plastic tubing that snaked from above my right breast and in through a vein leading to my heart. Despite the medical tape, I was paranoid that the "vigorous activity" would rip out the pheresis catheter creating a bloody geyser or that my head scarf would slip revealing my bald head, leaving the image of a naked, bald, bloody, steroid-bloated, cancerous freak show imprinted in my boyfriend's mind. I couldn't wait for the doctors to remove all of the plastic, rubber, and steel medical devices from my arm and chest, and for the anatomic colanders -- my liver and kidneys -- to filter the poisonous chemotherapy drugs out of my blood, so that my boyfriend and I could resume our fulfilling sex life.
But after almost two years with no sign of a primary refractory Hodgkin's lymphoma recurrence, my body still feels unfamiliar and our sex life remains uncharacteristically prude.
One obvious reason that I've shied away from rediscovering my post-cancer sexuality is that my erogenous zones have become waste management tools. Radiation treatments left me with an extremely rare and permanent condition called transverse radiation myelitis, a type of spinal inflammation that affects my lower body.
Because of the myelitis, an electric current makes my legs randomly spasm. From the waist down, my body burns like I'm sitting in a boiling hot tub. I walk with a cane, my right leg dragging behind me.
Worse, my bladder, bowels, and the surrounding pelvic muscles are paralyzed, so technically, I'm incontinent. I use self-catheters to pee, and administer nightly enemas and suppositories to drop a deuce.
I spend so much time focusing on gurgles, cramps, pills, pressures, and my bladder and bowel schedule that by the time my boyfriend gets home from work, I'm as exhausted as he is and in no mood for sex.
A less obvious reason for my ongoing disconnection from my sex life is that I still don't quite trust my own body. Before I got diagnosed, I rock climbed in Thailand and jumped out of an airplane at 15,000 feet in New Zealand; I taught high school English in Brooklyn and managed a restaurant in Australia. I relied on my body for these adventures. Although I did occasionally abuse my liver in college, in general, I thought I'd taken good care of my health. So I struggled to understand why my body would allow the truant cells to settle into my lymph nodes and proliferate in cancerous tumors.
While I've come to tenuous truce with my body, I still haven't been able to masturbate since I was first diagnosed. And now, as I try to reclaim my sex life I wonder: how can I expect to satisfy someone else when I can't even be intimate with myself?
I'm not alone in my struggle. Even after her eyebrows grow back and the pixie cut replaces headscarves, depression, sensitivity to touch, hormone deficiencies, and shame can mess with a survivor's mentality, not to mention her sex life. A survivor may be so worried about a relapse that her horniness doesn't register or, in my case, may register as a catheter-induced urinary tract infection rather than a rampant lady hard-on.
Recently, Sarah McGuane, 37, a stage IV ovarian cancer survivor and a member of a hidden Facebook page for young adult cancer survivors asked the support group,
"How long did it take before you stop assuming the worst every time you have an ache or a pain? Last week I had a backache and convinced myself I was going into kidney failure."
Response after response on the support group page voiced similar complaints. My boyfriend and I have overreacted and rushed to the ER twice in the past year for conditions that were easily cured.
McGuane writes, "I'm really hoping I will stop thinking worst-case scenario sometime soon."
It's taken me two years to understand that my cancer wasn't cured overnight or without help, and my sex issues are part of the same healing journey. It's taken self-reflection and patience for me to reestablish enough trust with my body to experience a satisfying orgasm with my boyfriend.
Just as I relied upon my mom to hook me up with medical tape and an oncology team to administer cancer treatments, I found a physical therapist to prescribe Pilates and Kegel exercises to help me cope with the sexual ramifications of my journey. I visit weekly group therapy to discuss my struggles and my hopes for the future. And if things dry out downstairs -- I'm post-menopausal -- then you better believe I'll seek hormone replacement therapy so that I can remain sexually fulfilled.
Most importantly, I'm learning to better communicate my needs to my boyfriend. Even though I thought that discussing our sex life would be a buzz kill, once I finally admitted my sexual insecurities, our intimacy became so much more satisfying. He reassured me that he doesn't expect me to perform like a porn star and that when we go for a roll in the hay, he doesn't see some cancerous troll but a beautiful woman. The sex gets more awesome every time.
And guess, what? Last night, I had an orgasm.