By Doug Ulman and Harold P. Freeman, M.D.
Sunday June 2 was National Cancer Survivors Day. It is worth thinking about how far we've come from the bad old days -- and also about a critical piece of the cancer-fighting equation that hasn't yet taken its rightful place at center stage.

In the early 1970s, the almost universal view of a cancer diagnosis was bleak: a near-certain death sentence. By the 1990s, a diagnosis could be met with a question instead of a statement -- an anxious, fear-filled question, to be sure, but still a question. And, now, we are on the precipice of yet another giant leap forward, where someone hearing they have cancer can more readily think not: "Am I going to die?" but "How will I live?"

This is happening because of progress on many fronts, not the least being cutting-edge treatment advancements. But one of the prime, while rather unsung, drivers of saving and prolonging more lives is the growing field of survivorship care. It demands our attention for many reasons.

We believe serving the 14 million Americans living now with or after cancer is as important -- and impactful -- as investing in research for future cures. Serving these people means helping them find the right treatment. Finding them insurance, if they don't have it, or better coverage so they can afford that treatment. Securing transportation to that treatment. Improving access to care so their cancer is discovered in Stage 1 rather than Stage 4. Helping preserve their chance to have biological children before treatment diminishes or destroys fertility. Helping them keep their jobs, be good parents, not go bankrupt, not be overwhelmed.

In other words, survivorship as a treatment discipline means going beyond just medical care to equip people to thrive today as well as they can, both during that fight and beyond it. It is treating the whole patient, the abnormal cells spurring tumor growth as well as the day-to-day challenges that accompany them. It is thinking of someone with a cancer diagnosis, whether on day one or five years later, as a survivor, not a victim.

Once upon a time, this kind of holistic support didn't exist. Cancer patients were diagnosed and then sent on their way to wander alone through the complex puzzle of their disease and our health care system. Expert navigation simply didn't exist.

This is changing. But survivorship care is not yet as rooted in our health care ecosystem -- our doctors' training, our payment systems and our patients' experiences -- as it must be.

Why must it be? Simply put, because it saves lives: Study after study has shown that paying attention to quality of life helps people live longer. Also because cancer affects an alarmingly large chunk of our population -- 18 million people are expected to live with the disease in the U.S. by 2022. And finally, because with the benefit of better medical treatment, people are living longer with a cancer diagnosis. They now often carry the threat of recurring illness -- and the difficulties that come with that -- for many years, even a lifetime.

We both can speak personally to the life-saving impact of survivorship care. One of us had a hand in creating the field as a young cancer surgeon in Harlem, after noticing that poor, uninsured or underinsured people were discovering their cancer too late. Their lack of access to even basic health care prevented them from having a fighting chance of surviving the disease. To these people, advances in medicine were irrelevant if they couldn't afford the treatments that resulted. Awareness of this simple, yet deadly, injustice led Harold to create a patient navigation program aimed at making cancer screenings and treatment more accessible in Harlem. His model is being copied by health care organizations across the globe.

Doug faced cancer three times during his sophomore year in college. He now leads a foundation that has built on Harold's patient navigation model and been behind a broader embrace of survivorship care by the cancer community. Since its inception in 1997, the LIVESTRONG Foundation has provided free cancer support to 2.5 million people, shepherding them through the financial, physical, emotional and practical hurdles that accompany a cancer diagnosis and improving their health outcomes as a result.

What we can also both speak to personally is how much more progress still is needed. Medical professionals need better training, so instead of treating cancer in silos where prevention, treatment, remission and palliative care are handled successively, they learn to fully marry medical care with support for life's daily burdens. The standard of care should also be for every person diagnosed with cancer to get a patient care plan for navigating life through and beyond the disease.

And finally, the public must embrace the value of survivorship care so the health care system feels pressured to reimburse cancer support and patient navigation. Health care providers now have limited ability to address practical or emotional challenges, as there is no way to be paid for doing so.

Together, we need to change our definition of victory over cancer, from merely keeping people alive to actually helping them live. With 4,500 new diagnoses each day in the U.S., we owe it to ourselves, to loved ones who are impacted by this shattering experience and to society at large to support the evolution taking place. Today, in recognition of all those inspiring and fearless survivors, let's have that debate.

Dr. Harold P. Freeman, M.D., is founder and CEO of the Harold P. Freeman Patient Navigation Institute, past chairman of the U.S. President's Cancer Panel and a LIVESTRONG Foundation board member. This week at the American Society of Clinical Oncology Annual Meeting, he is being awarded the LIVESTRONG Leader in Oncology Award for his work as the founder and pioneer of the globally known concept of patient navigation and as an inspiring and engaging champion and Foundation ally in the fight against cancer.

Doug Ulman is a three-time cancer survivor and president and chief executive officer of the 16-year-old LIVESTRONG Foundation, which provides patient navigation and support services to those affected by cancer today and is widely credited with helping to change the national conversation about the disease.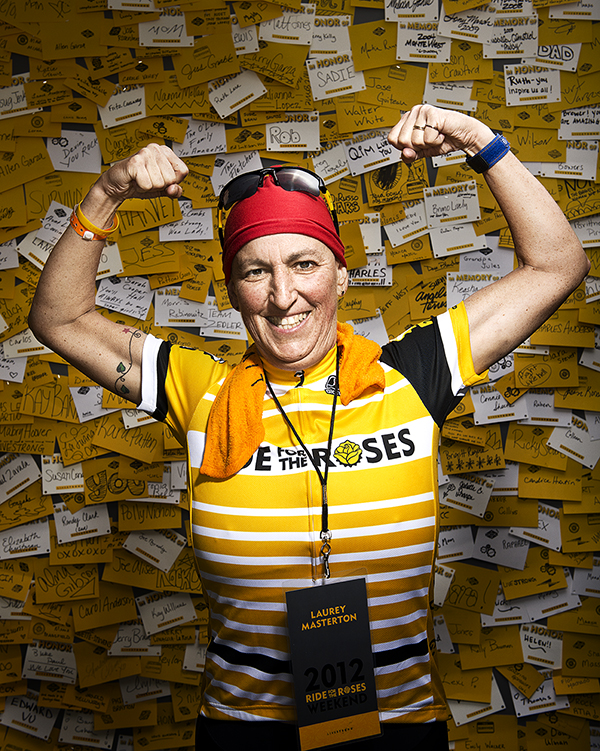 Laurey Masterton, an ovarian cancer survivor from Asheville, N.C., is one of the 14 million Americans living with cancer today.
Related