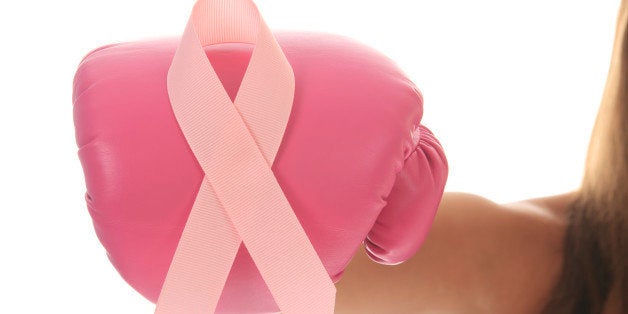 Cancer is something that I did not worry much about. Heart disease and diabetes ran in my family. They concerned me. Cancer is like grief. You do not completely understand its stronghold until it knocks on your door. I had an intimate relationship with grief. A year after my father's untimely death, my grandmother passed. Grief engulfed me like a flood. I felt sympathy for cancer victims, but not until last year did cancer become personal because three people dear to me were diagnosed.
In early 2014, my godmother was diagnosed in her 70s. She kept the diagnosis from me until after finishing chemotherapy and the prognosis was favorable. The family did not want to alarm everyone. A fear came over me. What if she had not survived? I had postponed visiting trying to "make it" in NYC. My father's death was very sudden and I did not have a chance to say goodbye. That is something that I regret deeply. I do not want to experience that type of regret again. It makes grieving that much harder.
In the summer of 2014, while the rest of Chicago was celebrating the magnificent exploits of the Jackie Robinson West Little League Champions, my aunt revealed her breast cancer diagnosis. She is in her 50s. My mom's younger sister was always vibrant and full of life. She had more energy than the Energizer Bunny and her presence radiated a room. This could not be. My mom was afraid. Not only was I afraid for my aunt, but my mom also. My mom spoke to her sister daily and saw her weekly. The thought of losing my aunt was heartbreaking enough, but the effect that would have on my mom was unimaginable. I felt helpless in NYC to comfort my aunt and mom.

My aunt's surgery went well. Within days she was back to her usual self. It was almost as if she never had the disease. Unfortunately, at her check-up she received disconcerting news. My aunt refused to speak about her check-up or doctor's concerns. For weeks, we were in the dark on her post surgery prognosis. A friend mentioned a support group for families of cancer victims. I reached out to find out what my mom, sisters, and I could do to be supportive to my aunt, even in her silence. After another doctor's visit, additional tests showed things were not as grave. She started chemo the following week and still is receiving treatments weekly.
After my heart returned to a normal pace, I received an email in October from a friend, Jenny, in her early 30s. I met Jenny after graduating law school. She is a pianist and music composer. We keep in touch via email. Our conversations were not as frequent once she became a mother. However, there was an unusual lull since the last communication. This email sounded ominous.
I'm writing to tell you some rather unpleasant news... there's no good way to say this, but I was recently diagnosed with breast cancer. I had a lump last April that was diagnosed as a benign fibroadenoma, which is something that happens in women in their 20s and 30s. By September I decided on elective surgery to get it removed. I am so, SO glad I decided to get it out, because it turned out to be cancer!!
She has since started chemo. She is the only girl in a family of six siblings. In solidarity, her brothers shaved their heads. When I asked her how chemo was progressing she responded, "There's a lot of similarities to being pregnant, only I'm getting life sapped out of me instead of bringing forth new life." How poignant!
Jenny is a wife, mother of a beautiful two year old, and music teacher. She is responding well to chemo. A change in employer and insurance has coverage in question. Friends and family set up a fund to help cover costs. Before Jenny's diagnosis, she did the musical score for a friend's boxing documentary, Fighter's Room. It won Best Documentary Short at the LA Film Festival. Once she was diagnosed, the filmmaker decided to donate proceeds from the film to the fund.
I want to encourage women to be vigilant about your health. We are caregivers and nurturers. However, you cannot look after your loved ones if you are not here. Your health is your number one asset. We search for the best vacation, schools, and food to eat, but do not use the same diligence when it comes to our health. A second opinion is your best friend. Why go bargain basement when it comes to your health?!
Be attentive about your health and get annual physicals. It was not until I had my first mammogram that I realized I was improperly performing my self breast examination. As I watched the video and then the nurse show me how to properly check myself, I yelled in frustration, "This would be much easier if they simply taught men. We'd get 'breast exams' nightly and early detection would increase." Humor aside, we are ultimately responsible for our health. Do not neglect that uh-oh feeling when your body is not responding normally. Go see a health care professional. It may mean that you cannot shoe splurge, but isn't your health worth it?
You are worth it. Your loved ones would agree.
Support HuffPost
The Stakes Have Never Been Higher
Related
Popular in the Community