When your child is diagnosed with a rare, serious disease, the monumental task of finding the right treatment becomes your number one priority. In some cases there are proven treatments that work most of the time and the path has already been forged. But in many cases, like the case with my daughter who has an extremely rare type of tumor, there are no known treatments that work.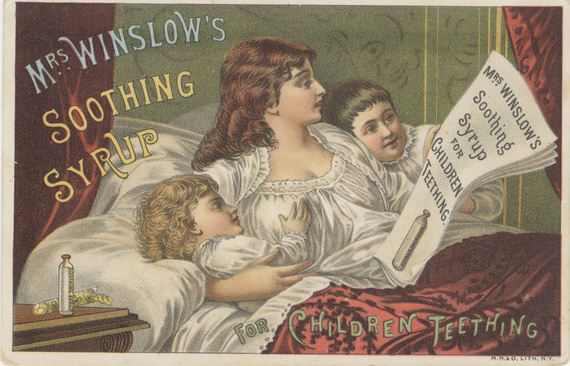 Mrs. Winslow's Soothing Syrup killed many children each year due to overdosing on morphine, the top ingredient (which wasn't listed on the label.)
I get that I can't make it better, but the fact that no one can make it better is hard to grasp. As much as I pray and beg and hope that there's something or someone out there that can cure my child, the reality is frustrating. There is no well-traveled path filled with clinical studies and FDA-approved treatments that her doctors know will work.
When there are no precedents set for treating a disease, when the standard treatments don't apply, when you are faced with monumental decisions like surgery to remove an organ, or a limb...Well, you'll do just about anything to save your child or to save that piece of them that may be lost. Desperation is part of this story -- fear, doubt, helplessness, all part of it.
And swirling around infusing everything with dark despair, is the perpetual feeling of failure. It's a constant hum of: I can't make it better. I'm not doing enough. My child will die because I can't fix it. This is a powerful hum. It leads us down very desperate roads.
But as a parent, I have a huge responsibility to make sure I don't do more harm than good. The physicians that treat my daughter share this responsibility. Together we form a team with the singular goal of helping my daughter get better or, if that's not possible, living her life to the fullest for as long as possible. My daughter's doctors are all extremely open minded -- within the realm of what they know -- to incorporating our deepest wishes for her care into the most effective treatment plan possible.
I don't talk about a cure anymore not because I don't want one, not because I don't lie awake at night and dream about a magic pill, potion or plant that will shrink the tumors and make them vanish in thin air, but because that road leads to desperation, to despair, and to the very real possibility of doing more harm than good.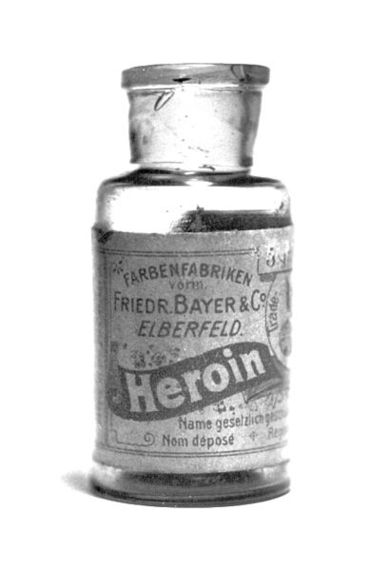 Bayer promoted heroin for children with coughs, colds and "irritation" as late as 1912.
We have made a choice, for now, to let the physicians lead, and to walk the path of Western medicine carefully but with confidence. We aren't blind followers. We are always informed. We ask questions, send the doctors research, and weigh the pros and cons of every possible treatment option. But, at some point we have to let go and have faith in the doctors because we're not doctors ourselves. They run this show because I don't understand the complexity of how cancer happens, and how drugs stop it from happening, and why my child's body seems to be turning against itself.
I know this isn't good enough for some people. I know people mean well. I love our support system and have made the decision to keep many people informed about my daughter's health, but when someone emphatically promotes a nonstandard treatment (herbs, oils, juice fasts, etc.), it throws me into a tailspin of doubt. It lets that dark despair in.
It is particularly painful to hear miraculous stories of people who have been cured of their cancer -- like dangling food just out of reach of someone who has been starving for a long, long time. But the reality is that there's no proof anything will help. The miracle cure may do more harm than good and my daughter's medical team doesn't endorse the majority of these remedies. The issue is so complex. It's impossible to measure doses or know exactly what ingredients are in any given alternative remedy. It's impossible to incorporate many natural "immune system boosters" into her treatment plan because she is on anti-rejection medication that compromises her immune system.
It's already difficult for us to figure out what to try or not to try among the known treatments for cancer -- the ones with actual studies and documented success stories. But when someone hints at the promise of a magic pill, the one that will cure her, the one that we absolutely must try, we are faced with the more-harm-than-good dilemma all over again.
Each and every time this happens, the implication is that I'm not doing everything I can to save my child.
Each and every time this happens, I am reminded that if I fail at this, I fail spectacularly, and with devastating consequence.
There's a reason that drugs are regulated in this country -- it's because everything before the FDA was created was essentially an experiment (not that the FDA is perfect, but at least it's something).
The best way to offer support to a family with a very sick child is by asking what they need. Then really listen to the answer. Some people want information on alternative treatments. Some people want a combination of both main stream and alternative treatments, and some people just want prayers, hugs and healing thoughts.