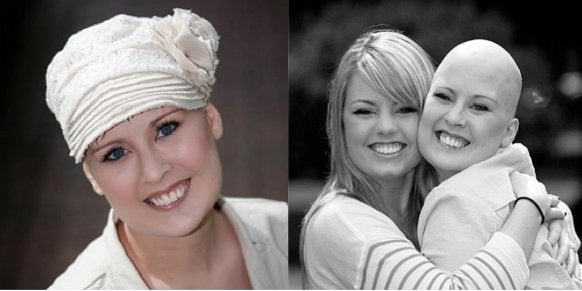 We met on Twitter. Liz had been following my posts for months and finally found the courage to reach out. Cyber friendships are common for me, but when I got her message, I wasn't sure what to do. We emailed. We chatted. We became virtual friends. I gave her advice and I listened. After hearing her news, I realized we needed to connect in person.
I flew up to Portland, picked up a rental car and checked into a cheap hotel. Soon, I would meet Liz and her dad in the antiseptic-smelling lobby. I put on lipstick, grabbed my room key and rode the elevator down several floors with a couple of love birds. Liz and her dad were sitting in the reception area. They mirrored their Facebook photos. Liz smiled and her dad, who is a fireman, gave me a tentative yet heartfelt hug. At 21 years old, Liz is facing her fourth bout with cancer. She has had bone cancer, two forms of breast cancer and is now fighting leukemia. In fact, she is having her bone marrow transplant today.
My journey with Liz, Rod and the rest of the Rowan family started when Liz and her twin sister Julia were 4 years old. At the time, their mother, Beth, was featured in a documentary I co-produced about breast cancer survivors. That was seventeen years ago. Two years after the film was made, Beth passed away.
Over Mexican food in a strip mall Liz explained, "I watch the documentary when I can't remember her voice. I go back to it for comfort and like the scene of her making peanut butter sandwiches." It was a small moment in our film, but a large moment in Liz's memory. Rod shared, "the girls didn't watch the film often but when Liz was first diagnosed we watched it again and it put things in perspective."
At 16, Liz had her first bout of cancer. At 18, Liz tattooed a phrase her mom said in the film, "can't stop living" on her torso. By 20, her urge to share her story grew and she found me on Twitter.
Over lunch, we sat in the small booth and talked about life. Liz showed me her tattoos and we looked at pictures of her sister, Julia, on her iPhone. I said we came together because of random connections but her dad disagreed. "I learned from my law enforcement days there aren't many coincidences. If someone is standing with a screwdriver and a car window is broken, chances are the two are connected. When you meet someone, things aren't so random," he shared.
Liz told me the story of her most recent diagnosis. "I was heading to a country bar in Portland to celebrate my 21st birthday. We were going to ride the mechanical bull. I was almost in the bar, but I forgot my cash in the car and went back to get it when I felt my phone vibrating," she explained. "It was a blessing, if I was inside I don't think I would have felt it. A lab tech was on the line, 'your platelets are at seven and your labs are very abnormal. You either have internal bleeding or you're autoimmune. You need to get to the hospital right away for a transfusion.' I hyperventilated a bit, gathered the troops and headed to the hospital a little freaked out," she explained.
As my food grew cold, Liz told me how earlier in the week, she had been conducting research on the Internet and had blood drawn that day because she had been feeling tired and had strange bruises on her knees. "The next couple of days, of course my brain was thinking the worst and everyone was walking on egg shells. Dad wasn't really saying anything and then we had this moment; we were crying, hugging and we were really scared," she said.
Rod nervously swirled his fork on his lunch platter, "I want people to know how amazing Liz is and our story puts life into perspective. When we share, people take action. They donate blood, maybe give a couple of bucks to a homeless man and they become more motivated." He added, "When you go through such a struggle at some level you want to share. Here's our story. Here's an amazing person. That's what this feels like, but it isn't soup yet."
"It's been tough. Over the years, I've tried to build a support network for Liz. I remember leaving the Ronald McDonald House when Liz was a teenager and I saw a girl with a math book and said, 'Are you in high school? Here is my daughter, you two need to be friends.'"
"My friends are great but sometimes it is hard to relate to them. I blog and post on the Internet to find other young people with cancer. I have scars all over my body and you can tell I've been through something, but somehow sharing makes things easier," Liz said.
Her dad added, "when you find other people going through cancer, you don't have to explain drug A or drug B and you can emotionally understand each other."
"It is hard to be 16 or 21 and have cancer," Liz continued. "When I lost my hair, people treated me differently and didn't know how to act. It was like I was a delicate flower that nobody wanted to pick. When I'm in the hospital it feels like I'm alone in a hole in the ground. I don't want anyone else to feel that loneliness. That's why I share my story." On her website she posted, "I feel like people are ready to put me in the ground. I am not going down without a fight. I am not dead yet. I will fight until my heart stops beating. I will not give up to this disease."
Liz also told me about an article on her that appeared in a local paper, "an elderly man read the story and emailed, 'keep your head up, you're so strong and don't worry about your future husband. He won't see your scars. My wife has MS and I still love her the same.'" Liz smiled, "The email touched my heart. I know some day a boy will come along. The email made me happy."
It was obvious how much Rod loves his daughter. He listened to her every word, never interrupted and often touched her hand when she spoke. That said, he admitted the two have had struggles. "Liz has a lot of support when she has cancer. Often I'd push because I wanted her to move into 'had cancer.' I didn't want her to sleep till noon. I wanted her to get a job. I wanted her to pay her car insurance. I kept trying to tell her no one else would do it. Now, it's not a matter of if she'll have a transplant, it's when."
After I returned home from the short trip, Rod sent me note, "the other day I was in the back of an ambulance racing to the hospital at 90 MPH holding an oxygen mask to a woman's face so she could breathe. For a total stranger, I'm able to hold her in this world, yet for my own daughter, I'm only able to nestle her into the crook of my shoulder and tell her she is loved." He continued, "I can't imagine we lived this life just to have it be another day at the office. Just by virtue of the numbers, it is not a normal existence and we're not a normal family. There's got to be a pearl out there somewhere and I'm going to help Liz find it."
Liz is getting a bone marrow transplant this week. Soon, she will live "in a bubble" for three months and her sister and roommate will be her caregiver. She lives in Vancouver, Washington and can be found on Twitter at @lizrowan1. She recently posted on Facebook, "Happy early Father's Day to the dad that does it all! I love him for everything he has done. I love you dad." Please Stand-up To Cancer (SU2C) and share your support by Tweeting, posting or sending Liz your thoughts at @lizrowan1. You can also read her blog at http://lizrowan.blogspot.com/.


Porter Gale is a writer, speaker and marketing consultant. Her first book Your Network is Your Net Worth will be published in 2012.
Popular in the Community