I have a confession. I'm so grateful I got cancer. There, I said it. It's confusing to confess something so morbid, but as my year cancerversary (Feb. 14) makes its mark, I realize that despite the pain, poking, prodding, and discomfort, this year was perhaps one of the most important of my life. Difficult -- yes. Meaningful -- absolutely.
Upon the moment of my diagnosis, I knew this would be a year of transformation and transmutation. I was not naive to the barbaric nature of what I knew of the disease and possible treatments but chose to see it as a love journey utilizing all of the tools in my personal growth and wellness toolkit I had acquired over the years. I encouraged friends and family to stay away from terms of battle, fight or poison and chose to see all the procedures and treatments as light and love. Naive, perhaps, but with this intention came the gift of being present and the connection to the deepest part of myself. That place where fear, judgement, anxiety, and uncertainty transmute to love, acceptance, compassion and faith. I witnessed as my "ego," which appeared to control so much throughout my life was being pushed aside as my spirit, lead by surrender began to take hold. Vulnerability became the norm and grace my trusted new confidant. The juxtaposition of love vs. fear became apparent in everything I was experiencing.
Early on, a dear friend and gifted photographer, Romy Suskin, said she would like to document the journey. The goal was no goal -- a first for me. My main priority was I just wanted to capture the essence of where I was in the given moment. We said we would mark the major milestones -- before my surgery (bilateral mastectomy), after the six-month chemo regimen started, and then a final session once I got the "girls" in.
Our first session was a strange mix of serenity and panic. It was the day before I was leaving for my surgery in Houston at MD Anderson. I had just returned from my cousin's wedding, and it was a bittersweet send off, as my entire family ushered me with well wishes, while the unspoken loss of so many family members taken from cancer hovered amongst it all. I can remember feeling worried, confused, frozen. I was in uncertain territory where prognosis was not known.
Our second session was in stark contrast. I was almost giddy. I had begun stripping down the layers physically and emotionally, and I was discovering an authenticity in my spirit that felt so innocent, tender, and joyful. I was awake for what felt like the first time in my life.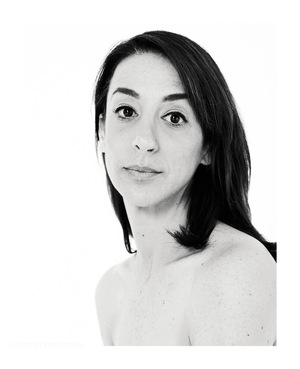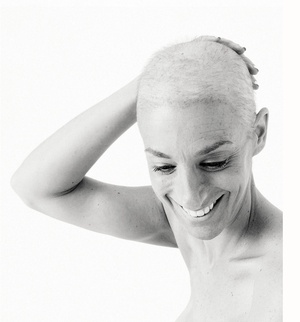 Our third session is yet to be scheduled. It marks the stepping forward, and I admittedly am not quite sure how to do that.
But I know it starts with embracing that not knowing, honoring the unbelievable journey, and celebrating perhaps the biggest milestone to date -- that of completion of the surgeries and treatments. It means taking pause, checking in, and listening. It means forgiving myself and others when I realize that old patterns and behaviors no longer work. It means continuing to be brave and express myself even in the most vulnerable moments. It means nourishing and taking care of myself not because of the cancer, but because I love myself and deserve the best. It means letting myself shine and celebrating the milestones of life -- however monumental or miniscule. It means allowing myself and others the freedom to be who we are. It means loving and being loved. It means surrendering to it all.
As grateful as I am for my year with cancer, I'm even more grateful this chapter has come to a close. I could not have done it without the unbelievable support of my family, friends and co-workers. The opportunity now exists in being able to enjoy the gifts of this past year, but without cancer as the catalyst. Sure there will be residual realizations, insights, moments of panicked symptomology, and follow-up appointments. But for the most part, the completion is here. I'm medically "free from evidence of disease," and I'm proud of who I have become in the process. In many ways, it is fitting that my cancerversary falls on Valentine's Day, for it marks the ultimate love story of all -- that with myself.