Candace Collins was formerly an entrepreneur who sold her stake in a successful chain of frozen yogurt restaurants to become a poker pro. We spoke to her to discuss her foray into professional poker.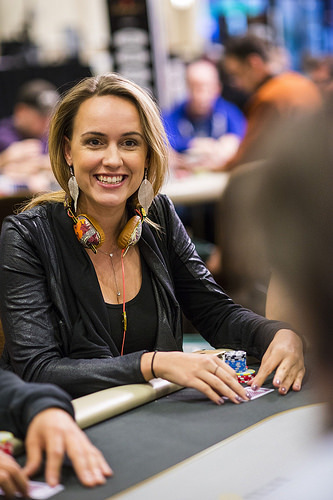 S: What were you doing before poker? How was the transition to playing poker professionally?
C: I opened 6 Frozen Yogurt shops in Northern California and was part-owner. In 2013 I sold my shares in the corporation to focus on poker full-time. Before that I supervised a staff of 40 criminal investigators for a national background screening company.
S: Is it difficult getting sponsorships in Poker and is that part of your profession?
C: A dream of mine is to get a corporate sponsor that agrees with my personal values. I would love to work with a company that respects my talent and likability, not sex appeal. I don't find it difficult to gain sponsorships in the poker community, I just limit myself with opportunities because of my moral compass.
S: Do you pay your way into all of your poker tournaments?
C: In some events, yes. In most I do what is called in the poker world "selling my action." This gives fans of poker the opportunity to invest in my tournaments, giving them the chance to earn a percentage of my winnings. I am currently using a platform called YouStake to sell my action, anyone can join.
S: What is the most challenging part of playing Poker?
C: Competing with the brilliant minds of poker professionals. I've been fortunate to have several discussions about hands and strategy with literally, the best players in the world. I am constantly striving to be at their level.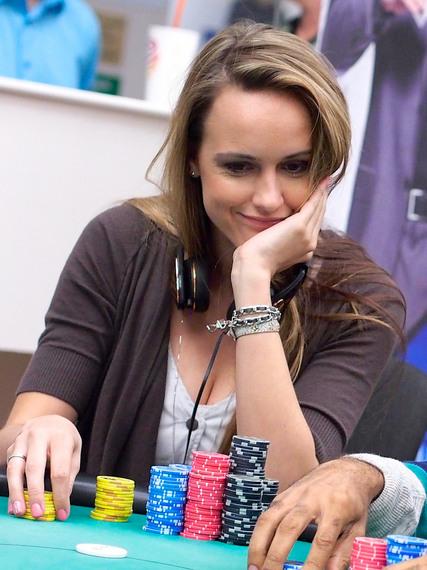 S: What are your goals for 2016/2017?
C: To play more European poker events. I played my first France Poker series in Monaco, which was incredible. That series was a preliminary event for the PokerStars, European Poker Tour (EPT.) I will also continue to follow the major U.S. tours in constant pursuit to win a trophy and title.
S: Is it difficult being a woman in Poker?
C: I have no problem with it. The vast majority of players are welcoming and respectful to me. I hope to see more women join in on the fun!
S: Do you remember any particular bad beats?
C: Honestly, I don't remember bad beats. I do remember situations where I could have made different decisions in important spots. For example, in the 2015 World Series of Poker main event middle of day 2, my gut told me my opponent had AA but I lost my stack with KK. I could have avoided losing my chips to him, but I didn't go with my gut instincts. It was far too early in the tournament for me to take such a risk. Another one that sticks with me is when I bubbled the Cal State Championship at the Commerce Casino with JJ a couple of years ago. It was kind of a weird situation the way it ran out but I just remember thinking I could have played pocket Jacks differently on the money bubble and perhaps avoided risking my tournament life.
S: Who is your poker idol?
C: Daniel Negreanu. When I first started taking interest in the game of poker, I was 18 years old (I'm 29 now.) I had no idea how to really play the game. I just remember watching Poker After Dark and other various TV shows with him on them. To me, he was the most entertaining and I respected his poker style. At that point I printed poker rules off the internet, reviewed a lot of his final tables on YouTube and bought his book. Once I was transitioning from online to live tournaments I trained on his Poker VT site a few years later. He has influenced and helped me so much in my poker career. A great career moment for me was spending a day playing against him in the 2015 Bay101 Shooting Star event.