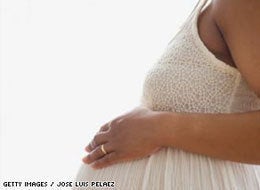 Here's a thing Kobe Bryant will never be asked to address: why did the birth of your child have to coincide with the commencement of the NBA season?
The announcement that Candace Parker, the Associated Press female athlete of 2008 and the marketing face of the WNBA will give birth this spring required statements from both the LA Sparks ownership and the WNBA league office.
The league has been hanging on by a thread for a number of years now and it has seen franchises tumble into the financial abyss. Parker brought a youthful presence and a talent as big as any ever seen in women's team sports. But she's only played one season for the WNBA and it appears there will be an absence of some undetermined length.
They won't admit they are concerned. The closest anyone came to making it sound as if this was an inconvenience or a blow to the league's growth plans was a statement from Kathy Goodman, an owner of the Sparks. as reported in the Los Angeles Times of this date.
"My first reaction was to just shake my head. We're inured to this by now so I guess I thought, 'Oh, yeah, she's having a baby. Yeah, of course.'"
Her reference to being "inured to it by now" arises from the pregnancy of the former face of the Sparks, Lisa Leslie whose good news was announced on the same day that Goodman and her partner Carla Christofferson bought the team in 2006. Leslie missed the entire 2007 season.
She had to withstand questions regarding her loyalty to the team but understood why others raised those issues.
"Your job is second... I have planned accordingly as best I could. I took everyone into consideration."
How sad is that? She was 35 years old and married. She had given the previous decade to helping keep the WNBA alive and being a glowing ambassador for women's professional sports. But she had to account for the most personal of decisions and be concerned that she was somehow letting down her fellow athletes.
WNBA Commissioner Donna Orender was more positive in her approach to the subject of Parker's pregnancy than Ms. Goodman:
"She's a phenomenal athlete who should rejoice in this next stage of her life. "
Of course the fact that Parker's baby is rumored to be due in May gives the league hope that she will zoom back into shape and hop onto the court, assuming of course there are no complications. That will be the next hot question up for debate. Will she take two months or six weeks? The Sparks first game at home is June 6th.
I understand that she has a job to do and in a team sport, this kind of thing can have implications for more than just her. But as I said up top, no male athlete has to account for his child birth decisions other than whether he'll miss a game or two to be at his partner's side.
Women who play team sports have to be resigned to the fact that their real lives are always seen through the prism of how their choices will affect their job responsibilities and the livelihood of their team. In Parker's case, the financial health of an entire league is affected. That's got to be tough.