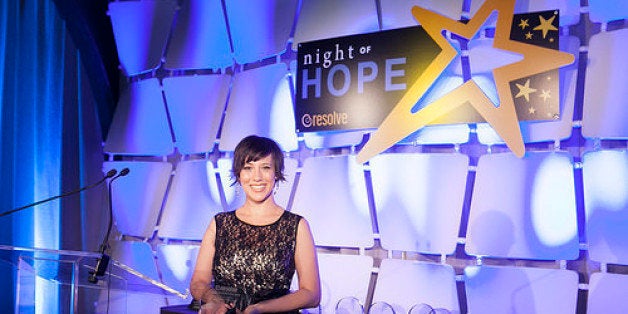 As we encourage women and men struggling with infertility to share their stories, I wanted to reach out to one of RESOLVE's volunteers, Candace Wohl. Candace leads a RESOLVE support group, which are either professionally-led or peer-led groups that help those struggling with infertility feel less isolated, empower them with knowledge and validate their emotional response to the life crisis of infertility. After six years of trying to conceive through various infertility treatments, Candace and her husband Chris welcomed a baby girl in June 2014 through gestational carrier surrogacy. During their long journey, Candace and Chris started a blog to share their story, and were also approached by MTV to be featured in an episode of the "True Life" documentary series.
Candace and Chris's story touched many in the infertility community, and they continue to support others through their blogging and support group leadership today.
Barbara: You chose to go public about your infertility. Why did you decide to tell your story? Who did you tell?
Candace: Three years prior to going public about our journey, my husband and I did not open our door to anyone. I felt ashamed, broken and like less of a woman. I did not have knowledge about support groups or infertility resources, and ultimately, the weight became too much to bear. After continuously fielding and dodging well-intended but uneducated questions, I told my husband, "There's got to be other couples who are experiencing this."

We decided to start a blog, Our Misconception, (with no blogging experience) and used the platform to boldly announce our infertility. The blog was how we connected with others struggling with the disease. We started the blog as a couple, particularly because of the barriers to communication we faced during our "dark ages." We knew if we wrote a blog from the male perspective too, we would help not only other men, but also their female counterparts.
Barbara: Why did you choose to blog instead of post on Facebook or another form of social media?
Candace: We chose to blog because for us, it's easier to put our thoughts on electronic paper and to educate, which is our main driver. Sometimes, when you're telling people in person about what you're going through, it doesn't come out the right way. We had more control through blogging.
Barbara: What kind of response did you receive?
Candace: We're positive people, but it's hard not to get beaten down. So, we wanted to maintain positivity in the blog and instill it in others. Our motto is to keep moving forward and if you keep that up, you're not going backwards. Our blog opened doors to so many things, especially receiving messages of support and thanks from readers. MTV stumbled across our blog and approached us with a show concept for their True Life documentary series.
Barbara: And you were RESOLVE's 2014 Hope Blog recipient! You also lead a RESOLVE support group in Virginia. What has your experience been with support groups?
Candace: Honestly, I was terrified at my first meeting, especially sitting knee-to-knee with other women in the local area talking about the same feelings. What if I knew them? I had so many fears and reservations. It ended up being different from all of my expectations. There are so many women there to support you, and I found peace in that I can give back to others.
Barbara: What is your advice to prospective support group attendees?
Candace: It's important that you are your own advocate. You are able to learn from others, receive resources, and people are there to help you at the beginning stages. There is going to be someone in that group who has been through the journey, or knows someone who has. It's comforting, empowering, and helps you feel less alone.
Now that I have a daughter through surrogacy, I still continue to attend support groups, blog, and participate in advocacy work. After experiencing infertility, people tend to wrap up their experience, put it back in a box, and never open it again. People forget their journeys, and it dishonors your struggle. I feel that I was gifted this journey, and my lesson in life is to help, support, and educate others. I don't want my daughter to have the same struggle I experienced.