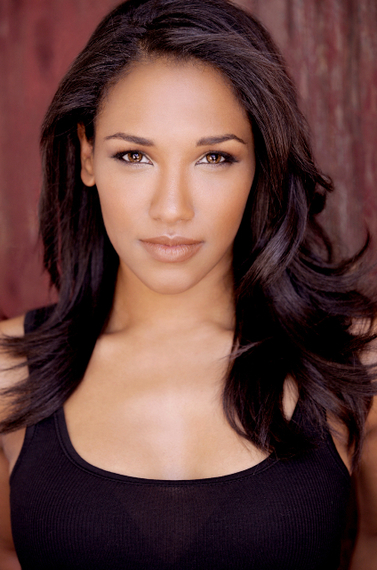 Candice Patton is Iris West in The CW's series The Flash. Follow Candice on Instagram and Twitter @candicekp and on Facebook at facebook.com/candicepatton
It's hard not to love Candice Patton. I tried and failed. What about you? Oh! Did you see Part I of this interview?

I was in the mood for some fun questions.
You know, Candice doesn't even need an introduction. Is anyone even reading this intro or did you skip right to the questions? :)
You majored in theater, yes? Is theater something you would love to do more of in the future or are you more of a TV/Film girl?
I would love love love to do theatre. It's how I started and essentially it's my heart. I think going back to theatre can only strengthen my work.
I would love to do a non-musical Broadway or Off-Broadway play.
I'm growing to appreciate cats, but I am definitely a dog person. I just love them. I want one, but can't seem to commit to having one full time with this job and traveling all the time. I hope one day I can make the leap. I think having a dog would change a lot of things for me in a good way.
What's wrong with the phrase "off the chain?"
Hahahah! Nothing is wrong with it, if you just got out of your time machine from 1999. (I'm looking at you, Dad). [Author's Note: Awwww!]
What will you do during The Flash hiatus?
I really hope to keep working. Film is something I have my eye on and hope timing wise I can find something just right. If not, there are a couple of conventions I will go to in Europe and maybe travel while I'm there. And of course I have to get some of that lovely California sun.
Have you done conventions?
I've been to San Diego Comic Con, but that was really only to introduce The Flash to the world. I don't think that was a typical convention. I do have one planned this May in Birmingham, UK. It will be great to be face to face with the fans. I'm excited about that.
What did your family say to you when you said you were moving to L.A. for an acting job? What did they say when you told them you wanted to be an actor? At what age did you make the decision to act for a living?
Well I didn't have an acting job when I moved to LA. I was just naive enough to think that moving to LA was the next step after college. My parents were really supportive. My dad always told me to do what I love and I'll never work a day in my life. I was NEVER once told to consider anything but my dreams. It's probably one of the greatest gifts my parents gave me, because it never occurred to me to do something other than what I loved.
I was thinking about being an actor from a young age. Around 2nd or 3rd grade I remember watching I Love Lucy and being enamored with Lucille Ball. I was so enamored by her and it was then that it occurred to me that I want to do whatever it was that she was doing. As soon as I could I was in school plays every year and it never really stopped. I don't know that I ever made the decision to be an actor for a living, it was just a natural progression from being in plays, to studying theatre in college, to moving to LA. I just followed my passion and one day I started getting paid for it. I'm really lucky to have found something I loved at such a young age.
You played Bernard Avery's widow on an episode of Rizzoli & Isles. At the time, did you have any idea how huge a following this show had? Tell us about your time on the set of Rizzoli & Isles.
No, I was unaware of the following that show had. That was a really great experience for me. It was one of the few really meaty guest star roles I've had and it was challenging to do that sort of work on camera. We, as actors, so rarely get to practice scenes with emotionally high stakes under the pressure cooker of a TV set, having to go take after take, with all sort of distractions to contend with around us.
Have you read any of The Flash fan fiction with Iris? What are your thoughts on fan fiction?
There's Iris fan fiction? That's news to me. I try to stay off the parts of the internet which pertain to me or my character to a large degree. But, I think fan fiction is a great way for people to express themselves and storylines they want to see. I think it's a wonderful creative outlet! I believe I wrote / read some fan fiction when I was a teenager. It was fun!
Popular in the Community