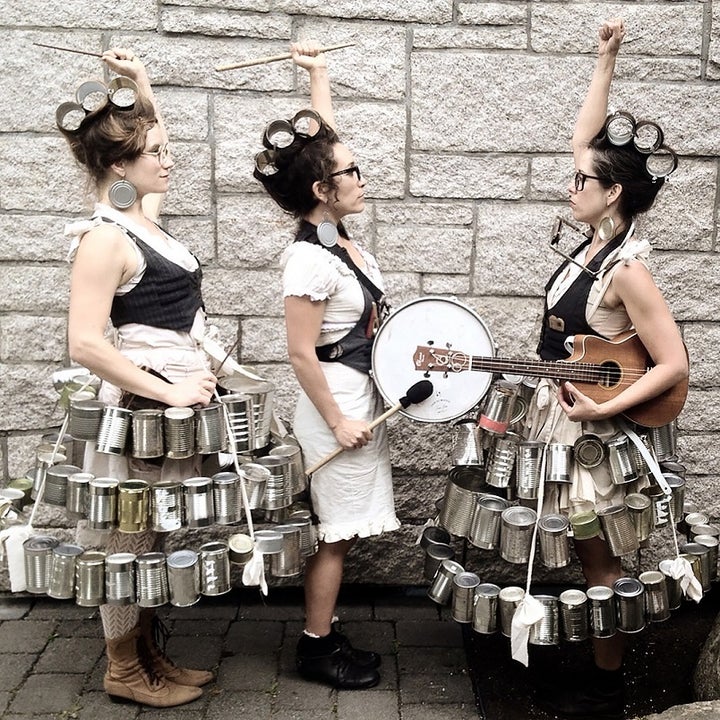 For performing artist Candice Roberts of unceded Coast Salish Territories, Vancouver, BC Canada, art is not just a practice it is a way of life. She creates hilarious and magical multimedia theatre productions and assists people who desire support in connecting with their own creative sparks. In 2014 she received the Mayor's Arts Award for her work in community building through creativity. This program was implemented within the BC health system for folks in recovery with addiction and mental health issues.
"Every child is an artist. The problem is how to remain an artist once we grow up."- Pablo Picasso.
Candice has been making art for as long as she can remember. As a child, she would make costumes and fashions from toilet paper and would direct original plays that involved the reluctant neighborhood kids. Sound familiar? Perhaps you did this as well?
Now, 20 years later, along with her solo theatre works, Candice continues to make costumes and sculptures from plastic bags and tin-cans as well as comedic song and dance numbers with the ever charming critically acclaimed "Myrtle Family Band". (www.myrtlefamilyband.com)
She considers her work to be interdisciplinary compost modernism that joyfully embraces the art of clowning. Don't let that clown word fool you, she claims to never have worn a red nose, and does not know how to juggle. The practice of clowning for Candice involves a deep exploration of what it means to be human and an investigation of our personal connection with ourselves, our environment and with others. What is it like to make eye contact and not have to prove or show anything? What is it like to see another human seeing you see them see you see them see you see them? Clown training involves intense physical and emotional awareness development as well as a strength building that allows the practitioner to share the raw and vulnerable state of just. Being. Human. As these skills are cultivated, further inner exploration is encouraged. What is it about yourself, our society or our environments that is important to you? What is it that irks you? Delights you? Confounds you? What is it about having a body that is that compelling? What is it like to be you?
Candy Bones Theatre was started up as a platform for Candice to create her original solo works that tell heartfelt stories through the artistic disciplines she practices. Her first solo show; "Ideas Bobert" is the story of a tap dancing silent character that has a bird (puppet) for a heart that lives behind doors in his chest. Throughout the show Bobert learns the importance of listening and caring for his heart by connecting with others through his creative expression. His Ideas are silly and preposterous but the underlying sentiments are profound. What happens if we deny our deepest desires and dreams? In Bobert's case, by ignoring his heart, the bird becomes terribly ill. This is drama, but for Candice it is truth. As is the case for many comedy artists, Candice has struggled with depression and a path of "security" in the 9 - 5 work world was nearly the end for her.
Charlie Chaplin once said: "To truly laugh, you must be able to take your pain, and play with it"
Through the art of clown, Candice learned how to explore her sadness, fear and anxiety and to transform them into characters that in turn create and inhabit their own worlds. She really "gets to the heart of her skeleton in the closet" with her second show, "Candy Bones", a one woman sketch comedy that explores the psyche of her introverted self. Some of her characters were born of neurosis, disappointment, and family upbringing and they are as delightfully awkward as they are loveable. As extreme and outrageous characters they become universal archetypes that are relatable and uproariously funny. Why? Because they are true.
Related
Popular in the Community