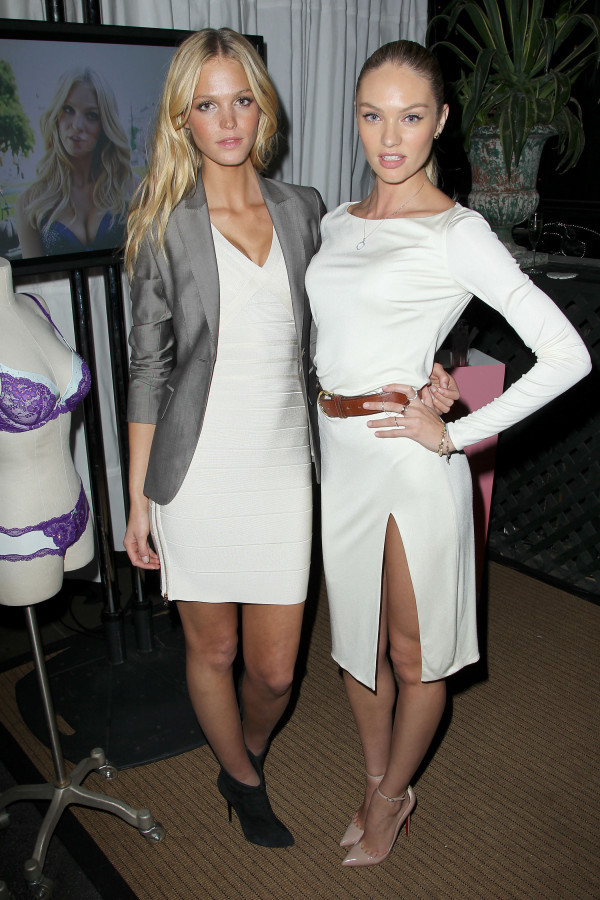 Last Tuesday night, we had the opportunity to have dinner with Victoria's Secret Angels Candice Swanepoel and Erin Heatherton at the Gramercy Park Hotel. While I felt awkward eating cheese cake in front of the pair of statuesque blonde bombshells, I assume that it must have been much worse for them to film the commercial for the new dream angels bra collection in Prague, but I was wrong. Although she paraded around the streets wearing only a bra and underwear, Heatherton wasn't bothered, "It felt fine - you're surrounded by so many people that we work with all the time. It's like family. Every advertising shoot or every commercial we do, they're there." The most important part of the family for Heatherton is obviously the fellow angels. "My best friend's Candice," she says, "One of my best friends is Lily, and another one of my best friends in the world is Rosie, but she's not doing Victoria's Secret anymore. And honestly the best thing about working with Victoria's Secret for me is that they are my best friends in the world, like, the sisters that I never had."
While Victoria's Secret may be a place to make best friends forever, it is not necessarily a place to find a date. Swanepoel says, "I think it's harder to date as an angel, when people meet you it's hard to look past our job, what we look like. They are always trying to impress you, you know, like 'come to my mansion blah blah blah." Not that she's on the market, Swanepoel has been with her boyfriend for the last six years, since she was only 17 years old. Although she feels like she is "married already," that doesn't mean she doesn't have crushes: "I had a little Bieber fever but he got too old," she laughs over dinner. And regarding Tom Ford, "He touches you and you're like oh!" Heatherton, on the other hand, is single. And dating. "I think being an Angel makes [dating], well, I don't know. I wouldn't know what it's like to be any different." Any notable dates recently? "There are so many. There's dinners and – it's fun, I mean. I had a boyfriend for a long time and I've never really been single as an adult."
Now an ideal Friday night for Heatherton would include the following itinerary: "I would take a bath and then I would play with my dog and probably go out and meet my friends for dinner somewhere. Probably like Barbuto or – I like this place Joseph Leonard, it just opened in the West Village. Mary's Fish Camp is my number one. I live in the West Village, so I can walk there and walk home. " After dinner, "My friends DJ so I'll go out and see my friends and dance. Recently, I went out to this place called Westway, which is right near my apartment and my friend Harley [Viera-Newton] was DJing. We always have our songs that we love, like 'Six Foot Seven Foot,' really gangster hip-hop songs and I just hang out with her and it's just a good night. She's playing the music, so it's like a basement party, but more adult."