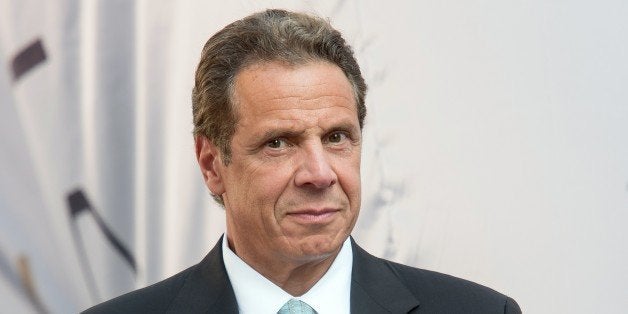 Donald Trump has not been sworn in yet, but New York's Governor Andrew Cuomo is already busy running around the state promoting himself as the liberal Democratic candidate for President in 2020. He may even have Bernie Sanders fooled. Sanders appeared at a rally with Cuomo where the Governor announced his plan for free tuition at the State University. Cuomo called his proposal "a wake-up call to this nation." "If you want to offer everyone a fair shot, you have to get up to date and say, 'What high school was 75 years ago, college is today.'"
I attended the City College of New York in the 1960s when it was tuition free and I am a strong advocate of free tuition in public universities. But of course, there are a number of "catches" in the Cuomo plan. Free is not free. Tuition is not being eliminated. Cuomo only pledges to cover the remaining cost of tuition for lower-income students after other state and federal scholarship money is gone. They would also have to be enrolled in college full-time to qualify, which would eliminate part-time students who have to work to support themselves and their families while attending college. The Cuomo plan does not help with living expenses.
Every year the state legislature would end up debating who is poor enough to qualify for the tuition support supplements. Why not just eliminate tuition altogether and fund the State and City universities through tax dollars?
There is also concern that Cuomo will not support sufficient funding so the public colleges can provide adequate academic support for students graduating from high school not yet ready to do college level work. An estimated half of New York City's high school graduates who enter college need some form of academic remediation. Up until know Cuomo's budget allocations have been very stingy with state funding for the State University and the City University of New York (CUNY).
According to Fran Clark, a spokesperson for the union representing CUNY faculty and staff, last year, Cuomo initially demanded that New York City take over $485 million of CUNY's funding costs and he has under-funding the public university network for years. The New York Times estimated that in 2015, CUNY faced a $51 million budget shortfall because of Cuomo.
This year Cuomo is proposing to increase state aid to schools by about one billion dollars, far less than the $2.1 billion requested by the state's Board of Regents, its educational policymaking body, and even further less than the state owes poorer school districts as the result of a law suit. Ten years after a settlement was reached, and five years Cuomo's administrations, poorer districts are still being shorted $3.9 billion they are entitled to under the settlement. Cuomo has promised the city of Buffalo a $13.6 million increase in state aid over the previous year. But school officials are still waiting for the $91 million the district is owed from the 2006 court ruling.
The Board of Regents requested a $1.47 billion increase in foundation aid to poorer school districts this year and a total of $4.3 billion over the next three years. Cuomo is only offering poorer school districts Cuomo's $428 million in "foundation aid." Billy Easton, executive director of the Alliance for Quality Education, charges Cuomo has "talked about the fact that there are two public school systems, one for the rich and one for the poor. This just keeps that rolling right along."
Jasmine Gripper, the legislative director for the Alliance for Quality Education, highlighted a section of the Governor's proposed budget that says "For the 2018-2019 school year and thereafter, districts shall be eligible for Foundation Aid equal to the amount of Foundation Aid such districts received in the 2017-2018 school year," which would mean no further increases. Gripper called this budget insert a " direct assault on communities of color and those living in poverty." Future educational aid would be based on "political horse trading instead of students' educational needs."
Taking a page from Donald Trump's campaign playbook, candidate Cuomo also promises to cut taxes. However New York State faces $3.5 billion budget deficit this year. The situation for education funding is even worse because Cuomo refuses to challenge renege Democrats siding with the Republican Party in the State Senate.
At a time when Democrats on the Senate Health, Education, Labor and Pensions Committee are challenging Donald Trump's nomination of Betsy "Amway" DeVos as Secretary of Education because she champions charter schools, vouchers, and channeling public money to private and religious schools, Andrew Cuomo endorsed the similar policies. He has promoted increasing the number of charter schools over local opposition and backdoor vouchers via tax credits for "donations" to religious schools. He has also pushed high-stakes testing and using student scores to evaluate teachers. But maybe all this was just last week before he launched his presidential campaign.
The Democratic Party can certainly do better than Andrew Cuomo. Meanwhile, New York advocates for public education eagerly await learning how he will pull off his budgetary magic trick.
Popular in the Community