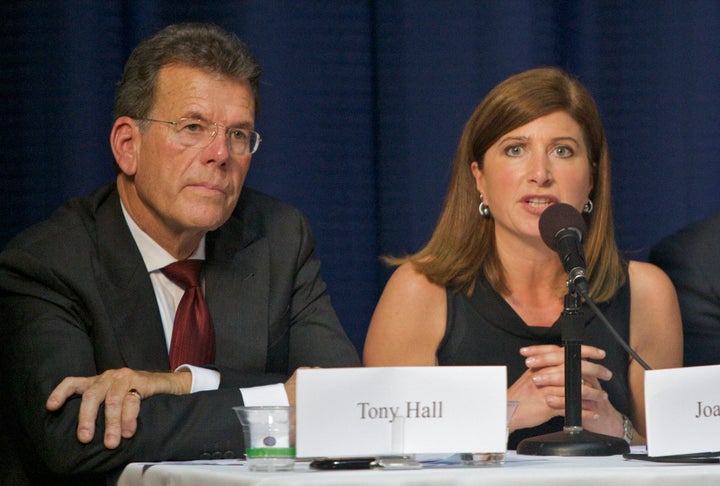 Born: 1961, Montclaire, New Jersey
Current Gig: Managing Director, VSP Capital
Why should we vote for you?
San Francisco is the innovation capital of the world—except for city government. It's time for that to change.
I'm an entrepreneur and an educator with a record of creating jobs, strengthening schools, and doing more with limited resources than anyone thought possible.
I'm progressive, independent, and not part of the city hall crowd. My campaign is focused on school improvement and job creation, rooted in our diverse neighborhoods, and guided by an unflinching commitment to open government.
I came to this community as a working mom nearly two decades ago. By focusing on practical ideas where the cutting edge meets common sense, I've helped more than 60 Bay Area companies create thousands of jobs, and helped strengthen public schools in our most underserved communities.
As Mayor, I'll use this same approach to stop the cycle of deficits that puts vital services at risk, and to reverse the trend of residents leaving our community for better jobs and better schools. I'll fight to put San Francisco on a level playing field with competing cities and states, expand use of technology to improve city services and public transit, and I'll bring our city budget out of the shadows and into the light.
We can't expect different results by rearranging the chairs at city hall, or surrendering our voice to a small group of well-connected insiders.
It's time for a new approach.
List a few of your most significant endorsements. Which one do you feel best exemplifies the reasons why you are running for mayor?
I am endorsed by Jennifer Siebel Newsom and the San Francisco Women's Political Committee.
I am a progressive independent—not a city hall insider, and not beholden to any special interests. This campaign is being powered by thousands of grassroots supporters from every corner of our diverse community—students, parents, educators, working families, neighborhood merchants and so many others. We have been out talking and listening to hundreds of thousands of voters at bus stops, at community events and meetings, at their doors, on the phone, in merchant corridors and online for more than two years. My campaign is driven by a firm belief that to deliver more responsive and representative government to every corner of our diverse community, we must work to empower every San Franciscan, and bridge the divide that too often exists between city government and city neighborhoods.
What's your favorite place in San Francisco?
It is constantly evolving because San Francisco is a wonderful collection of diverse neighborhoods and there are a lot of locations to visit. Right now, whenever I have a moment to enjoy some quiet time, I like to go to the vista point off of Land's End trail near the Legion of Honor.
What is the single biggest issue facing San Francisco right now?
San Francisco is facing an almost endless cycle of deficits and potential cuts to vital services and public schools.
We have seen this play out in seemingly arbitrary across the board budget cuts, a recent pension crisis that was years in the making, and in many cases, a costly and antiquated approach to service delivery, permitting, and regulatory compliance. As an entrepreneur and education advocate, I've spent the last two decades managing large budgets, helping businesses and schools do more than anyone thought possible with limited resources, and building sustainable financial models able to withstand a variety of economic contingencies. We can and must do the same for San Francisco, but it will require a different approach.
As the innovation capital of the world, we must work to better utilize emerging technologies to streamline bureaucracy and improve efficiency. We must base our budget expectations on more realistic forecasting grounded in long-term trends—not short term yields. And we must commit to a process of bottom-up budgeting, where each program is evaluated on its merits with results tied to specific benchmarks of accountability.
Finally, we must improve the transparency of the overall budgeting process. Where shared sacrifice is needed or tough choices demanded, the community will be far more accepting of the results when the community knows where their money is going and why.
Over the past year, Muni's on-time percentage dropped for the first time in five years, largely due to budget-related service cutbacks. As mayor, what would you to do make Muni better?
We must enact structural reforms to improve MUNI service, ensure we have right leadership in place at SFMTA, and provide the revenue support needed to deliver a world class public transit system.
Funding for Muni will be a top priority in the budgets I propose as Mayor, and I also support a $100 vehicle mitigation fee.
We can improve the flow of Muni vehicles and increase on time performance by implementing Bus Rapid Transit lanes on congested corridors, and synchronizing traffic lights on major transit corridors for buses and light rail to give them priority.
With some of the world's brightest and most creative minds living within our city borders, I believe we can improve services and address neighborhood disparities in availability and reliability through innovation and better utilization of technology. Specifically, we must work to optimize the efficiency of Muni routes, test limited stop bus lines that meet demand and speed up transportation time, and experiment with demand based routing using existing GPS and sensor technologies.
We need to make all data related to Muni more accessible to the public and seek their involvement in creating a better system. The recent Transportation Camp "Hackathon" that was held here in San Francisco is a great example of how public dialogue can help us to identify best practices, and develop innovative solutions.
Last year, 86 percent of San Francisco schools failed to meet the federal government's No Child Left Behind yearly progress standards and the state's school's chief had to ask for a waiver to avoid having to shut down or penalize all of the failing schools. What would you do as mayor to improve the city's public school system?
Too many families are leaving our community when their children become school age. Increasingly lean budgets have led to teacher furloughs and draconian cuts to critical programs like summer school, music and art instruction.
Having spent the last decade in the trenches of education reform, I know that our response to these challenges will have a profound effect on families and neighborhoods, as well as on our global competitiveness and ability to attract new businesses and high wage jobs. Only strong Mayoral leadership can affect change system-wide.
Yes, first class schools begin with first class facilities. I believe Citywide initiatives like Proposition A, on this November's ballot, are absolutely vital to our future.
Our school placement system deprives too many children access to a quality neighborhood school and creates unnecessary safety and logistical burdens on students and parents.
First, we should reauthorize and reform Prop H funding, with the city's annual contribution increased to $100 million in exchange for SFUSD allowing parents to send their children to a high quality neighborhood school within walking distance of home as a first choice.
These funds can be used to invest in innovative learning models like the TenderloinCommunity School or ER Taylor School's Healthy Start Program, which bring traditional curriculum together with other community services that support a strong foundation for student achievement: including counseling, health, family support, pre-school and after school programs. The Mayor is uniquely positioned to bring together the resources needed to bring this concept from idea to execution in neighborhoods across our city. Strong Mayoral leadership is also needed to get business and philanthropic leaders into the act. Specifically, these stakeholders can play an important role in helping to develop, test and fund new ideas in fields like adaptive leaning and individualized curriculum, as well as providing mentorship opportunities that raise the sights of students, and support the development of teachers and administrators.
We must also continue to strengthen our commitment to building first class school facilities. This includes support for Proposition A, the final phase of a decade-long school modernization process on this November's ballot.
Ultimately, San Francisco has the potential to become the model for excellence in urban education. With the right leadership, we can make our schools synonymous with innovation, and far more responsive to the unique needs of our diverse community.
Recology has had its monopoly on garbage collection in San Francisco written into the city charter since 1932. Would you work to put the contract to collect the city's garbage out for bid?
I believe in competition and an open and transparent process when it comes to awarding city contracts. I will evaluate our long standing relationship with Recology and review our trash collection and disposal ordinance. We should take time to review all of the available options relating to waste disposal and trash collection before entering into a long term contract. Recology is a valued city partner and it might make sense to contract with them for waste disposal, but we should take time to study all of our options before making a final decision.
Describe Gavin Newsom in two words.
Purpose Driven
Describe Willie Brown in three words
Man Around Town
Describe Chris Daly in four words.
On Like Donkey Kong