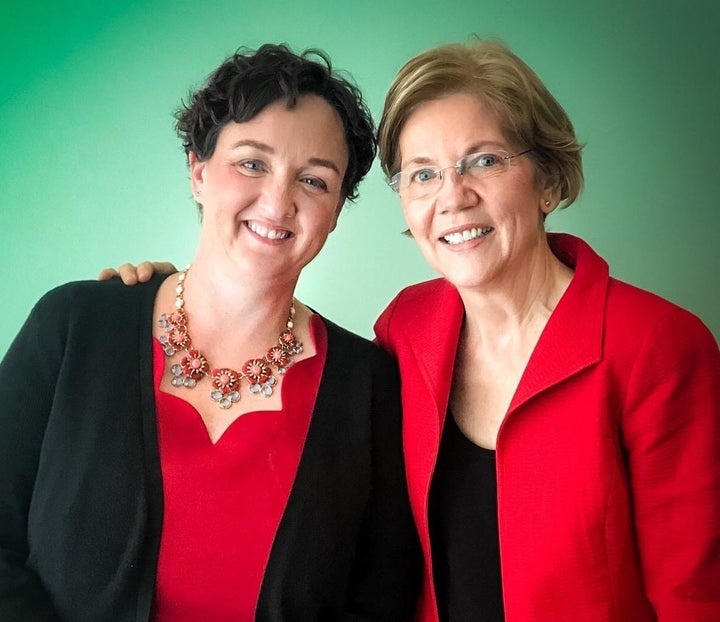 WASHINGTON ― Four years before law professor Katie Porter launched her campaign for Congress, the single mother of three was flossing her teeth in the bathroom of her home in Irvine, California, when her then-husband barged in.
Matthew Hoffman grabbed his wife's hands, ripped the floss out of them and threw it away, and then punched the wall so hard that he shattered the faceplate on the light switch and knocked the lights out. He would later tell a judge he was angry because his wife had been brushing her teeth too slowly.
That was in April 2013. Porter and Hoffman had separated the previous month but continued to live together while they figured out what to do. Porter said Hoffman became abusive and unhinged over those weeks in a desperate effort to stop her from divorcing him.
He pushed her into a wall, threw things at her, called her a "dumb bitch" in front of their three young children and would bang so loudly on her bedroom door at night that she had to prop a chair against it to keep him at bay. She said he shoved their 1-year-old daughter across the kitchen in her high chair, threatened to kill himself and once held the door of Porter's car open to stop her from driving to a school meeting.
Porter cried as she told me these stories in the basement conference room of a Marriott in Washington, D.C. It was mid-April 2018, and in a few hours, female Democratic senators and celebrities would descend on the hotel for the annual EMILY's List gala. Porter was also being celebrated that night as part of the post-election wave of women candidates vying for office. A 44-year-old Harvard-educated consumer advocate, she was the first congressional candidate EMILY's List endorsed for the 2018 cycle and has since landed the endorsements of Sens. Elizabeth Warren (D-Mass.) and Kamala Harris (D-Calif.).
"I think it's important that people understand that when real people run, they run with their real lives, and those lives might often include painful times."
The daughter of an Iowa farmer-turned-banker, Porter grew up during the farm crisis, watching "the entire economy around me go to hell." When she decided to run for Congress, she had been excited to talk about the things that inspired her: consumer protection, housing fairness, women's rights, her menteeship under Warren. She was less prepared to talk about her own experience with domestic abuse. "I thought long and hard about this," she said. "I think it's important that people understand that when real people run, they run with their real lives, and those lives might often include painful times."
Porter knew that millions of women would be able to relate to her story ― 1 in 3 American women are physically abused by an intimate partner in their lifetimes, according to the National Coalition Against Domestic Violence ― but she also had little choice about coming forward. Her divorce and the protective order she obtained against her husband have become the subject of a whisper campaign in the competitive Democratic primary for California's 45th Congressional District. Several delegates to the Orange County Democratic Party told Porter they'd heard rumors from a rival campaign that something in her divorce records might disqualify her in the general election.
The last straw for Porter was when a man in Denver named Kevin Matthews whom she'd never met referred to her as "Katie 'Restraining Order' Porter" on Twitter.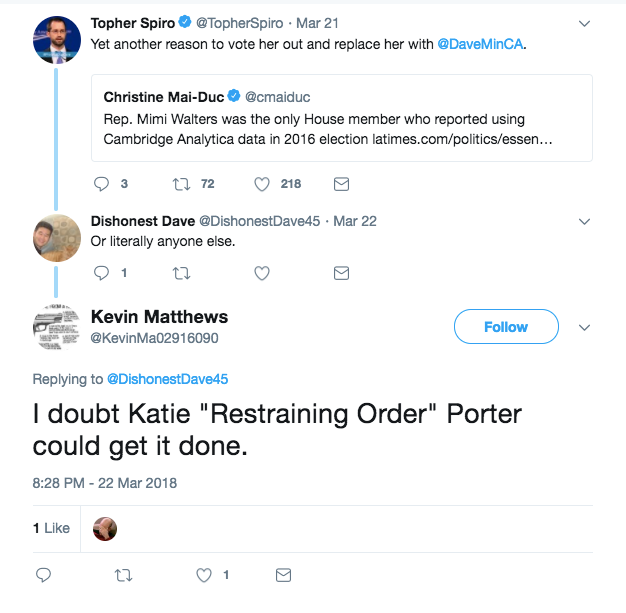 According to Federal Election Commission filings, a Kevin Matthews in Denver has donated $2,000 to the campaign of Dave Min, Porter's leading primary opponent. He is also friends with Min's wife on Facebook. Matthews did not respond to HuffPost's request for comment.
Porter assumes Matthews' tweet refers to the fact that when she filed for a protective order against her ex-husband in 2013, he filed a retaliatory claim against her five minutes before their court hearing as a last-ditch effort to defend himself. He claimed Porter once charged at him in the laundry room. The judge ultimately denied his request and granted Porter a protective order and custody of their children.
"To be made to feel like I've done anything wrong ― I'm just outraged," Porter said. "I have a wonderful track record. I've worked really hard to fight for consumers. That's what I should be campaigning on. But I'm not going to let someone, anyone, say that because a woman's been a victim of domestic violence, because she stood up for her children's safety, she's disqualified. Who will run then?"
Porter is running against three men in the June primary: Min; Brian Forde, a former science and technology advisor to President Barack Obama; and Kia Hamadanchy, a former aide to Sen. Sherrod Brown (D-Ohio.). No Democrat has won the California 45th since its creation in 1983, but the party sees it as a flippable seat in a flippable House in 2018.
Republican Rep. Mimi Walters, a Trump supporter, was elected there in 2016 at the same time the district broke for Hillary Clinton. In Congress, Walters voted to repeal limits on CO2 emissions from power plants and co-sponsored a bill to block government action on climate change ― a very unpopular position in California.
The primary race for this seat is especially awkward. Not only are Min and Porter both Harvard-educated law professors at the University of California Irvine, but Porter had actually recruited Min to the university.
While their resumes look alike, their ideological differences map neatly onto a broader division within the Democratic Party. Min, a former aide to Sen. Chuck Schumer (D-N.Y.), is the only candidate in the primary who has not called for single-payer health care, and the centrist New Democrat Coalition has endorsed him. Porter, who spent years investigating banks and home foreclosures under Warren and Harris, has the endorsement of the Progressive Change Campaign Committee.
"I'm not going to let someone, anyone, say that because a woman's been a victim of domestic violence ... she's disqualified. Who will run then?"
Tensions boiled over in February at the California Democratic Party Convention, where Min won the state party's endorsement by a single delegate's vote. Under the state party's rules, because Min won by such a small margin, his opponents could challenge his win on the convention floor by gathering 300 signatures and forcing a new vote. Some attendees said Min's supporters responded with what they described as aggressive intimidation tactics to stop them from collecting enough signatures.
Joe Bowen, former campaign manager for Forde, said two Min volunteers followed him into the bathroom. "They literally stood silently two feet behind me while I was at the urinal," he said. "It was pretty intense."
Octavia Tuohey, an Orange County delegate, recalled a similar effort to stop her son and daughter from signing the petition: "My daughter was pushing my son in his wheelchair, and they surrounded him, screaming at him, 'Don't do this! Stop it!'" said Tuohey. "When my children went into an elevator, the Min people ran down the stairs and blocked their way out of the elevator."
It was somewhere in the runup to the convention that the whisper campaign about Porter began, according to Hamadanchy. While they didn't have firsthand evidence, Tuohey, Hamadanchy, Bowen and Porter said they strongly believe it originated with Min in his effort to sway delegates to his side.
"Dave basically said there'd been a restraining order and that her kids are really messed up because of it," Hamadanchy said. "He has been telling people she's unelectable."
"I heard from a few people that Dave said her divorce was disqualifying," said Bowen, the former campaign manager for Forde, "and that she's a really nasty woman with character issues." Bowen said he is "100 percent confident" the whispers originated with Min and not with Forde or Hamadanchy: "I ran Brian Forde's campaign ― Kia never ran anything but a positive campaign, publicly and privately. If Kia had been talking about this, people would have said so a long time ago. He doesn't have much incentive to dirty up Katie."
Porter heard the whispers, too. "I've been hearing for months that Dave has told a bunch of people there's something in my divorce that's disqualifying," she said. "At first, I didn't know what he was talking about. ... I was naive. I thought, in the beginning, he was saying that it's because I'm a single mom."
Porter said she eventually realized the whisper campaign was suggesting that she did things during her divorce that were disqualifying to her as a candidate: "Basically, don't endorse her because she's got this shady background," she summarized.
"I don't have a shady background," she added. "I'm the most boring person in America. I'm a mom of three kids, I protected my family, I ended a marriage that was troubled."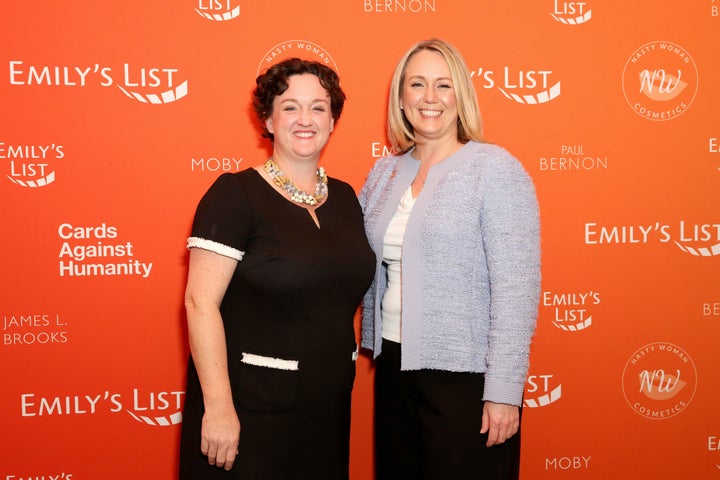 Paige Hutchinson, campaign manager for Min, rejected the notion that he'd relied on rumors and intimidation against his opponents.
"Dave won the endorsement of the California Democratic Party by running a positive campaign about the issues. To suggest otherwise is complete and utter nonsense," she said in a statement.
"Dave's wife Jane is a nationally recognized expert on domestic violence law," Hutchinson added. "Dave and Jane support victims with their hearts, their time and their charitable contributions. Personal attacks and rumors have no place in this campaign."
Several delegates who support Min said they had never heard him say anything about Porter's divorce. Many delegates were reluctant to speak to the media. On April 12, the same day I first began reaching out to delegates, the Orange County Democratic Party handed down a warning. Any delegate who "publicly advocates that voters not vote for an endorsed nominee of the Democratic Party," the note warned, would be stripped of his or her delegate status.
Porter realized after seeing Matthews' tweet that opposition research about her personal life was becoming a real campaign issue that she would have to address. She reached out to me to tell her story. Her campaign provided all the court and police documents related to the domestic abuse and restraining order proceedings.
"This is why I wanted to tell what happened, even though I in some ways feel like it's personal," she said. "I do not understand why being a victim is disqualifying. I'm not embarrassed that this happened to me because I didn't do anything wrong."
Porter said she wished Min had just said to her face what he or his associates were allegedly telling delegates behind her back. "How dare you shame me," she said, imagining the confrontation. "Shame on you, Dave. … It's just outrageous to be blamed."
She'd grown hoarse by then and was talking through tears. "I mean, what part of Me Too isn't soaking in?"
Although Porter might've preferred that her candidacy tell a different story, it's now become an object lesson in the comprehensive failures of America's domestic violence response. She pointed out that she'd been afraid to call the police on her husband for weeks, despite his escalating violence. The first time officers had come to her house, they scared her into thinking that if she called them again, someone would take her kids away.
"It just goes to show you, if I, as a lawyer who went to Harvard and knows Elizabeth Warren, hears it that way, what happens to millions of other women who are not lawyers?" Porter asked.
She continued: "I sought help from the courts. I called 911. I went through this horrible experience. I put everything we had suffered in that last few weeks in the public record to get help for my kids, and then [Hoffman] hits me with this bullshit fake motion. Now four years later, I'm in the public eye doing what's right, fighting this amazing race, and here it is — retaliation again for having sought help. Because if I'd never called 911, there never would be a police record. But look what there might be? I could be dead. Someone could be hurt. Matt could have killed himself."
"That was not an alternative," she said. "I did literally the only thing I could and should have done. This should never come back to haunt someone in the political space."
"Half of all the moms in America are single moms, and there should be more of us in Congress.""
Things between Porter and Hoffman are relatively peaceable now. There had been little disagreement about what had happened in their home, as borne out by the cops' notes and the court record. After spending a few days in jail for domestic battery, Hoffman agreed to all of Porter's demands: anger management counseling, supervised visitation, a very slow phase-in of custody, and parental coaching. He now lives in Oregon and sees the children four times a year. He didn't respond to a request for comment.
It's still rare to hear a congressional candidate or elected official come forward as a domestic abuse survivor ― Rep. Gwen Moore (D-Wis.) became one of the first to do so in 2012, and Oregon Gov. Kate Brown (D) alluded to her own experience with domestic violence in a 2016 debate. Christina Reynolds, the vice president of communications for EMILY's List, said the Me Too movement is likely to draw out more of these personal stories.
"This is not the first cycle in which we've had women who have been through sexual assault or domestic violence, but they're speaking out knowing that it helps those women who don't have the same kinds of platforms," Reynolds said. "We are grateful to women who tell these stories and hope they find that they have a community of support."
Reynolds said Porter's experience reflects in part why many women hesitate to run for office. In addition to having painful experiences from her past become a campaign issue, Porter is constantly having to answer the question of how a single mother can be a congresswoman.
"People come up to me and say, 'If you win, who will care for your children?'" Porter said. "I'm a tenured professor ― I'm doing it. I had three babies on the tenure track and took no delay. I know how to raise kids and work. Half of all the moms in America are single moms, and there should be more of us in Congress."
Porter hopes that because she's in a spotlight race this year, her story will embolden other single mothers and survivors of domestic or sexual violence to come forward and run for office.
"What happens here matters, because voters around the country are gonna see ― does this mean you can't run for office, because you've been hurt or a victim?" Porter said. "I think it's really important to stand up for that. We don't silence victims, and we don't silence women for having experiences that are frankly all too common among us."
Popular in the Community