A huuuge crowd in Tampa welcomes Trump.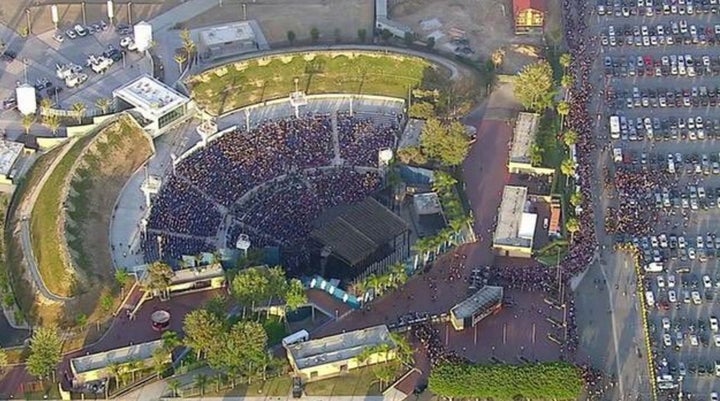 GOP candidate Donald J. Trump made what is believed to be his last whistle stop of the campaign to the Tampa Bay area last night (Mon, Oct 24th). This was his fourth major rally in the area as Tampa Bay is considered the keystone for a November 8th win in Florida.
This was my third Trump Rally; the first being at the Florida State Fairgrounds on August 24th with approximately 7,000 people in attendance; the second at the Lakeland Regional Airport on October 12th with 14,000 people, and; last night's rally at the MidFlorida Credit Union Amphitheatre with a whopping +20,000 in attendance. By the time Trump took the podium, the amphitheater was full and hundreds of people were lining up on the grassy knoll behind the seats. To beat the rush home, I left a few minutes early. In passing by the front gate, there were a couple thousand people still waiting to go through security to get in.
This was an impressive showing of the Trump faithful. I'll be curious to see how many people show for Mrs. Clinton's rally at Curtis Hixon in Tampa on Wednesday, October 26th.
Warming up the crowd were different speakers, including Florida Attorney General Pam Bondi, and famed FSU football coach Bobby Bowden who received a resounding welcome. Bowden made use of a football analogy claiming the campaign was now on the three yard line, and it was time to punch through for a touchdown.
Interestingly, one of the warm-up emcees asked the crowd for a show of hands as to how many had already voted. To my surprise, half raised their hands. This was followed by a chant of "If we show up, we win."
As Trump took the stage, he didn't look like a man scared of the polls but exuded confidence instead. There wasn't anything particularly new in Trump's message, but he made it clear of the necessity to vote. "This may be our last chance to save the country," he said.
He went on to discuss the problems with Obamacare, how the election is rigged, he attacked the "corrupt" main stream media for defending Mrs. Clinton, and, of course, he attacked "Crooked Hillary."
For a complete video of his speech at the Tampa rally, click HERE.
As an aside, prior to going to the Trump rally, I went and voted as part of Florida's early voting program. Usually I wait until election day, but my intuition told me to do it earlier this year. I'm glad I did. Normally, there are but a couple of people around for early voting, but yesterday there were about thirty people at my precinct in Palm Harbor. As I was leaving, I couldn't help but notice the many Trump bumper stickers on the cars there. Between the attendance for early voting and the many people at the Trump rally who claimed to have already voted, I believe we are going to see the number of voting reach historic levels, at least in Florida.
As Betty Davis said, "Fasten your seat belts, it's going to be a bumpy ride."
Note: All trademarks both marked and unmarked belong to their respective companies.
Copyright © 2016 by Tim Bryce. All rights reserved.
Popular in the Community