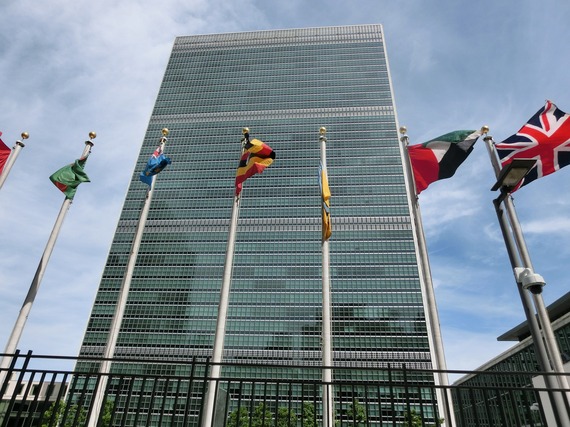 Image: United Nations. Stock Photo. Pixabay.com
As the world watches Hillary Clinton and Donald Trump compete for the U.S. presidency, another important election campaign is under way that could have a huge impact on human rights internationally -- the jockeying to succeed Ban Ki-moon as head of the United Nations. Over the past few years, human rights has not been enough of a priority for the UN. From Russia to Egypt, Saudi Arabia, Syria and Venezuela, Ban Ki-moon's failure to defend freedom and stop killings and persecutions has been appalling. Violations have gone unpunished and leaders have not been held accountable. As the candidates for the post of UN secretary-general actively campaign for the support of the UN Security Council members, it's important for us to more carefully scrutinize their commitment to human rights. Four candidates seemingly lead the race so far -- Susana Malcorra, Helen Clark, Irina Bokova and Antonio Guterres. Unfortunately, two of them have a disastrous human rights legacy. Susana Malcorra, Argentina's foreign minister and former chief of staff to Ban Ki-moon, is totally unacceptable. When she became a candidate for the post, she and Argentina made a sickening U-turn on human rights. To secure Venezuela's support at the UN Security Council, she flip-flopped on the human rights crisis engulfing the country. To "do a deal with the devil," she abruptly stopped her public criticism of the systematic abuses in the country and turned her back on her Latin American and international partners. Now Malcorra limply calls for "dialogue." That's politics, but nothing new.
Malcorra was already at the center of the cover up of a UN peacekeeper sex abuse scandal in the Central African Republic (CAR). UN officials persecuted the staff who raised the alarm instead of addressing the actual problem. Whistleblower Anders Kompass was fired for publicizing the crimes of French soldiers. E-mails show that Malcorra coordinated the meetings of senior UN officials who decided how to punish Kompass. Neither she, nor any other senior UN official was ever held accountable. Kompass' criticism speaks for itself: "The complete impunity for those who have been found to have, in various degrees, abused their authority, together with the unwillingness of the hierarchy to express any regrets for the way they acted towards me sadly confirms that lack of accountability is entrenched in the United Nations." Although Helen Clark's human rights track record is not as disastrous, she behaved with the Sri Lanka scandal much like Malcorra in the CAR, defending the UN system and blaming critics instead of taking the side of the victims. According to Foreign Policy, she and her senior staff allegedly forced out American-Swedish UN official Lena Sinha after she took part in an investigation critical of the UNDP's response to the mass atrocities in Sri Lanka. The investigation, called the Petrie Report, criticized senior members of Clark's agency, saying they downplayed the Sri Lankan government's role in killing thousands of Tamils.
Philippe Bolopion, UN director for Human Rights Watch, said the report highlighted a "dereliction of duty" and was "a call to action and reform for the entire UN system." After the report was completed, Sinha, who held a position at the UNDP for 15 years, was told that she would "never work for the UNDP again," Foreign Policy reported. On the contrary, Irina Bokova, the director-general of UNESCO, has led her agency to become more vocal and engaged on human rights issues. She has taken a strong stand to defend free speech, protect journalists and promote interfaith dialogue to neutralize extremism. During her tenure at UNESCO, she has also fought racism and antisemitism around the world, promoting Holocaust awareness and becoming its first head to appoint a special envoy for Holocaust education. Antonio Guterres, the former UN High Commissioner for Refugees, is another candidate with a strong human rights track record. He has been passionately engaged in addressing the challenges faced by Syrian refugees. He has not been afraid to confront leading world powers, gaining praise for his firm stance on China's forcible return of North Korean refugees. It's time for the UN to lead by example. The organization speaks incessantly about human rights, but all too often fails to follow up its words with action. Civil society and the international community must ensure that the next UN secretary-general is not only a seasoned diplomat, but also a true champion of human rights.
Armine Sahakyan is a human rights activist based in Armenia. A columnist with the Kyiv Post and a blogger with The Huffington Post, she writes on human rights and democracy in Russia and the former Soviet Union. Follow her on Twitter at: www.twitter.com/ArmineSahakyann
Popular in the Community