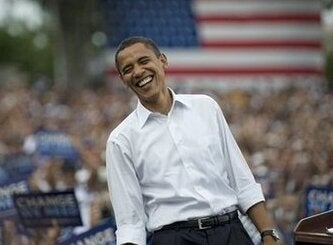 WASHINGTON — For all Barack Obama's remarkable fundraising and sizable surplus, the Democratic presidential nominee entered the final two months of the presidential contest on virtually equal financial footing as Republican rival John McCain.
According to finance reports filed in the past two days with the Federal Election Commission, Obama and the Democratic National Committee ended August with $95 million in the bank. McCain and the Republican National Committee ended with about $94 million.
The parties are crucial players in the general election, coordinating some activities with the candidates while also spending independently to help them. Both sides also distributed money to state party committees to assist in the race.
Obama is bypassing the public financing system for presidential contests. That burdens him with the continuing need to raise money. McCain has decided to accept $84 million in public financing _ and the spending limitations that go with it.
But both men have chosen distinct money paths that seem suited to their circumstances.
The Democratic National Committee has $17.7 million in the bank and Obama has $77.4 million. The Republicans present a mirror image. The Republican National Committee has $76 million in the bank and McCain has given it $18 million of his surplus.
And McCain now has $84 million for the next two months, without exerting any effort.
Obama has been the money leader of the presidential campaign. Overall, he has raised more than $450 million to McCain's $210 million. Despite the advantage, Obama didn't shake Hillary Rodham Clinton until the final primary in June, and his race with McCain remains practically a dead heat.
Insofar as money matters in this race, Obama can't afford to stay even with McCain.
McCain is using every advantage provided to him by law to maximize his money. He is relying on running mate Sarah Palin, a popular draw in Republican circles, to help raise money for the party. He is running hybrid ads with the RNC, stretching his spending limits by having the party pay for half the cost of the television spots.
In August, Obama had the upper hand, according to FEC documents.
Obama raised $65 million during the month and McCain raised $47 million _ personal bests for both. McCain received a special boost of more than $9 million in the three days after he announced his selection of Alaska Gov. Palin as his running mate on Aug. 29.
Obama outspent McCain $53.5 million to $41 million _ a joint spending rate of $3 million a day. More than half of that was spent on advertising.
McCain spent about $23 million on commercials, his highest as he jockeyed for position against Obama in battleground states. Obama vastly outspent him _ about $33 million _ as he practically matched McCain's advertising in key states and tried to expand his field to typically Republican-voting states such as Alaska and Georgia.
Obama has since pulled out of those two states, but has maintained ad presence in GOP-leaning states such as Montana and North Dakota. He and McCain also are competing in the previously Republican territory of Virginia and North Carolina.
McCain increased his staff spending, building up a payroll of nearly $1.2 million. He also spent more than $3 million on travel, at least twice as much as in July.
Obama, however, was ahead of him in those categories as well. He spent about $2.8 million on payroll, an increase from July. He also spent nearly $4.9 million on travel.
McCain's biggest donor states were California and Texas, with contributors in each donating about $3.3 million. He received about $33,000 from employees of Merrill Lynch, one of venerable Wall Street firms caught up in the financial crisis. Bank of America Corp. bought Merrill Lynch & Co. at a fire sale price to save it from bankruptcy.
Obama's biggest donor states were California with nearly $5.3 million and New York with $2.7 million. Obama fared well with employees of Microsoft, about $62,000, and IBM, about $54,000.
Popular in the Community