It's 1956: Dwight Eisenhower has been re-elected, The Ten Commandments opened in theaters, Elvis is crooning about his 'Hound Dog,' the best-seller Peyton Place is creating quite the scandal, Grace Kelly becomes "Princess Grace" and a smash-hit musical is running on Broadway called My Fair Lady. But on December 1st of that year, a new musical opens based on an eighteenth century French novel by Voltaire, with music by Leonard Bernstein and a book by Lillian Hellman. There are a number of lyricists, including James Agee (his contributions were ultimately not used), Dorothy Parker, John Latouche and Richard Wilbur. Who could have imagined at the time that the seed of this undertaking would grow and change and evolve into a work that defies definition (opera? operetta? musical theater?) and eventually gain "cult" status among musical theater aficionados in the process? The work we are referring to is none other than Candide.
We celebrate this storied work and have brought together a group of artists for whom this piece has played a significant role in their artistic lives from the original Broadway production, through its revivals and morphing all the way to its much-anticipated production by the New York City Opera in January 2017. Read on for some memories, reminiscences, and a fun story or two along the way. We salute the journey of this now classic work -- in whatever incarnation you be familiar and love (or hate), as the case may be.
Barbara Cook, Cunegonde in the original Broadway production in 1956
"I am extremely proud to have been part of the original cast of Leonard Bernstein's Candide. I have two distinct memories of opening night in New York, December 1, 1956 at the Martin Beck Theatre. First is that the overture stopped the show -- people loved it, and to this day it's one of the most frequently played pieces by symphony orchestras around the world. My second big memory from opening night was Lenny coming backstage to wish me luck. He was just about to leave when he added, "Oh yes, Maria Callas is out front." I said, "Oh my God, I could have done without knowing that." Lenny laughed and said "Don't be ridiculous. She'd kill for your high E-Flats." The show did great things for my career. More than any other show, Candide has given me a certain musical credibility I wouldn't have acquired otherwise, especially within the classical music world."
Harold Prince, Director of 1974 and 1997 Broadway revivals, and subsequent New York City Opera productions, including upcoming in January 2017
"I was reluctant when the Chelsea Theatre Center at BAM asked me to do another adaptation of Candide for its small but much esteemed theatre. At the time I was on its board. Further, I should mention that I'm really saddened that the organization is no longer in existence. I was so reluctant that they went to Hugh Wheeler, one of my longtime collaborators, and he did a version of the piece which quickly won me over.
It was based on the fact that though Candide was the #1 best seller in Europe when it was published, Voltaire denied authorship and said it must be some schoolboy's jape. That inspired Wheeler's treatment and we cast the show with young people, most of them in their early 20s. It was a huge success in Brooklyn and then on Broadway.
Ultimately, Beverly Sills, a good friend, told me that I had to put it onstage at the New York State theatre for the New York City Opera. I said it was an impossible task, but Beverly being Beverly insisted and made it happen. We restored much of the material and put it in two acts. The opening night was spectacular and the New York Times said something like, "triumph at City Opera, disaster at the MET" (naturally I would remember that!). It continued at City Opera as its most popular attraction and the final performance of that august organization was a matinee of Candide. I attended and it got a huge and lengthy ovation.
When the new management got the rights to reinstate City Opera they came to me, and I was delighted to accept the offer. In addition, it will not be precisely the same production that was last seen. I feel times have gotten even more serious. Obviously I'm influenced by the political atmosphere surrounding these months. So this version will be grittier and there will be a major reinterpretation of one of the most spectacular numbers in the show. I'll let it go at that because I want it to be a surprise. Also, I'm banking on a wonderful cast (Linda Lavin, Gregg Edelman, Jay Armstrong Johnson, Chip Zien, etc) to reinterpret the material as I envision it. We open on January 5 and I feel that it's more than a revival, its something of a rethink."
John Mauceri, Music Director/Conductor of the 1974 Broadway Revival and numerous subsequent productions, including collaboratively creating the "opera house" version
"Candide's journeys began, obviously, with Voltaire and somehow imprinted themselves on the journey of a Broadway show, which could be called, "The Flop That Would Not Die." My association with it began when Lenny and the other original creators had given up on it. From 1956 until 1971, there were a number of loving and creative attempts to "save" that show: a semi-staged national tour, a London production, a West Coast iteration that made its way to the Kennedy Center and died there. That's when Lenny got the call about a new, one-act version with a new book by Hugh Wheeler and a team headed by Hal Prince - and with Stephen Sondheim ready to add new lyrics. Bernstein, who had added one last song to the 1971 version, was busy (or weary of the whole thing). He asked me to be the music director. What I did not at first know, was that the script did not indicate what music would fill 50% of the script's requirements. After the overture, the script simply said, "Opening Number." What opening number? There was a call for an "Inca Ballet." What?
Bernstein provided me with two volumes of music. This was every note he had composed over the years. Those volumes and the published piano-vocal score were to be my source for suggestions to Hal, Steve, and Patty Birch. In a way, once we ascertained what songs were in the script, I could look at was not there, to suggest music for Sondheim's lyrics. Thus, the "opening number" came from a song, "Dear Boy," as underscoring, and the "Venice Gavotte" for the various characters' first musical entrances. We could not use "Eldorado" because the lyrics were by Hellman, and the contract for this new Candide specifically required us not to use places and words that were hers. ("Here I am unhappy chance" for "Here I am in Paris, France" since Cunegonde sang the song in Lisbon in the new book.) That's when I found a song with no lyrics and suggested it for the sheep in Eldorado and the lion (as a kind 0f Ezio Pinza character) for the middle section. Again, Steve came through with brilliant lyrics that were in every way equal to the work of the original lyricists.
Our streamlined Candide opened at the Brooklyn Academy of Music, transferred to Broadway and won a lot of Tony Awards. When opera houses wanted to do Candide we all created an expanded two-act version of the little original in 1982. And this opened the book to include most of the missing music - but not all of it. We were still building a musical text on a book that replaced the original 1956 locales with those from 1973. Nevertheless, we managed the Venice Gavotte in Constantinople and the Paris Waltz in Cartagena, Colombia. I cobbled together a new version of the 1956 finale to Act One, and this time Richard Wilbur came to our rescue, returning to the music he had provided lyrics for in 1956. On the other side of the intermission, Hal needed an Entr'acte, and so I found unused music from the trunk and asked Wilbur to provide new lyrics to "Eldorado," as a ballad 'to the new world." These lyrics are precious in so many ways, because they epitomize imagery from a man who was once our Poet Laureate of our country.
This "opera house" version was an enormous hit. Its recording garnered a Grammy for "Best Opera Recording," but the problem was that Lenny never particularly liked it. It was terrifically funny, of course, and there was more of his music in that version than had ever been heard in ANY Candide. But, the music was in the wrong place and it was never serious. Hal was always ambivalent about the uplifting ending, and preferred to have it undercut by having a cow drop dead of the pox after everyone had just raised their voices in an affirmation of life and honest work.
Somehow, I felt responsible, since Bernstein had entrusted his music to me. I was always skirting the shoals between being "true" to Lenny and being a team player with people who knew a lot more than I did and had a very clear vision as to what Candide needed to be. During my time as music director of Scottish Opera, my colleagues asked me to bring one American work into the repertory each year. I decided to re-read Voltaire and took pencil to paper to see if I could put all of Lenny's music in the correct countries and hang all of it on the original journey, first published in 1759 and not a book that was created as part of a legal settlement with Lillian Hellman (who had passed away). I flew to Amsterdam where Bernstein was conducting to show him how we could put the French music in Paris and the Italian music in Venice, and so forth. Bernstein enthusiastically accepted the idea. We first went to Hugh Wheeler who was game to adapt his 1973 and 1982 books back to Voltaire, but his health made that impossible. With Jonathan Miller and John Wells as my colleagues, we created the last Candide in 1989. This version won an Oliver as "Musical of the Year," and a Grammy for Bernstein, who recorded it with the London Symphony in the months before his death in 1990.
Not bad for a flop, of course, but a tale worthy of Voltaire, and a story that embraces my many years with Lenny."
Maureen Brennan, Cunegonde in the 1974 Broadway Revival
"I shall be ever grateful for Candide. The original production already had a cult following when I discovered it as a student. It started my career. I had the incredible opportunity to work with Hal Prince, Stephen Sondheim, John Mauceri, Leonard Bernstein, Patricia Birch and the talented ensemble of actors. I got to meet the inspirational, Barbara Cook. I wore out her recording of "Glitter and Be Gay."
One story I enjoy sharing is about the staging of "Glitter and Be Gay" in our production. We were in an environmental set with platforms and ramps and trap doors. Hal's idea for "Glitter" was that the jewels for the song would decorate the beautiful powdered wig worn by the lady accompanying me on the harpsichord. She popped out of a trap door and sat in front of me while I sang. At varying times in the song, I would pluck the jewels off her wig until I was completely bedecked. During the run off-Broadway at the Chelsea Theater Center, I pulled the trap door open, out came the harpsichordist (Mary Pat Green). She plopped down and I noticed her powdered wig tilt to the left. I knew there was a chance that the wig could slide off. I was very careful, but with each pluck, the wig tilted farther to the side. I had to tap her wig with my toe to receive the last piece of jewelry. I did and the unthinkable happened--off fell the wig and Mary Pat was sitting in her wig cap looking at the audience. In character, Mary Pat gave me a haughty look that would kill, grabbed the wig, stuffed it back on her head and kept playing. I was hysterical. I could not sing--I just howled with laughter. Good thing the lyric at that point was 'Ha Ha Ha Ha Ha Ha!!' The only note I could get out after that was the last high note. There was a chin strap sewn on the wig the next performance. I still laugh about it!
The experience of being a part of that production of Candide was so rich. Forty-two years later, it remains one of the best and most extraordinary times of my life."
Mark Baker, Candide in the 1974 Broadway revival
"I lived in sin with the 1956 album while studying design at Carnegie-Mellon, and meeting June Gable there, a student mentor for my acting pursuits even then. It was to our great delight to be cast together with Maureen Brennan by Hal, to help Lew Stadlen and Sam Freed carry the comic ball, so to speak, while Deborah Saint Darr provided all comely pulchritude! Having the utter pleasure to get to work with choreographer Patricia Birch again on Candide proved a happy coincidence as well (she had cast me as Linus two years before in my debut into professional theatre, in the Washington, DC production of You're a Good Man, Charlie Brown, where I accidentally slid up under Mrs. Johnson's ballroom chair on my blue blanket, another shaggy dog story for another time...).
I had a hilarious bit of karmic biorhythm happen the day the Prince office called to offer the coveted title role. After eleven fascinating casting sessions (Hal later confided he had cast me initially all along, and was building an ensemble). I recall walking out from dear friend Robert Anton's Central Park West puppet art studio in a most highly elated state with my new status in a mind-bending theatrical leap of faith for all concerned, only to find Barbara Cook across the street waiting for the bus ! All caution to the fray, I proceeded to launch into autopilot with my portion of the musical's celebrated duet "Oh, Happy We!" where Candide and his beloved Cunegonde are reunited (the reprise). In apparent good faith, and with a most concerted personal whimsy, a very brave, wonderful Ms. Cook acceded my upstart vocal on-pitch please (I mean, after eleven sessions with Mr. Prince, I knew the material cold) and we sang the entire stanzas as traffic continued between us! When the green light allowed, I joined her at the bus stop, spoke of my new prospect and her continued musical theatre legacy, we tearfully embraced, and she got off the bus before my stop. Voltaire would have delighted in it, and probably Bernstein, too! Sure it would not have been lost on sardonic librettist Hugh Wheeler, either!
Other than the thrill of a life time in the theatre, being integral in process of recreating a hit from a Broadway cult classic, I must say the trust, fun-loving confidence Mr. Prince bestowed, has served my own charmed Wikipedia show biz variegations, to date a career in theatre, film and television spanning over thirty seasons, including an unprecedented opportunity to appear as the solo American in a groundbteaking 1978 Cape Town, South Africa production so ably crafted by Mavis Taylor for the University at Rondebosch. The chance to share the antics and foibles of a hapless hero in an alleged Age of Reason so far from Our America was and remains a stark memory, far from The Great White Way and its glitter, the acclaim, the hard work and our soaring fantasy time together remains a seminal moment in a Charmed Life.
Best loved moments? In all of it, I adored most cavorting with and kissing Maureen Brennan; what a deeply charming Early Broadway Baby!"
Erie Mills, Cunegonde in the 1982 production at New York City Opera
"In 1982 I made my NYCO debut in the "opera house" version of Candide. It was a new production directed by Hal Prince and conducted by John Mauceri. Singing Cunegonde in NYC at NYCO in a new production was the thrill of a lifetime. It certainly was a boost at the beginning of my career. I'd been singing "Glitter and Be Gay" since college and to be able to sing the entire role with a wonderful cast was SO much fun! I'm grateful for the piece and for all the performances."
Jason Danieley, Candide in 1997 Broadway Revival
"I made my Broadway debut as Candide in the 1997 Hal Prince re-staging of a Candide he did for New York City Opera and has subsequently restaged many times. I was thrilled to get the opportunity to play the title character in a musical that has such a rich classical, at least for music theatre, score. I studied voice classically and felt it would be a good fit for me and it was. Never since has my vocal technique and skills been used to their fullest potential.
Since this was a restaging I really didn't get to create my Candide as much as be part of what was already thought out for me. Pity. But I was surrounded by some comic geniuses and learned so much from watching them; Andrea Martin, Jim Dale, Artie Johnson, Mal Z. Lawrence. I learned how to work on a bit until it's just where you like it and then mess with it some more. To never be satisfied, always working the audience. That stillness and seemingly not doing anything can be as funny, if not more than, doing a three-act-play for one gag.
It was a tough debut to have after the fact. So many people, even those who work in our industry, still see me as the opened-faced, wide-eyed Candide, ever the optimist with a classical voice. It's been 20 years and I've had a plethora of varied roles to play but somehow that first impression sticks hard in people's minds. It's not bad to have that be people's first and lasting impression of you...unless you are a complicated and nuanced actor."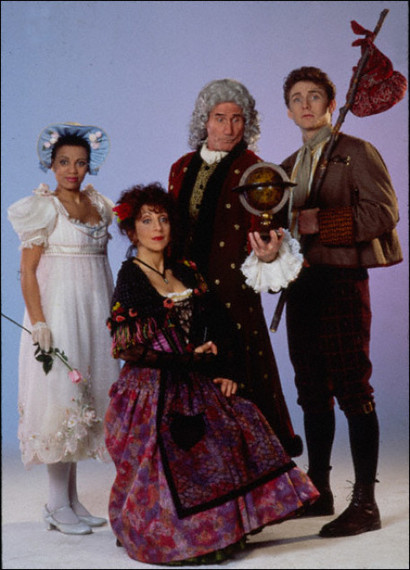 Harolyn Blackwell (Cunegonde), Andrea Martin (Old Lady), Jim Dale (Dr. Pangloss) and Jason Danieley (Candide) in 1997 revival of 'Candide';
photo: Michael Cooper
Eric Stern, Music Director of the 1997 Broadway Revival
"Whether or not the book of Candide "works" will always be a matter for discussion. What is evident to anyone, though, is that the music sparkles and teases and stings and weeps and delights like nothing else ever written for the American stage. Bernstein pulled off an amazing trick: the score works as satire, biting and irreverent, yet has great heart, with the power to both move and inspire. I simply can't tire of this music, and I was grateful every night to walk into that pit to start the overture."
Linda Lavin, the Old Lady in NYCO 2017 production
"Working on Candide means so much to me in terms of the history--I listened to this album with my mother, who had been an opera singer, and every day we listened until we learned just about every song in the score. It is brilliant--thrilling and passionate and musically complicated and exciting--it's Leonard Bernstein! The collaboration of Sondheim and Hal Prince--its the original production team reunited to do this opera at New York City Opera at the Rose Theater at Lincoln Center. And I get to play the character called "the Old Lady"--a woman who has been through so many wars, and been ravaged, and endured so much hardship, and travel and dispossession, and then she gets to sing a wonderful song called "I am so easily assimilated." I get to sing in a way I've never sung before on a Broadway stage--I get to sing in an operatic style. And I get to work with my mentor, Hal Prince, who is directing this show again, and his son, Charles Prince, who is conducting. So I get just about everything I've ever wanted!"
Read more features from ZEALnyc below:
Popular in the Community