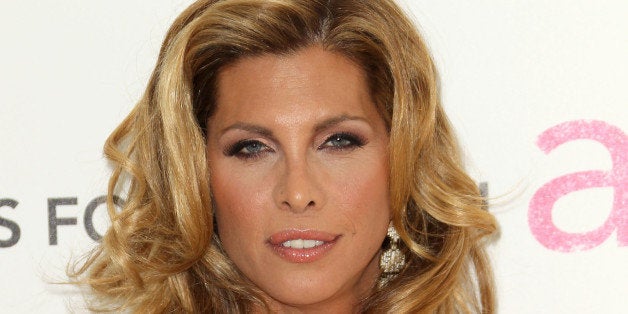 Throughout her career, Candis Cayne has admittedly embraced her role as an unofficial spokeswoman for all things trans. When it comes to the community's recent outcry against terminology deemed "transphobic" on RuPaul's Drag Race, though, Cayne takes an opposing stance.
"There's no transphobic anything [on Drag Race]," the actress stated flatly during a recent telephone interview promoting her new film Crazy Bitches, which debuts June 26 at San Francisco's Frameline Film Festival. In fact, rather than towing the trans-party line, Cayne seemed frustrated by those lobbing the accusations.
"There's a group of people who don't like certain words," said Cayne, who plays one of seven sorority sisters systematically murdered in the upcoming indie horror flick. "And now everyone has to change their lives around it."
For those living under a rock, the sixth season of the Logo TV search for "America's Next Drag Superstar" was shaken by a social media blitz demanding that words like "tranny" and the popular "You've Got She-Mail!" catchphrase be discontinued. Initially, series namesake RuPaul and producers stood firm.
However, a segment dubbed "Female or She-Male" soon drew particularly intense backlash. Even Drag Race alum Carmen Carrera, who transitioned after appearing on the show's third cycle, weighed in via Facebook.
"Although I am certain RuPaul's Drag Race didn't mean to be offensive, let this be a learning experience," Carrera started her scathing indictment of the mini-challenge in which competitors were asked to determine whether photos of body parts belonged to cisgender women or past Drag Race contestants. "'Shemale' is an incredibly offensive term, and this whole business about if you can tell whether a woman is biological or not is getting kind of old."
Eventually Drag Race producers acquiesced. They issued a statement about being "newly sensitized," and such words were edited out of future episodes; the "Female or She-Male" segment was pulled from online archives entirely.
Amid discussion of Crazy Bitches -- which sees Cayne in the first non-trans role of her career -- the beauty admitted certainly understanding the frustration from Carrera and the trans community. "The word 'she-male,' if someone called me that, I'd be irritated," she confessed, "but I'm not going to change a whole segment of a television show that's about drag because they used it."
In fact, Cayne went on to defend RuPaul and the series producers. "These are a group of guys who do so much for the gay community, the trans community, the drag community," she pointed out.
Cayne sees the terminology as a playful, campy take on Tyra Banks and America's Next Top Model, which uses a similar "You've Got Mail!" segment. "To me, it's not a serious show," the star said of Drag Race, on which she's appeared as both a choreographer and guest judge. "It's a fun, whimsical competition."
"I believe words mean something with intention," shared Cayne.
"I don't believe the word 'tranny' is 'wrong,'" she continued. "I don't believe the word 'she-male' is that tasteful -- it's not something I would use -- but I don't see why there's such an uproar about it."
Reflecting on the early days of her own transition, when she was an entertainer in the New York City nightlife scene and long before a role on Dirty Sexy Money made Cayne the first recurring transsexual character on network television, trans women were forced "very under the radar."
"We weren't allowed to be [trans]," she recalls, "But we all called each other 'tranny.'
"A new, young activist isn't going to tell me I can't use that word," she concluded, "That's how I feel."
Crazy Bitches, directed by Jane Clark and starring Liz McGeever, Cathy DeBuono, Andy Gala, Nayo Wallace and Candis Cayne, screens June 26 at San Francisco's Victoria Theatre as part of the Frameline Film Festival, 9:30 p.m.
Related
Popular in the Community