Candis Cayne certainly knows how to make an entrance -- and an exit, for that matter. When her latest big screen outing, Crazy Bitches, hits Frameline Film Festival later this month, Cayne does both in dramatic fashion.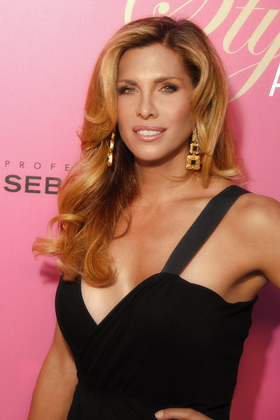 Fans of Cayne certainly won't be shocked by her portrayal of man-hungry Vivianna in the indie horror/slasher film, which debuts at San Francisco's Victoria Theatre on June 26. However, the actress and outspoken trans rights activist says they might be surprised by one refreshing twist.
"[Director] Jane (Clark) really gets me. She is the only person to ever really cast me as a girl," admits Cayne during a recent midday telephone interview. "There's never any mention of trans issues or any of that kind of thing."
Indeed, while the film about seven sorority sisters who reunite for a weekend getaway which turns into a bloodbath features strong lesbian themes -- and the requisite gay character, naturally -- Clark allows Cayne to move past the Hollywood (and perhaps viewers') perception of her as "the trans actress." It's a chance which, until now, has proven elusive, Cayne says.
"Not that I mind being a spokesperson [for the trans community] and doing that, because I don't," shares the beauty, who has been open about her gender identity throughout her career, "I love it, but I feel I'm definitely typecast as 'the transsexual.'"
It's the dual-edged sword of success, she acknowledges. Having secured roles on two network television series -- most notably opposite William Baldwin on the ABC drama Dirty Sexy Money, which made Cayne the first actress to play a recurring transsexual character in primetime -- that is how audiences and directors alike view her now.
"It's not even that I'm even excluded from roles, so to speak," she shares, "But because I have name-recognition, I'm not even thought of to play in those roles."
Fortunately, Cayne has a team of professionals who believe in her and are taking steps to change the way casting professionals think of her as an actress. Her agent actively pitches her for roles "outside the box" -- "You know, the kooky girl-next-door type," she says -- but has had limited success to date.
That could begin to change, thanks to Clark, Cayne notes. The director has several upcoming projects in which she plans to work. And, one role at a time, she hopes to change the tide.
"It hasn't happened yet, but you never say 'never,'" Cayne says. "I'm going to keep trying. I love acting. I love going to those places, so it's a joy to me."
Crazy Bitches, directed by Jane Clark and starring Liz McGeever, Cathy DeBuono, Andy Gala, Nayo Wallace and Candis Cayne, screens June 26 at San Francisco's Victoria Theatre as part of the Frameline Film Festival, 9:30pm.
Calling all HuffPost superfans!
Sign up for membership to become a founding member and help shape HuffPost's next chapter