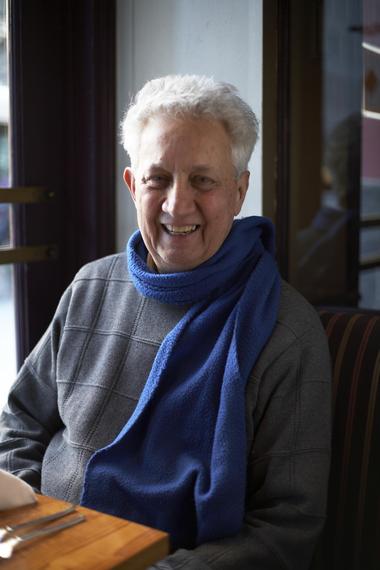 I met up with Bart Potenza, the founder of the vegan restaurant Candle Cafe, at his Upper East Side locale. Bart has a warm, jovial and energetic presence despite being almost 80 years old ("80 going on 60" he tells me). Along with his wife Joy Pierson, who co-founded the restaurant with him back in 1993, they are frequent fixtures at their upper east side cafe (they also own the sister restaurant on the upper west side and the upscale Candle 79). As we sit down at a high-top table in the front of the restaurant, Bart mentions that he recently had a hairline wrist fracture, and surprised the doctors by being mostly healed after four weeks, one of the many health benefits he credits to his vegan lifestyle ("In 30 years, I've had the flu only twice" he states proudly).
The place is bustling with the dinner crowd, and Bart leans over and points out some of his long-standing customers to me, who often sit alongside famous faces like Gloria Steinem, David Duchovny, and Alicia Silverstone. "This one has been coming here for 23 years" he says about a lady taking a seat at the bar. The restaurant is really "an institution" he tells me, although in the same breath acknowledges that he has also seen many customer over the years be replaced by millennials. One of the biggest challenges, he relates, "is how to pass the legacy on to the new and younger group that represent us. Frankly, they don't always get it." Our waiter comes over and I order the Popeye's Virtue juice for my mild headache and Bart asks for a peppermint tea ("it's good for digestion" he tells me).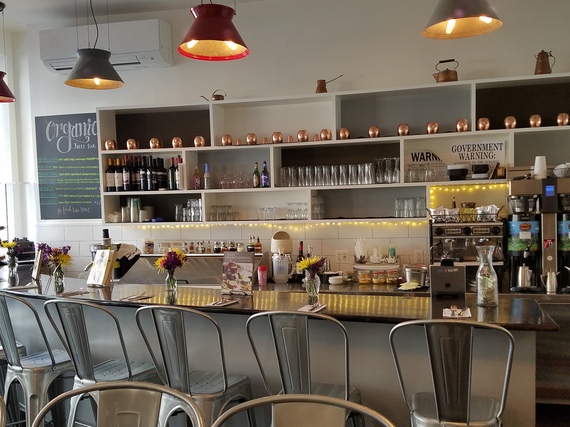 Bart wasn't always a healthy eater. Rather, he was a smoker, had low energy and suffered from mood swings. In his forties, he started attending new-age workshops, worked at the first health food and juice bar in the city, Sunny's, and became passionate about healthy living. He became a vegan, ultimately purchasing Sunny's which he renamed Healthy Candle. Joy, a nutritionist, came in as a customer, and their passion for wellness led them to work together ("she brings health and vitality to people") and ultimately fall in love. Then, in 1993, they won $53,000 in the take-five lottery using both of their birth dates as the winning numbers, and took the money and invested it into what is now Candle Cafe.
The first three years at Candle Cafe were difficult; the hours were grueling as they tried to build up the business, and people didn't come. Bart would look down the street at the lines out the door of E.J.'s Luncheonette and feel discouraged. One day, though, the New York Times walked in ("they are the boss!" he exclaims), gave Candle Cafe a good write-up in the "under $25" column, and the word started to spread. Since then, they have cooked-up more than five million vegan meals for customers.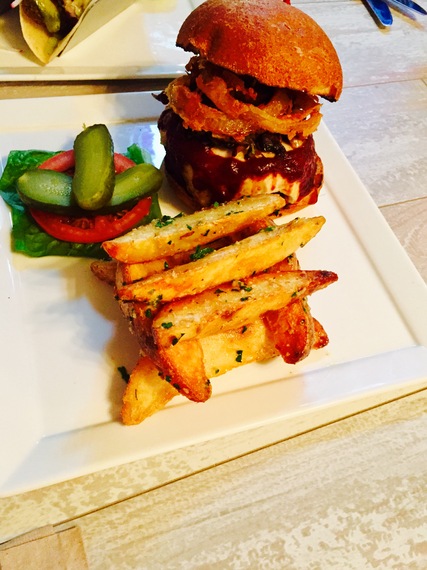 Bart describes the menu as "farm-to-table comfort food" that contains many staples, along with seasonal changes to the menu. They liken themselves to other farm-to-table restaurants with the difference being that "instead of seafood and steak we use seitan, tempeh and tofu" which he calls "the holy trinity". As if on cue, the waiter brings over their signature Seitan & Mushroom Burger, topped with mozzarella cashew cheese and a fried onion, and I comment to Bart that it tastes remarkably like a real burger. In addition to their meatless options, Bart shares that they also have a set of gluten-free menu items for customers. "We've had young kids enjoy their first cake ever at our restaurant because we prepared it for them" he exclaims proudly. And they are vigilant about where they get their produce from, sourcing most of it from farms in New York State, as far as the Finger Lakes region, as well as some farms in Connecticut and Pennsylvania. One of the farms that they source from, in Chester, New York, even uses volcanic soil.
For Bart and Joy, though, their restaurants are part of a bigger movement. Bart and his wife have made it their mission to spread the message of healthy vegan living to others. "I'm shocked that people still don't make the connection between what they eat and how it affects their health. I'll lay one cliché on you - it's harder to change people's food habits than their religion or politics." The couple have made healthy vegan living a lifestyle; they drive a Prius, don't wear leather, have a garden at their Connecticut home, and support many charitable organizations including Green America, P.E.T.A. and Farm Sanctuary. They even cater large events, including the upcoming Humane Society event at Cipriani which they are catering for the fourth year in a row. As part of their commitment to healthy living, Bart and Joy have a commitment to eco-friendly "green" practices at their restaurants even though, as Bart admits, "it does have quite a financial impact". Candle Cafe was the first restaurant to be certified by the Green Restaurant Association, and Bart has executed it so well that other restaurants consult with him when setting up their own restaurant.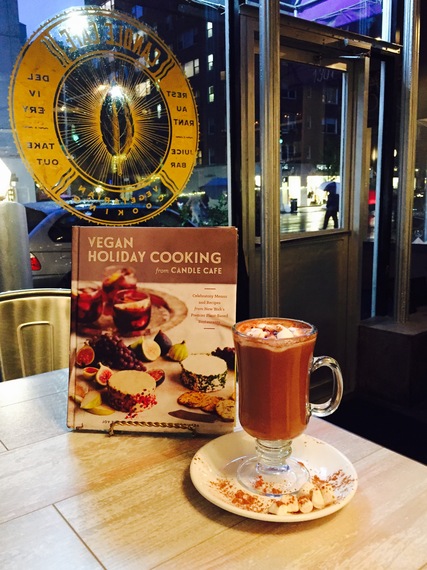 The recipes of Candle Cafe are now global, as newcomers can be introduced to vegan eating through Bart and Joy's three cookbooks, and get a window into Bart's optimistic outlook through his book of daily aphorisms, Look Two Ways on a One-Way Street: Food for Thought from the Founder of Candle Cafe and Candle 79. I ask him to share one of the quotes. "Life can be a bowl of fruit, but you have to bring your own bowl and your own fruit" he says as we both laugh, adding that some of his aphorisms can be found on the walls of the upper west side Candle Cafe.
What about his own personal daily aphorism? "Very simply I say yes; yes to being out in life and doing it." I think we can all agree that, without a doubt, he has done exactly that.
Find out more about Candle Cafe here.
Calling all HuffPost superfans!
Sign up for membership to become a founding member and help shape HuffPost's next chapter