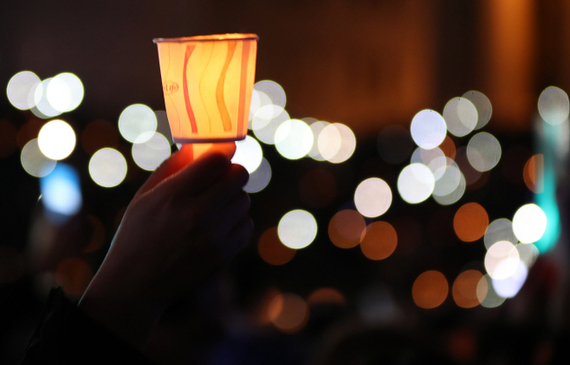 [A protester holds up a candle at Gwanghwamun Square in Seoul on Nov. 12, while attending a rally calling for President Park Geun-hye's resignation./ Source: Yonhap News]
By AsiaToday reporter Jina Koh - With candles in their hands, they raise their voice and take action with youth politics. This is how Asian millennials (born between 1980 and 2000) express support for democracy.
Young South Koreans marched into Gwanghwamun Square with candles in their hands in Seoul on Nov. 19 calling for scandal-hit President Park Geun-hye to quit. Candles were also lit in Bangkok on Oct. 6 to pay tribute to victims of a bloody massacre four decades ago. Will their desire for democracy be achieved?
With anger comes hope. Back in August, the Taiwan High Court overturned a Taipei District Court ruling which found anti-China university students who had led Sunflower Movement since March 2014 guilty. Premier Lin Chuan defined the Sunflower Movement as "a student movement that contributed to the social development of Taiwan."
In the same year, Joshua Wong, an icon of Hong Kong's Umbrella Revolution, was detained at an airport in Thailand. The main reason for the move could be triggered by pressure from Beijing, however the Thai military government did not want Wong to enter the country neither. However, this incident quickly spread worldwide, creating numerous supporters.
The way of expression has evolved. The Gwanghwamun protests in November have been peaceful and orderly. Foreign media outlets reported that the candlelight protests seemed like a festival. Young married couples came with strollers. The singers sang and the people were calm.
Young people and monks peacefully held candles at a ceremony to remember Thai student massacre in Bangkok on Oct. 6. The event featured a series of talks by survivors to commemorate the massacre.
Reasons why Asian millennials have to hold candles, spread umbrellas, and put sunflowers on their chests may vary. They could be political anxiety due to geopolitical factors, or dictatorship and political corruption scandals within the country. But in the end, the crux of the matter is their desire for democracy.
And the millennials' democratic culture is spreading rapidly throughout Asia. After Joshua Wong was sent back to Hong Kong from Thailand last month, the Network of Young Democratic Asians (NOYDA) issued a statement condemning Wong's detention. Most of its members were involved in the Umbrella Revolution in Hong Kong, the Sunflower Movement in Taiwan and the antijunta movement in Thailand.
Their aim is to reclaim the social, cultural and political narrative of a region grappling with entrenched authoritarianism. They plan to ascend into governments and other institutions. 23-year-old Nathan Law became the youngest legislator in Hong Kong history in September.
Both Wong and Law founded the political party Demosisto in April this year. The group plans to hold a referendum within 10 years to decide Hong Kong's future after 2047, when the "one country, two systems" principle expires and the city will no longer be autonomous.
For the future they want, contact and support from other youth activists in different regions are essential. Wong and Law shared the story behind NOYDA in a recent interview with TIME. Law said, "We want to have connects with different activists in the region, to facilitate our mutual support and mutual understanding."
Wong has been networking with regional activists for several years. When he played a leading role in a massive protest against "patriotic education" in Hong Kong in 2012, he met Wang Dan, former student leader of the 1989 Tiananmen protest in Beijing, and then he was invited to attend a seminar in Taiwan. At the seminar, Wong met with several Asian democracy movement leaders, including Lin Fei-fan, who later emerged as a leader of the Sunflower Movement in 2014. Lin is also a member of NOYDA.
NOYDA has 14 members from Hong Kong, Japan, the Philippines, South Korea, Taiwan, Thailand and Vietnam. Lin said, "We're starting to think about how maybe we can analyze or identify the common crisis that is happening among the younger generation in East Asia."
Asian millennials have been influenced by protests and movements in other countries. Activists are inspired by other instances of nonviolent movements in the region and lead similar activities in their own countries.
A year before young people in South Korea demanded direct presidential election in 1987, there was a movement in Philippines that ousted dictator Ferdinand Marcos. We cannot say that one caused the other. However, many key protestors in Seoul were aware that the biggest driving force that led to expulsion of Marcos from the Philippines was the "People Power" movement.
As times changes, new phenomena are witnessed. Beyond being influenced, it leads to the formation of an alliance. This is evident in NOYDA whose members conduct activities in different parts of Asia. Wong said, "When we feel helpless in our own country, don't forget that there are still people outside of your country supporting you."
The film "Raise the Umbrellas", a Hong Kong film about the Umbrella Movement, was recently banned in Hong Kong. The cry young politicians and candles is not yet over.
Related
Popular in the Community