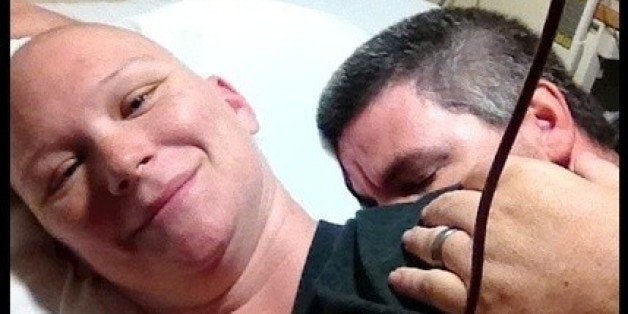 I met a man 16 years ago. 14 years ago, he made me his wife. Like everyone, our marriage has had struggles, but it has been perfect struggles for us. There are so many things I would love to change about him, and I am sure so many more he would love to change about me; however, for each other, we are perfect. This man, my best friend, has given me every desire of my heart! He has rescued me in so many ways. He has helped heal my heart and helped to show me my worth and value when I didn't always believe it. With love, support and grace, he helped me find myself. In all our years of marriage, I have never feared him leaving me, not one time! He gave me a security I never really knew existed. I wanted to be a mom oh so desperately... he made me a Mother of five beautiful children. He helped to give me a purpose that I didn't even know was within me. He has given us his everything, I am so proud of him and honored to call him my husband. He is an amazing friend, husband, father and the other piece of my soul!
Now, after all the battles in which we have triumphed, we are facing our greatest one. Love has carried us through all the rest and we are praying this will be no different. When I told my husband, "I am Stage IV" and they told me I will loose my life. My husband, Andrew, said, "No, we will do whatever it takes to save your life!" So through the LOVE of so many friends, family and strangers we are currently in Vienna, Austria; no, not sight-seeing and enjoying the culture, but, literally, fighting to save my life... daily. I will be honest, oftentimes this disease over shadows the important things, and unfortunately, Andrew's Birthday was no different. The night before his birthday, we rushed me to the hospital to receive blood transfusions. I spent the next few days recovering. I so wanted to celebrate him, to honor him, and do something special, because I know even more now how very important it is. I had blogged about the experience the following day:
Candle Lit Transfusion

Yesterday I woke up after my whole body hyperthermia. I was feeling weak and exhausted with complete will to charge on. My son, Andrew, and I hopped the underground to go to my treatments. Shortly after getting there, I convinced him to jump in the bed with me and I passed out. (Sadly, this is not at all my norm.) A couple hours later, my visibly panicked husband was awaking me.

"Sarah, you have to go to the hospital now for a blood transfusion."

"Do we have to?"

"Yes, Dr Kleef said your levels are dangerously low (5.6)."

Next would be finding a hospital with a bed available for me. This took an additional hour or two. All the while Linda, my mother-in-law, was with the kids moving flats. I tell you, I thank God for her. We would not have been able to do it without her! Still, while waiting for a hospital bed, I am trying to figure out how to avoid the blood transfusion; I've never had one and had feared one. Finally, we get to a hospital. The experience was very unique, to say the least. Just different. We go through all the 'technical' stuff. Three bags were recommended, but I felt more comfortable just receiving two.

The unexpected blessing of the blood transfusion: Today is Andrew's Birthday. To say this trip hasn't been hard on all of us would be an understatement. You get so focused on "surviving" you can easily loose sight of who you're surviving for. So while I was weak, frail and so very scared, my husband crawled in the tiny hospital bed with me. He comforted me and held me. We talked very candidly about this disease and our fears. We tried to make sense of something we know we can't make sense of. So we got to cuddle each other and I fell asleep in his arms. It was a special way to celebrate Andrew's pre-Birthday, a candlelit bloood transfusion lol.

Love,

Sarah

Don't let life get busy, that you forget what is really important

Still wanting to do something special to Celebrate Andrew, the love of my life... I thought what better way than to tell the world what an AMAZING man he is?
Happy Birthday, my love! I so had wished your day had gone differently. You never fail to show me how blessed I am to call you my Forever! This journey would be unbearable without your love and strength. You are so smart, Andrew. You are so HOT! You lack confidence and that makes me love you even more. You don't know how truly awesome you are. You are my best friend, my soul mate, you are the best lover and you are so very perfect for me. You are a great father, not because you're perfect at it, but because you want to be. You want your kids to have everything they want in the world and you beat yourself up over it because you can't. Andrew, you are such a great Daddy, I wish you didn't doubt yourself. Your loyalty almost doesn't exist in this world anymore. I have lost my breast and have scars everywhere now. I'm bruised up everywhere from all the multiple, daily injections. My skin has no color left; I have no hair on my head. You still look at me like I am the only one in the world! How do you do it? Because of the man that you are! If you could see you, from my eyes, self-doubt wouldn't exist in you for even a second! I don't know how all this will end my Love, but I do know if LOVE wins I am not going anywhere! Today Andrew, I celebrate you as I do everyday and shame on me for all the times I've taken you for granted. You are my soul mate, my best friend, my lover, I love you more than words could ever express!
My Heart is Forever Yours.
REAL LIFE. REAL NEWS. REAL VOICES.
Help us tell more of the stories that matter from voices that too often remain unheard.