It was only a matter of time until someone (perhaps the same people that brought you squeeze-tube'd yogurt and these weird things) brought something as necessary as canned sandwiches to market. Behold, the Candwich. Patented by Mark One Foods president Mark Kirkland, the vending machine-friendly, canned sandwiches are available in peanut butter and jelly or chicken. And, if sandwiches in a can ("Quick & Tasty Ready To Eat") seem to good to be true, that's because they pretty much are.
The New York Times is reporting that Travis L. Wright, a Utah-based financier helping to back the Candwich, is being sued by the Securities and Exchange commission for lying to his investors (Utah having "long endured a reputation as a place where many people are naïve or trusting to the point of losing their shirts," in the words of the Times). Wright, so confident in such a seemingly wacky concept, lied to his investors saying he was investing their money in commercial real estate, when really he was funneling money to the Candwich.
In all, Travis L. Wright raised $145 million from 175 investors between 2001 and 2009, according to the suit. He only invested $6 million in the kinds of things he said he would be investing in, the SEC says.
Along with sales of canned sandwiches -- Pepperoni Pizza Pocket and French Toast in a can were planned -- Mr. Wright's companies, under the banner of Waterford Funding, also invested in a company selling rose petals printed with greeting card sentiments and another selling watches over the Internet.
Rest assured, however! Candwich's actual inventor, Mark Kirkland, still believes in canned sandwiches and hopes they'll go into production later this year. They have an excellent shelf life, he told the Times.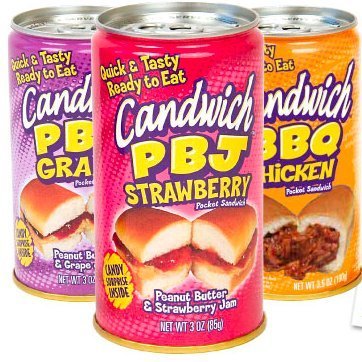 Popular in the Community