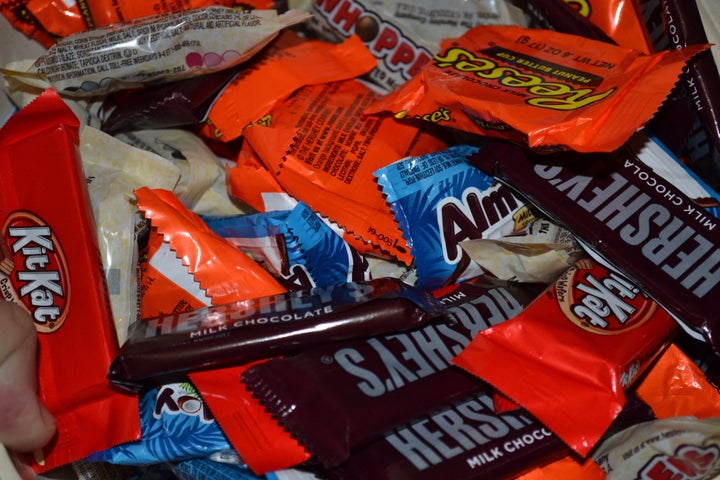 With the closing of USDA's period for public comment on the new proposed competitive food rules, there has been a lot of discussion about the food and beverages offered to school kids via vending machines, school stores and cafeteria snack bar or "a la carte" lines.
But what about the many other ways in which kids have access to junk food at school, such as classroom rewards, school fundraisers and class parties? Those avenues are not going to be regulated by the new rules, but a disturbing new report from the Robert Wood Johnson Foundation's Bridging the Gap research program indicates that they are just as problematic.
Using data from surveys of nationally representative samples of U.S. public elementary schools between 2009 and 2012, the study found that the majority of respondents had "no school-wide restrictions on teachers using candy in classroom lessons, offering sugary items (e.g., candy) as reward for good student behavior or academics, or offering coupons or incentive programs (e.g., pizza parties for reading)." Similarly, few schools limited the sharing of sugary items for parties or birthday celebrations. Specifically, the study found that almost 70% of schools allowed candy to be used in lessons, 67.9% allowed the use of food coupons as incentives, and 64.6% allowed the use of candy as a reward. 60.6% had no nutritional requirements for the food sold in fundraisers and 57% had no limits on sugary items for birthday or holiday parties.
Why is this important? Because the study also found that in 2004-05, 29% of elementary school kids consumed competitive food on a typical day but the most common sources of this food were not vending machines or the cafeteria, but rather "fundraisers, parties and rewards or other classroom activities."
So, while the USDA's proposed rules are a big leap forward in cleaning up our schools' food environment, it's important to remember that they only take us so far. It falls to the states and individual school districts to impose policies to reach these other, common sources of junk food in a child's school day. That's why I'm so pleased that here in Houston ISD, our new wellness policy, currently being drafted by our School Health Advisory Council, will directly address the use of food as a classroom reward (as well the equally distressing use of exercise as a punishment.)
Kids spend the vast majority of their waking life at school and the food they encounter there does matter. It matters on a purely nutritional level, of course, but it also matters on an educational level. Whatever nutritional education a child is receiving at school is irrevocably undercut when that a teacher passes out candy or fast food restaurant coupons for good performance, or when the school turns a blind eye (or in some cases encourages) fundraising tables heaped with donuts or other junk food.
The Healthy, Hunger-Free Kids Act has made great strides in improving school meals and, we hope, competitive foods sold on campus. Now let's work together to try to improve this last piece of the school food puzzle.