(Videos by HuffPost's Political Mashups Team)
Candy Crowley asked a followup question. And then she asked some more followup questions. And the world didn't collapse. Her biggest challenge turned out to be Mitt Romney. Crowley went round after round with the Republican nominee, sparring with him over the rules of the debate and, at one point, doing a real time fact check on one of his comments. She also had a similar, though slightly easier, set of tussles with Barack Obama.
With the bulk of the questions coming from audience members, Crowley was not in a position to drive the debate in the same way that Jim Lehrer or Martha Raddatz was. She ultimately struck a middle balance in the forum's first half -- jumping in with followups much more than Lehrer did, but not repeating Raddatz's second-by-second aggressiveness. The pattern was to ask a question and then fall back and let Obama and Romney argue with each other -- which they did repeatedly.
Where Crowley did prove most resolute was in her attempts to move the candidates along to the next topic. Both Obama and, especially, Romney repeatedly tried to argue with Crowley about the rules of the debate, and ask for more time to answer questions.
When Romney tried to reply to Obama at a point towards the beginning of the debate, she firmly shut him down. "There will be plenty of time," she said.
She was not quite as successful other times, saying, "OK, OK, thank you, Governor," as Romney barreled forward. As Obama tried to respond, she said, "we're going to move you along to taxes."
"Let's talk about self-deportation," she told Romney later. "No," he replied.
"I understand the stakes here," she said at another point. "I will get run out of town [if the debate doesn't move along]."
Later, Crowley actually asked Romney to sit down so she could move both candidates onto the next question.
WATCH OBAMA ARGUE WITH CROWLEY:
Another viewer tweeted, "This debate is getting intense, fiery and passionate. By which I mean Romney vs. Crowley."
New York Times reporter Jodi Kantor wrote that Romney's treatment of Crowley could backfire. "Gender dynamics at debates are tricky," she wrote.
The Times' Nicholas Kristof commented on both candidates and their interactions with Crowley. "Since both candidates are trying to convince voters that they respect women, they might start by respecting Candy Crowley," he wrote.
Crowley had a significant moment when she corrected Romney's assertion that it took Obama days to call the attack on the Benghazi consulate an act of terror. Obama called the incident an "act of terror" during his remarks on September 12, just one day after Ambassador Chris Stevens and three additional Americans were killed.
Obama interjected, telling the Republican presidential candidate to "get the transcript." When the governor doubled down on his charge, Crowley corrected him, saying the president "'did in fact' call the attack an act of terror.
"Can you say that a little louder?" Obama asked.
Following the debate, reviews about Crowley's moderating performance poured in. MSNBC's Chris Matthews praised Crowley, saying the debate was "very well-moderated...despite a little bit of snippiness from the governor that has become normal."
On Fox News, Megyn Kelly said Crowley "waded in to help the president."
Viewers reactions on Twitter ranged. Some cheered Crowley for fact checking Romney on the spot, others criticized the moderator for her time management.
"Crowley decided POTUS deserved 10% more time - Final speaking time per @CNN: 44:04 for Obama; Romney 40:50," Karl Rove tweeted.
Crowley joined her CNN colleagues just after the debate concluded. Soledad O'Brien's first question to Crowley was about her correcting Romney on Libya.
"I knew that the president had said 'act of terror,'" Crowley says. "I heard it ... [Romney] picked that one wrong fact," she said.
Conservative members of the media insisted that Obama did not call the attack in Benghazi an "act of terror." CNN confirmed Crowley's real time fact check, stating that the president did call the incident in Libya an "act of terror."
Related
Before You Go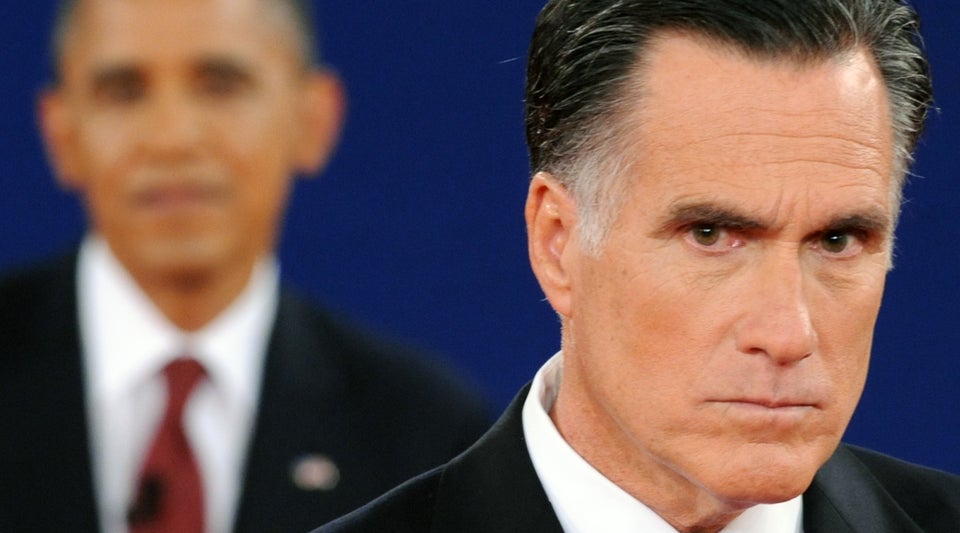 Second Presidential Debate Photos
Popular in the Community