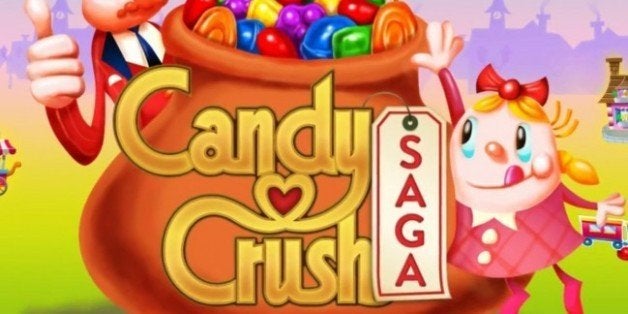 Remember when "Candy Crush Saga" maker King trademarked the word "candy"? Well, the gamemaker is at it again, only this time the company is allegedly seeking to remove the trademark of a game eerily similar to "Candy Crush Saga" -- a game that was trademarked two years before King's game was ever around.
In February 2013, King filed to trademark the word "candy" as a way of protecting the company's intellectual property (IP) and preventing other developers from earning revenue from knockoff games. King insisted that it would not enforce against all uses of "candy," only instances in which it thought it threatened its IP.
The only problem is that King may have already been infringing on someone else's IP rights. Enter Albert Ransom, president and founder of Runsome Apps, Inc. and creator of "CandySwipe." Here's a little background on the game, according to an open letter Ransom recently wrote to King:
I created my game CandySwipe in memory of my late mother who passed away at an early age of 62 of leukemia. I released CandySwipe in 2010 five months after she passed ...Two years after I released CandySwipe, you released Candy Crush Saga on mobile; the app icon, candy pieces, and even the rewarding, "Sweet!" are nearly identical.
In the full version of the letter, Ransom details the legal battles he's been quietly waging for years. He says that he opposed King's attempt to register for a trademark for "Candy Crush Saga" in 2012 on grounds that consumers would confuse the two products.
And, according to Ransom, consumers have been confusing the two products -- so much so that Runsome Apps has been keeping track of hundreds of instances in which mix-ups have occurred. In most app reviews, "CandySwipe" is referred to as a knockoff of "Candy Crush," he notes.
In the consumer's defense, it's easy to confuse the two, as is evident from Runsome's side-by-side comparisons:

So, if it's clear that "CandySwipe" came first, why is King the one allegedly filing for the removal of the "CandySwipe" trademark?
Well, in January 2014, King bought a trademark for a game called "Candy Crusher," which was trademarked in 2004 (six years prior to "CandySwipe"). The acquisition of this trademark seems to serve two purposes: to remove another threat to "Candy Crush Saga" and to use the trademark against Ransom and "CandySwipe."
These actions seem to directly contradict an earlier letter from King CEO Riccardo Zacconi that states the company's only objectives in pursuing the removal of these trademark registrations is to protect its own IP and "respect the IP of others."
A King representative told the The Huffington Post the company had no comment and wished instead to direct those with concerns back to the company's open letter.
CORRECTION: An earlier version of this article incorrectly stated King tried to patent the word "candy." The gamemaker trademarked the word, as it relates to video games and clothing.
Popular in the Community