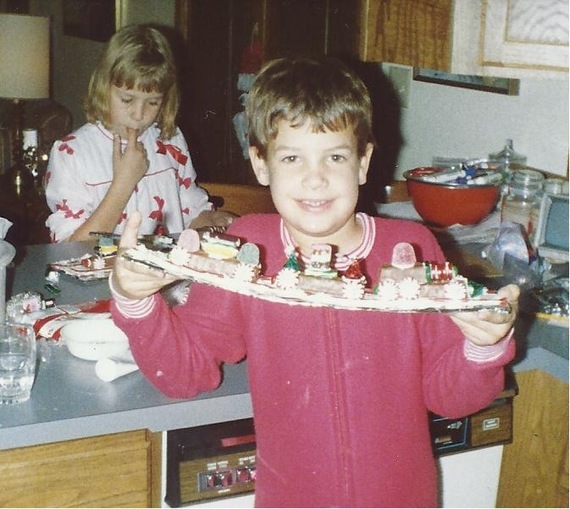 Mix three wonderful items -- kids, Christmas, and candy -- and create some fun and lasting memories by making candy trains. They are magic because they disappear before New Year's Eve.
We first made candy trains more than 30 years ago when my two children were toddlers. Now, their children and I meet on a Saturday each December to make trains. It's a tradition that gets better every year. The mothers and I have added a new ritual that makes everything more festive: we enjoy a glass of wine while the little ones concentrate on frosting and candy. By the end of the day, everyone is happy. Sugar rush? Who cares?
Candy trains make wonderful holiday centerpieces, and they're also fun gifts for neighbors and friends. To make trains and traditions of your own, you'll need the following supplies:
Cardboard
Tinfoil and tape
A few cans of white frosting
Strings of red licorice
Candy: M&Ms, unwrapped candy bars, unwrapped round red and white mints, chocolate kisses, life savers, square mints in foil, anything else you want. (Frozen leftovers from Halloween work well.)
Cut up a cardboard box and tape several sturdy pieces together for the platform. Cover it with tinfoil and tape on the bottom to secure.
Spread white frosting on the cardboard for snow. Place two strips of licorice over the frosting for the tracks. Squish one candy bar into the frosting near the end of the platform. Cut a candy bar in half and "glue" with frosting to the top of the first candy bar. See the engine taking shape?
Now, glue the round wheels onto the candy bar. Glue M&Ms into the center of each wheel. Glue a chocolate kiss onto the front for the cow catcher. Use unwrapped lifesavers on the engine for the smoke stack. Repeat with more cars, adding wheels and more candy. Allow the children to create their own masterpieces. We're talking about future engineers here! You may need to establish parameters ahead of time: the designers only can eat four pieces of candy and four tastes of the frosting during the assembly.
After the edible art is finished, everyone celebrates with hot cocoa. Then the kids can proudly take home their trains to display on the kitchen counter. If you have a cat, you may need to cover the train or leave the cat outside until January. (In case defensive pet lovers don't know, that was a joke.)
Over the next few days, the train gradually disappears. One M&M is missing, a chocolate kiss disappears, and then a chunk of candy bar is gone. How does that happen? As we all know, the season is full of mystery and magic, and it makes me happy to watch my children and their children enjoy a special family tradition. After we tuck the little ones into bed, we often stand and gaze at them sleeping and imagine visions of sugar plums dancing in their heads. Somewhere, I can hear Tiny Tim saying, "God bless us. Every one!"
PHOTO GALLERY
What Do You Miss About Your Children Now That They're Adults?
Calling all HuffPost superfans!
Sign up for membership to become a founding member and help shape HuffPost's next chapter