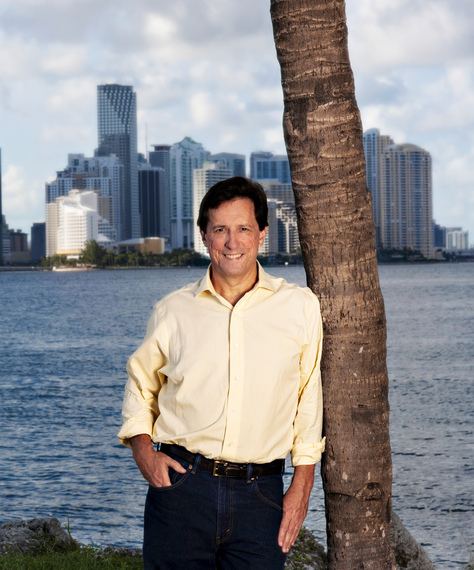 Photo: Monica Hopkins Photography
Soon after graduating from law school, James Grippando worked on a number of appeals in death penalty cases, an experience that later served him in writing his first published novel, The Pardon. Between 1984 and 1996, he was a trial lawyer in Miami. In the late 1980s, he shifted his focus to creative writing, but his first attempt at fiction was never published.
The Pardon was released in 1994, and by 1996, James left the law to write on a full-time basis. His bestselling novels are suspense-filled, psychological thrillers; and legal thrillers, drawing on his experiences as a trial lawyer. His novels have been translated into twenty-six languages. In addition to writing, he is currently of counsel to the law firm of Boies, Schiller and Flexner.
In Cane and Abe, when Abe Beckham's wife vanishes, Abe, a Florida prosecutor, becomes the prime suspect, and many disturbing questions arise about their seemingly happy marriage. At the time of Mrs. Beckham's disappearance, the FBI is hunting a serial killer known as "Cutter," because he mutilates his victims with a machete. Very soon, Abe goes from being a respected citizen to becoming a person of interest in these gruesome crimes. Part murder mystery and part marital drama, the novel becomes a puzzle, immersing the reader in a labyrinth of secrets, lies, and manipulations.
I understand when you penned your first novel, your agent said you received the most encouraging rejection letters he'd ever seen. Tell us about that.
Artie was the most optimistic person I've ever known. He encouraged me to try again, after four years of laboring at a script nights and weekends, while keeping my day job. He pointed out I had an idea, but no real direction. What I produced was a 265,000 word, rambling story. Some top agents were interested but said my script was a monster in a box. They declared it terminally obese. (Laughter). So, I edited the story as best I could, but in the end, Artie said 'You started with something broken and tried to fix it. Start fresh with something new.' And, that's what I did. In seven months, I wrote The Pardon, and Artie sold it to Harper Collins.
You had a personal experience with the police that spurred you on to writing The Pardon. Will you talk about that?
I was afraid to start down that "four year road to nowhere," again. I had writer's block. One night, I went for a walk. About three blocks from my house, a police car stopped me. The officer asked what I was doing. I said, 'I'm out for a walk. I live around here.' He didn't seem to believe me. He wanted some identification. I had none on me, since I was wearing shorts and a t-shirt. He said, 'Wait right here. There's been a report of a Peeping Tom in the neighborhood.'
I heard the dispatcher describe the man they were looking for. He was a white male, under six feet tall, brown hair and eyes, mid-30's, wearing a white t-shirt, and blue shorts, which described me perfectly. I thought, 'I'm going to jail.' Finally, the dispatcher added, 'And a mustache." I didn't have a mustache, thankfully. The police officer looked at me for the longest time and finally said, 'Go home.'
As I watched the squad car pull away, I thought, 'But for a mustache, there I would go. I'd have to call my law partners from the clink, and tell them I'd been arrested as a Peeping Tom. I would have been labelled forever, 'The Peeping Tom Lawyer.'
At that moment, the feeling of being accused, yet innocent, was very real to me. I did what a thriller writer does: I seized that feeling, and took it to the most high-stakes, dramatic level possible. That very same night, I wrote a scene about a man hours away from execution on death row, for a murder he may not have committed. That's the first scene of The Pardon.
In Cane and Abe, Abe Beckham is a sympathetic character. What qualities do you feel make for an ideal protagonist?
I think the first element of a good protagonist is a sympathetic hero. I like the ordinary guy, the one who thinks the way we all do, but doesn't necessarily come to the same conclusions we would have. He may not make the best decisions, but we understand him. He's someone we would count among our friends. I think Abe is that character. He tries to do the right thing. We all can relate to feeling we've tried doing the right thing, but aren't appreciated for it. But even worse, in his case, it got him in a lot of trouble.
Couldn't we view that as the proverbial character flaw that also makes him likable?
Yes. His need to do the right thing can backfire and get him into very deep water.
In Cane and Abe, Agent Victoria Santos seems to represent the antagonist. She was relentless, almost reminding me of Javert in Les Miserables.
Victoria Santos starts out in The Informant, a novel I wrote in 1996. In that book, she's a very young FBI agent tracking a serial killer. Her character covers a three-book arc, and I'm hoping some readers of Cane and Abe will wonder what happened to her to make her this way. I think, in this book, we see where she has landed. She's a bit bitter. She's good at what she does, but when someone that good begins riding the wrong horse, she can get carried to dark places.
Why do attorneys make such good protagonists?
If you go back in time, the hottest show on television was L.A. Law. The hottest book in the country at the time was Scott Turow's Presumed Innocent. Lawyers make good protagonists, in part, because readers are fascinated by the law. What's helped the genre is that readers have become far more sophisticated about the law. I don't have to explain basic legal concepts in a story. People now understand things they didn't, before the O.J. trial. Now, a lawyer's thought process is more transparent to the average reader. I think there are many armchair lawyers out there who just enjoy that ride.
What has surprised you about the writing life?
I feel a bit like Rod Stewart when he was given a Lifetime Achievement Award. He got up on stage, thanked everyone, then said, 'I can't believe I've been doing this for so long...' then he paused, and said, 'and getting away with it. (Laughter). Every now and then I have to pinch myself and say, 'Wow, I'm actually making a living doing what I love to do.' To have a twenty-two year run with twenty-three novels, that's the most surprising thing to me.
You called writing your "first love." What do you love about the writing life?
I love the freedom to follow my imagination. Sitting down and writing--the excitement of it every day--not knowing how I'm going to surprise myself, is what I love. It's just a tremendous ride. I can't imagine a more exciting way to express myself and simultaneously make a living.
Which authors do you read nowadays?
I love Joe Finder's novels. I think Dennis Lehane is terrific. For years, I've been a fan of Linda Fairstein, and have read every one of her Alex Cooper novels. I tend to read a lot of non-fiction, too, because by reading in the genre you write, you tend to look for the devices other writers use to keep the pages turning. So, I sometimes read things unlike my usual reading. With two teenage children, I read what they do, so we can sit down and talk about it. It's really cool to compare how a book you read as a teenager, affects you in your fifties.
If you could have dinner with any five people, from history or literature, living or dead, who would they be?
William Shakespeare would be at the top, so I could ask him if he really wrote all that. I'd have Socrates at the table. I would put my dad in there. He's gone, but I put him in a novel as a character, and I'd really like to hear his reaction. He was one of the Greatest Generation. I'd put Abe Lincoln there. I wonder what his laugh sounded like. The fifth one would by anyone currently living, who would sit at the table with a billion dollars, they'd be willing to donate to cure Alzheimer's disease.
What's coming next from James Grippando?
It's a novel called Cash Landing, coming June 2nd. It's sort of like Goodfellas meets Miami Vice.
Congratulations on writing Cane and Abe, a compellingly complex novel involving love, loyalty, mental illness, mystery, murder, and investigative police work.
Mark Rubinstein
Author of Mad Dog House and Mad Dog Justice
Related
Popular in the Community