Dogs are not only a human's best friend. Some can help us claim our independence.
Watching another child with an assistance dog motivated Teresa and her 14-year-old daughter, Sydney, to apply to Canine Companions for Independence for a companion dog for Sydney. Canine Companions not only supplies these highly trained dogs, they provide ongoing support to ensure both the dog and their master or mistress have a quality partnership -- all free of charge, thanks to the generosity of Canine Companions supporters.
If you watched 14-year-old Sydney practice gymnastics or conquer someone on a Wii, you would think she was a typical vivacious teenager. But Sydney's brain actually functions a bit differently than most. She has a sensory integration dysfunction that can make the world a chaotic and confusing place. Combine that with a learning disability, and it makes it challenging for Sydney to focus and problem solve. Although she loves to talk, sometimes Sydney's conversation isn't easy to follow because she frequently switches topics.
Sydney recently received her companion, Cleo V, a yellow Labrador retriever. Cleo was specially trained with a special command called "crash," in which she lays on top of Sydney. This helps with sensory integration.
Cleo immediately became Sydney's best friend and constant companion. Teresa says, "First of all, Cleo is an outlet for all of the love and affection Sydney likes to give." Sydney generously showers Cleo with hugs and kisses. Teresa says that caring for her canine companion is teaching Sydney responsibility and helping her with sequencing and problem solving.
"Cleo is easy for Sydney to focus on, so she helps her stay on topic," Teresa says. Sydney, Teresa and Cleo graduated after completing an intense, residential, two-week Team Training course at Canine Companions' Southwest Regional Center in Oceanside, California. (Sydney and Teresa live in Los Alamitos, California.)
During Team Training, students and assistance dogs are strategically matched so that they can work together effectively. The dogs are trained for two years in up to 50 commands before they are ready to become someone's 24/7 helper. Generous supporters help Canine Companions train the dogs, provide them to disabled recipients and offer ongoing follow-up support free of charge.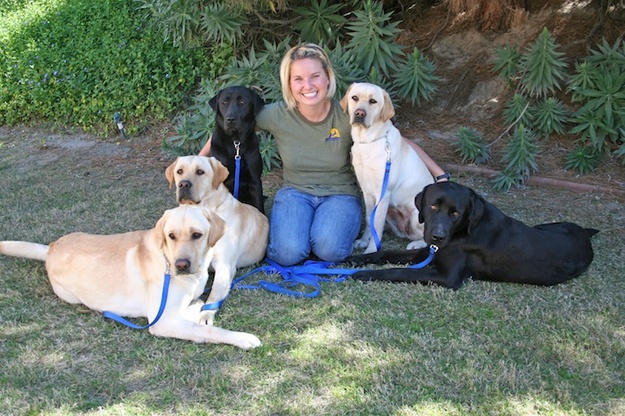 Cleo with her trainer, Katie Kniest. Katie has her arm around Cleo.
(Photo courtesy of Canine Companions)
For more information, visit www.cci.org or call 1-800-572-BARK.
All photos are courtesy of That's Life Photography, unless credited to Canine Companions.