Canines for Kindness: This Week In Daily Giving
Each week at The Pollination Project, we shine the spotlight on seven of our recent seed grant recipients. While all of our projects are founded upon kindness and generosity, the projects this week are built upon mentoring others to reach their full potential. We are funding therapy dogs in Massachusetts to give students the opportunity to recognize the needs of others and rural communities in South America to reach clean water.
Big congratulations to our seven recent seed grant recipients!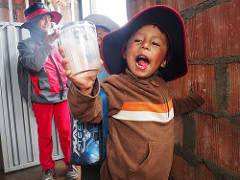 Swaroon Sridhar and Mark Huerta, 33 Buckets, Cuzco, Peru. A consultancy service affords rural communities insight into filtration, business and education on sustainably creating access to clean water.
Niesha Davis, Young Women Reaching Accomplishable Places, Bakersfield, California, USA. Young girls in the foster care system are provided mentorship opportunities to encourage, motivate, educate and empower them to reach personal goals.
Adam Starr, Adam Brick Guy, Houston, Texas, USA. Disadvantaged youth are connected with young professionals through the common interest of construction and creativity based activities.
Samuel Pontrelli and Omoding Geoffrey, Sayans, Kampala, Uganda. Practical educational approaches allow students in rural settings access to resources leading to innovative business projects.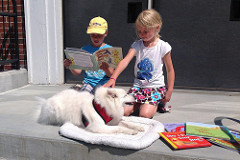 Denise Marcella, Classroom Canines for Kindness, Yarmouth, Massachusetts, USA. Registered therapy dogs connect with elementary and junior high school students with the intent of allowing the youth to understand the needs and behaviors of themselves, other people, other animals and the environment.
Donald Burton Clark, Total Urban Renewal Farms, Redlands, California, USA. Together with local community organizations, schools and churches, crops are grown to generate income along with employment opportunities.
Do you have a project with a vision to help make the world a more inclusive and compassionate place for all beings? We accept grant applications for Pollination Project seed grants, every day of the year. We love learning about changemakers across all continents and hemispheres and all they are doing to spread peace, sustainability, generosity and justice.
Calling all HuffPost superfans!
Sign up for membership to become a founding member and help shape HuffPost's next chapter