LAFAYETTE -- By day, The Front Tea & Art Shop sells papier-mache piggy banks, handmade flutes and elaborate carvings alongside tea leaves and hemp coffee.
By night, the eclectic cottage at the corner of S. Public Road and Cleveland Street becomes the Hive Co-Op, billed as Colorado's first cannabis-friendly coffee and tea shop, where customers can gather to smoke pot or use vaporizers.
The co-op is BYOC: bring your own cannabis. There's a 1-ounce limit, $5 cover charge and 21-years-of-age requirement with a valid ID. Oh, and a point of decorum -- former Lafayette dispensary owner Veronica Carpio, who runs the place, prefers the word "cannabis" over "marijuana."
Carpio said she informally started the co-op after Gov. John Hickenlooper signed Amendment 64 into law, which legalized recreational use of marijuana. She wants the co-op to be a neighborhood gathering spot where people can unwind, have a cup of coffee, smoke a joint and feel surrounded by good, healing energy, she said.
"I was born on 4/20, so cannabis is kind of part of my destiny," said Carpio, 34.
Admittedly, that destiny has been a rough one at times, as Carpio is on probation for a marijuana possession charge following the closure of her dispensary.
Carpio closed her dispensary -- 420 Highway at 201 E. Simpson St. in Lafayette -- in July 2011. Five months later, she was arrested on felony drug distribution charges, accused of selling 10 pounds of marijuana to a confidential informant who planned to take it out of state.
In September, she agreed to a deal with prosecutors, pleading guilty to felony marijuana possession in exchange for the dismissal of more serious distribution charges. She was sentenced to 12 months of probation and 48 hours of community service.
Carpio's new co-op venture seems to be well within the law, according to local law-enforcement officials.
"They do not appear to be violating any laws," said Lafayette police Cmdr. Gene
McCausey. "She's reciting Amendment 64 to a T. She knows the law very well."
Among the other rules outlined on Carpio's fliers: Selling of marijuana is not allowed in the co-op, though trading and sharing is OK, and the substance can't be used in public view.
"All we offer is the location," Carpio said.
The co-op is Carpio's next chapter, and she said the tribulations in the past are worth it when she can help somebody opt for medical marijuana over heavy doses of prescription drugs. Unlike bar scenes, the co-op, she said, will be a safe haven where people aren't aggressive with one another and they can engage in deep discussions.
She has board games like Candyland and Chutes and Ladders in a blue-light room. With that special lighting, illustrations in Mark Heath's artwork become more visible. The Erie artist has attended some of the evening co-op gatherings, which have so far ranged from five to 15 people.
"People have been getting together to drink coffee together for 200-some years," Heath said. "This is an extension of that."
The co-op housed in The Front Tea & Art Shop appears to be the first cannabis club in Boulder County. In Denver, at 4:20 p.m. Monday, a private cannabis club dubbed "Club 64" met for its first time at a retail store on Larimer Street. In tiny Del Norte in southern Colorado, a private marijuana den attached to the White Horse Inn coffee and head shop along U.S. 160 opened late Monday morning -- then closed down after a dispute with the landlord.
Carpio said she has big plans for the evening co-op as it moves forward: drum circles, painting events, growing seminars, movie nights and bake-offs where customers can judge one another's edibles.
"Coming here is cannabis therapy," Carpio said.
Boulder County District Attorney Stan Garnett said there are lots of gray areas that need to be sorted out by the Amendment 64 Implementation Task Force, a 24-member panel that met last month for its first time.
The group in charge of creating rules for an industry that has never existed before -- the recreational marijuana stores allowed under Colorado's newly enacted Amendment 64 -- gathered its breath Monday before getting to work.
In the interim, Garnett said if people were to sell marijuana at a cannabis club, that could be considered illegal.
Garnett said his office's top priorities are public safety issues -- such as driving under the influence of marijuana or juvenile use of pot.
Contact Camera Staff Writer Brittany Anas at 303-473-1132 or anasb@dailycamera.com.
Click on any photo to see photo gallery ___
(c)2013 the Daily Camera (Boulder, Colo.)
Distributed by MCT Information Services
Related
Before You Go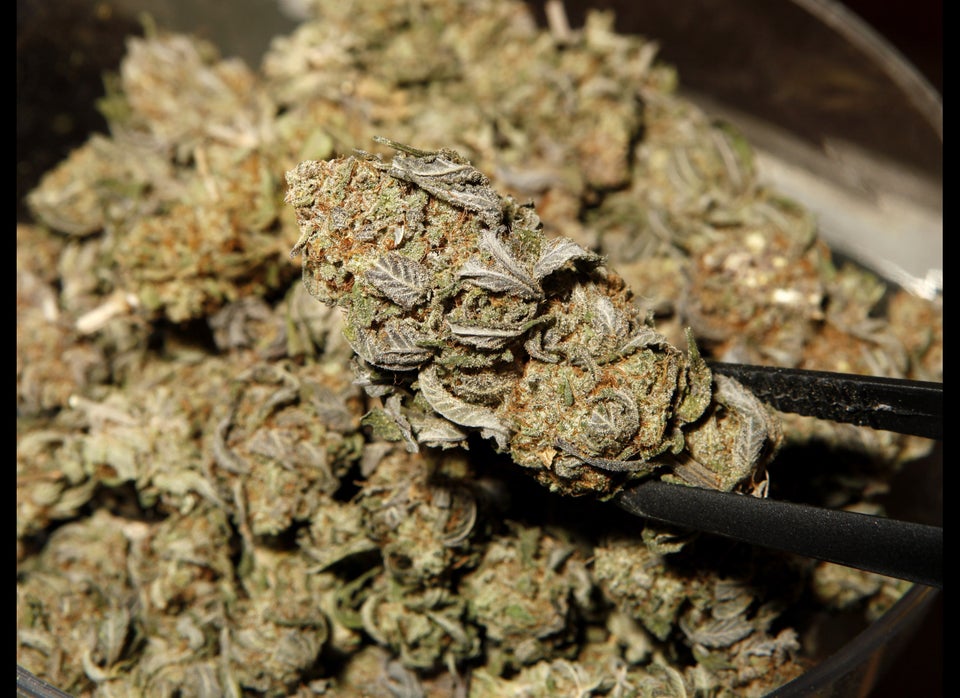 16 Facts About Marijuana And The U.S. Economy
Popular in the Community