Sonoma County, California is no stranger to cannabis challenges, the devastating fires having been the most recent. Santa Rosa cannabis manufacturer CannaCraft has its facilities raided in July where police confiscated about $500,000 in cash destined to pay its workers.
But the company keeps marching forward. Dennis Hunter, co-founder of CannaCraft has overcome industry challenges in the past. He's gone from clandestine grower, to incarceration, and redeemed as a regional industry leader.
So when it comes to rallying around Northern California's recent tragedy, CannaCraft was quick to respond and relieve. The company donated 12,000 sq ft of office space to the Red Cross to be used as their Regional Headquarters for Northern California fire relief efforts. All of the Red Cross operations and logistical planning for the Sonoma & Napa fires are being run from the CannaCraft headquarters. Roughly 200 volunteers from all over the country are expected to occupy the space for a minimum of five weeks. The red cross opened dozens of shelters to house over 1,000 fire evacuees in Sonoma and Napa County.
CannaCraft donated $50k of AbsoluteXtracts vape cartridges and Be Kind premium flower to local dispensaries to be distributed to patients affected by the fires.
CannaCraft has converted space on a their 12-acre industrial property near their Santa Rosa headquarters into emergency housing, outfitted with hookups for 40 RVs, portable showers and restroom trailers. The company has purchased RVs and is accepting donations of RVs to provide housing to people who have lost their homes while they are rebuilding. To help support the purchase of more RVs or for more information - https://www.abx.org/post/cannacraft-fire-relief-program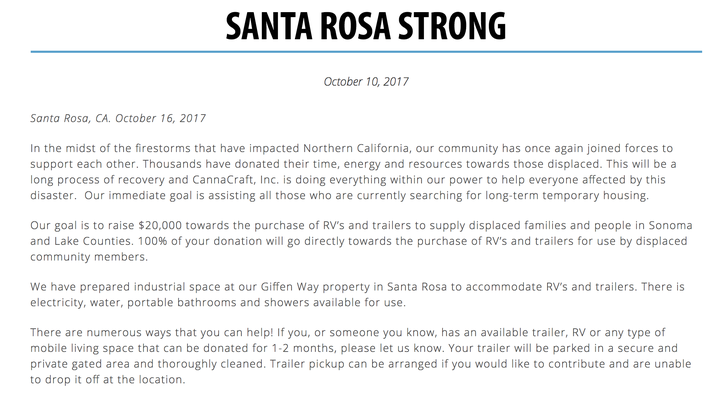 "These fires have devastated our entire community, and will continue to for a long time to come," Hunter told me in a written interview. "We are doing whatever we can to meet the immediate needs of fire victims, but we also want to be thinking about what's next a large part of that will be interim housing for people who lost their homes. We want to support them and give them somewhere to go while they rebuild."
Ned Fussell, Co-CEO of CannaCraft said "It's humbling to see the amount of support that is coming from the entire cannabis community right now, everyone is doing whatever they can to help. The industry as a whole has operated without outside support for so long, it's ingrained in our culture to look out for one another and to step up and help during difficult times"
Part of the uniqueness of the cannabis space is its collective resilience and interdependence unseen in traditional industries. And it's the responsibility of cannabis industry leaders like CannaCraft to continue to demonstrate it.
Related
Popular in the Community