As if having Pixar's first 3-D film Up open the festival wasn't enough, now comes news that the erotic classic Emmanuelle is being updated...in every way imaginable, including 3-D.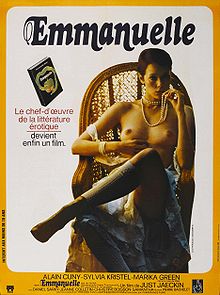 French producer Alain Siritzky "exposes" Emmanuelle to a wider audience and plans to make it very young adult friendly, an odd description for a softcore series usually consumed by middle-aged men. Until you read the press release:
The New Emmanuelle wil be shot in 3-D. (The mind boggles.)
It will be "green" because the plot includes an eco-friendly airship, "a first of its kind 700 foot long state-of-art blimp that promotes a green lifestyle. The creation of a renowned designer, the awe-inspiring airship travels the world from New York to Rio to Ha Long Bay in Vietnam and finally to Paris, France." The renowned designer is left unnamed, perhaps out of shame.
Finally, they even evoke American Idol by promising to find the new Emmanuelle via a world-spanning reality show. The winner gets a $1 million contract and a four year deal to play Emmanuelle. No actual TV show is confirmed, of course, but it's a fun idea. Wouldn't it be great to see Simon Cowell judge that one?
This is not just naughty bits gussied up for a new audience, insists Siritzky,
"There is a need for a responsible and honest film that addresses many relevant topics that young adults as well as mature adults are faced with of late," said Siritsky in the press release. "It may surprise some that Emmanuelle is the modern messenger of such important issue but it truly is fitting as though much has changed from when the original was released, the foundation of Emmanuelle has not...which is that Emmanuelle is more than a character or a novel or film. Emmanuelle is a way of life that celebrates women. It is beautiful, stylish, feminine, thought-provoking and powerful, as all women are created. This message is one that is important now more than ever to instill in women everywhere and of all ages."
Yes, and if a little nudity helps get the message across, all the better.
REAL LIFE. REAL NEWS. REAL VOICES.
Help us tell more of the stories that matter from voices that too often remain unheard.