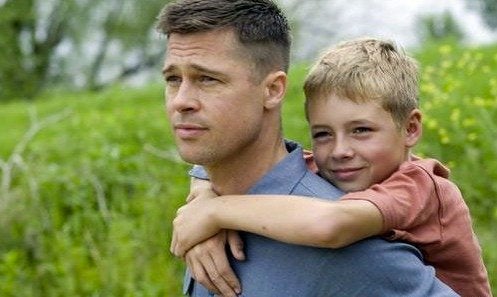 Director Terrence Malick's The Tree Of Life won the Palme d'Or at the 2011 Cannes Film Festival but of course the reclusive director did not appear to collect his prize. It is certainly one of the most popular choices as far as critics are concerned. The film certainly had its detractors of the "Emperor Has no Clothes" variety, but Tree of Life was consistently one of the most highly praised films according to all the surveys by both the international and US press. Check out my four star review here.
Another director that didn't appear but whose appearance was surely felt was Lars Von Trier. Kirsten Dunst won Best Actress for Von Trier's Melancholia and though it's undeniably some of her best work on film to date, it's easy to believe the jury wanted to send a message of support for the art of Von Trier, if not for his lame, awkward Nazi jokes that were turned into an international incident by a cynical press and then stoked further by the fest's silly and meaningless decision to declare the director "persona non grata." "What a week it's been," Dunst reportedly said on accepting the prize.
Other top winners included the Dardenne brothers whose marvelous movie The Kid With A Bike tied for runner-up with Turkish director Nuri Bilge Ceylan's Once Upon A Time In Anatolia.
The jury headed by Robert De Niro did a very smart job. Critical favorite The Tree Of Life got its due. They also tossed in a little controversy by acknowledging Von Trier via Dunst. Turkis director Ceylan is the sort of festival favorite who seems destined to win a Palme some day. And they maintained a cool factor by picking Nicolas Winding Refn for Best Director for Drive.
The French audience was given several reasons to cheer. The Dardennes are always a favorite at Cannes. Actress Maiwenn broke through as a director with Polisse, which got Third Place. And actor Jean Dujarin is a very popular star of silly spy films (think Matt Helm), sort of the current Jean Paul Belmondo. But he's yet to become an international star. That may change thanks to The Artist, an homage to silent movies in which he cuts a dashing figure as the most famous actor in the world. Look for him to be in the running for the Best Actor Oscar thanks to this nod. For a complete winners and all my coverage of the fest, see below.
COMPETITION AWARD WINNERS:
Palme d'Or/Best Film: The Tree Of Life
Grand Prix/Runner-up: The Kid With A Bike/Once Upon A Time In Anatolia
Prix du Jury/Honorable Mention: Polisse
Best Actress: Kirsten Dunst for Melancholia
Best Actor: Jean Dujarin for The Artist
Prix de la mise en scene/Best Director: Nicolas Winding Refn for Drive
Prix du Scenario/Best Screenplay: Joseph Cedar for Hearat Shulayam
Camera d'Or/Best First Film: Pablo Gorgelli for Les Acacias
Best Short Film: Ukranian director Marina Viroda for Cross Country
UN CERTAIN REGARD WINNERS:
Prize of Un Certain Regard: Arirang and Stopped On Track (tie)
Special Jury Prize: Elena
Directing Prize: Mohammad Raoulov for Goodbye
I missed Stopped On Track and Goodbye, the latter of which was admired more for the conditions under which it was made than the film itself by many critics. Arirang is a mad choice; the movie was lazy and indulgent and easily the worst of the festival for me.
DIRECTORS FORTNIGHT WINNERS:
Top Prize: Les Geants
Runner-up: Atmen/Breathing
Sadly, I went to the Saturday screenings of the award winners but they didn't bother to include English subtitling so I wasn't able to catch these two movies. Les Geants is by the director of El Dorado, one of the treats of the fest in 2008, so I was especially disappointed to miss it.
Grand Priz and Priz SACD: Take Shelter
Special Mention From The Jury President: Snowtown
ACID/CCAS and Very Young Critics Prize: Les Acacias
Take Shelter is the solid followup to director Jeff Nichols' excellent debut Shotgun Stories.
The Queer Palm award (for the best movie with LGBT themes) went to Beauty/Skoonheid, the first Afrikaans film to screen at Cannes in a main slot (in this case, under Un Certain Regard).
Last year was the first for this award, which went to Gregg Araki's Kaboom. This year's festival was notably thin on movies tackling LGBT issues and characters.
Palm Dog: Uggy for The Artist
Special Jury Prize: Laika for Le Havre
This goofy award is given to the best performance by a canine at the festival. It must have been a landslide for Uggy who is one of the best screen dogs since Asta in the Thin Man movies.
HOW GOOD WAS THIS YEAR'S FEST?
Ultimately, I judge a festival not by the amount of work I was able to snag or the fun I had, but simply by the number of good movies I saw. Almost every year, someone says "This is the worst Cannes ever." But invariably, I end up with two or three films that will make it on my best of the year list. That's pretty great, if you can catch two movies that will rank among your favorites in just a 12 day period. But this year at Cannes I saw four films I rated 3 1/2 stars or 4 stars and all will likely be in my Top Movies Of The Year list come January 2012. Toss in another six movies I gave 3 stars to and I must say this is a stellar year. I saw 40 movies and one out of every four was good or great. Who can ask for anything more? Those top four movies? The Tree Of Life, The Footnote, The Artist and The Kid With A Bike. You'll find links to all my coverage below along with a complete list of the movies I saw and links to those reviews.
MOVIES AT CANNES FILM FESTIVAL 2011 ALPHABETICALLY
Movies rated on a four star scale
Popular in the Community