First-time director Katia Lewkowicz wrote her film for him: Benjamin Biolay, one of the most popular contemporary singers in France. "He's captivating: physically, emotionally," she mentioned to me. "Just the way he is."
So is his music, which I first became acquainted with on an Ipod, barefoot on a Brazilian beach, stunned by the sexy seriousness of his voice, and the energetic piano chords. Little did I know I would soon meet him as a film actor in Cannes, strolling onto the terrace of the Majestic Hotel beach, wearing a t-shirt reading "Bb", an elastic red bracelet, and cool thin sunglasses, languorous and serious, with a husky voice full in his chest.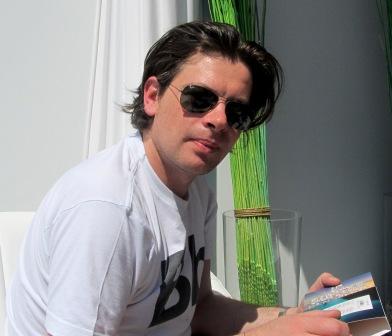 In Bachelor Days Are Over, he plays a man about to get married in four days, who can't decide if he really wants to get married. He seems to love his vivacious girlfriend, the pretty Valerie Donzelli, at the same time he also escapes into the arms of the voluptuous simple-faced lover, played by Israelian actress Sarah Adler. Most of the time he looks rather stunned, going between one and the other, always about to call off the wedding, while his sister -- played by the amazing Emmanuelle Devos -- screams at him to get his act together.
His body language is basically the subject of the film: his arms swinging close to his chest, his expression introverted and sensitive, his eyes stoic, his full pouting mouth on the verge of a small ironic smile. We are also treated to a restless glimpse into neurotic French family life, with the camera zinging between the different family members, from the future groom's mother cynical about marriage herself, to the betrothed's new apartment, with a flooded bathroom (suitably wet for the sex scene). It is an adorable humorous movie probing what the director told me she believes is a serious problem for many people: "How does one feel when one is about to commit to marriage. All the doubts."
The director, a French actress, was in the midst of writing her screenplay when her own boyfriend proposed. Now she is married.
I asked Benjamin if he saw himself in this character.
"Not at all," Benjamin smiled. "I am not him. I am decisive. I have decided everything in my life. I left my parents when I was fourteen, to leave the banlieu for Lyon. When I got married (to Catherine Deneuve's daughter Chiara Mastroianni), I wanted to get married. When I had children, I wanted children. I am not like this man at all."
One senses this steady will. He was given a violin with he was 11 (to encourage him not to play soccer), and then worked hard -- "very hard", he repeated several times -- to become a musician, already playing trombone and tuba in bands in local Lyonais clubs, and then studying music in an conservatory. To become a success in Paris, the center of France, also took a great deal of will. He is now on his seventh album, eleven years after his first.
How is it now for him to be an actor rather than a musician?
"I like being an actor," the independent Benjamin confided. "I like being directed -- the first time ever for me. I have done everything on my own." Aside from feedback from his friend and producer Thierry Planelle ("a nod if something is good or not"), Benjamin directs his own music career, keeping up however his liaison with a dozen musicians from Lyon who still work with him.
Does he think his character really loves the woman he plans on marrying?
"This is Katia's vision," he said upfront. "I play him as she wants me to."
"He loves everyone at the same time," Katia told me. "His sister, his mother, his lover, his fiancé -- everyone in a different way."
A testimony to a good actor: in the film, Benjamin Biolay comes off as lost and emotionally befuddled; in person, he (sun-sign: Capricorn) seems grounded and sure.
The film ends on an ambiguous note: without giving away the plot, let's just say that a decision is made, one that has a consequence that one does not expect.
"Yes," the director told me. "What men don't understand, is that there is always a consequence to their decision making [or lack there-of]. Someone is always left behind."

REAL LIFE. REAL NEWS. REAL VOICES.
Help us tell more of the stories that matter from voices that too often remain unheard.