If you're like me, you wonder what the celebrities are doing, wearing and eating at Cannes. Turns out, for those who have films in the festival or are on one of the juries this year, the event is as much about food and gifts as it is about films.
Rumors abound in Cannes, from the one about The Bling Ring crew snubbing their fans in front of the Palais des Festivals at their premiere last night, to Nicole Kidman declaring how much she loves the rain, while Carey Mulligan cursed out who hit her on the head with an umbrella coming out of her limo. This is undoubtedly an event that grows more and more surreal each day, but it is still the greatest cinematic show on earth.
So when the team at Electrolux invited me to sit at a Chef's Table lunch the day after the opening night gala and sample the incredible creations of chef Anne-Sophie Pic, which were served to Leonardo DiCaprio and the entire world of VIPs who'd descended on Cannes for the premiere of The Great Gatsby, I RSVPd with a giant, bold "YES!" The Agora Electrolux pavilion sits just to the left of the Palais and while we dined on our gala lunch, Steven Spielberg and his fellow jury members ate next door, starting out with a fragrant zucchini risotto.
Chef Pic is, very simply put, a superstar of the cooking world. At once humble and wonderfully insightful, she talked us through a four course meal that included Alverta Impérial® caviar, king crab and a Caribbean chocolate pot de crème to die for. She also shared the recipe for her entrée with green peas, something not always done in the cooking world but oh, so appreciated.
The lunch was presented gracefully by our server Yohan, who also suggested a light red wine with the fish main dish, which ended up being the most daring thing I've done so far in Cannes, but one I'll definitely be repeating soon.
And all thanks to the wonderful folks at Electrolux, who quite simply know how to make a kitchen worthy of a Michelin (make that three in Pic's case) star chef.
Following this slideshow of the meal, is chef Pic's recipe, which may be the stuff chef's dreams are made of, but alas, too complicated for me. I'll just have to join her at her restaurant Maison Pic in Valence to sample more of her delicious, light, fragrant food.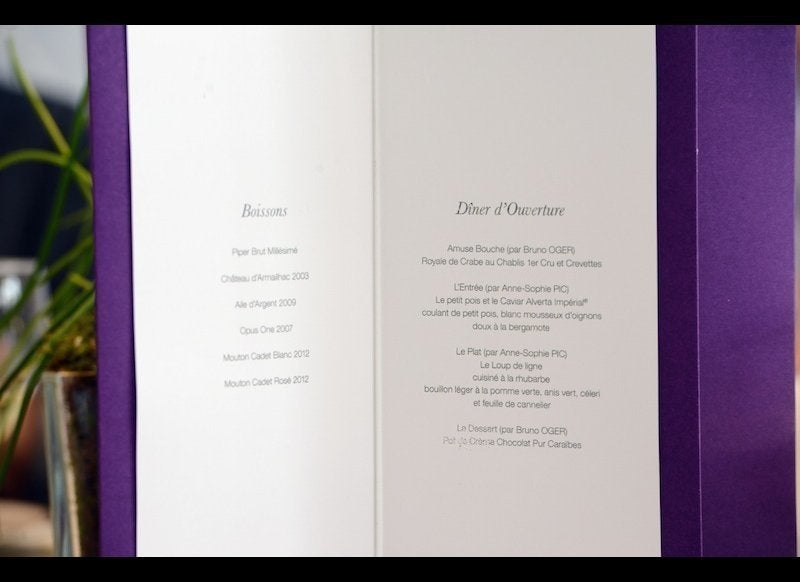 Chef's Table by Anne-Sophie Pic for Electrolux at Cannes
"Green Peas and Alverta Imperial® Caviar"
(green peas and white cream of sweet onions and bergamot)
Ingredients for 10 persons
The peas puree:
• 250 g fresh shelled peas
• 1/4 liter of mineral water
• 8 gelatin sheets per liter
• salt
The water of peas:
• 250 g fresh shelled peas
• 700 ml of mineral water
• 6 gelatin sheets per liter
• salt
The onions emulsion:
• 250 g of onions
• 1/2 liter of mineral water
• 8 gelatin sheets per liter
• salt
• 20 bergamot leaves per liter
• 2 lemon zest
Imperial caviar Alverta
• 5 gr of caviar per person
Dressage:
• 10 cl white balsamic vinegar
• 20 cl of olive oil
For the peas puree: Put in boiling water with salt, 300 g of shelled peas. They should be well cooked. Place them in ice water; keep 50 g of peas, and peel it. Mix the peas with mineral water (for 250 g of peas, it takes 1/4 liter of water). Add salt. Add the gelatin in the mixture. Flow the preparation into soup plates and keep it in the fridge.
For the water of peas: Put in boiling water with salt, the shelled peas. Place them in ice water. Mix the peas with 180 ml of ice-cold mineral water in a thermomix for 30 seconds. Let drain overnight in a large colander covered with a sieving towel. Collect the water of peas and add the gelatin in the proportions given above.
Put some salt and flow the preparation into soup plates and keep it in the fridge.
For the onion emulsion: Cook the onions without fat with some water and then add mineral water. Slowly decrease until 400 g total mass and put into "Chinese" sieve. After that, put the mixture in a receptacle and make it boil, then add the bergamot leaves, finely chopped. Let infuse for 20 minutes. Season the liquid and add the gelatin sheets (8 gelatine sheets per liter) and place the liquid in a siphon. Refrigerate the emulsion by placing the siphon in ice water. Add two gas cartridges.
Dressage: Place a disc of 5 g of caviar in the center of the plate. Add the peas around previously peeled and seasoned. At the time of the service, add the onions cream over the caviar using a disc of 7cm diameter, dot with white balsamic vinegar and olive oil.
All photos by Ian Gavan/WireImage for Electrolux, used with permission
Related