"We have a feminist government," said the Swedish Minister of Culture cheerfully, as we spoke on the Plage Royale at Cannes.
"A feminist government?" I said.
Living in France, I was accustomed to hearing the word "feminist" as a shameful word--certainly not voiced with enthusiasm by a top government minister.
"Yes, a feminist government," Ms. Alice Bah Kuhnke said. "That is what we officially call it. 50% of the ministers are women, 50% are men. In fact, one of the reasons we have the strongest economic growth in Europe is because gender equality is part of Sweden's mission!"
She continued with enthusiasm:
" We do not have any political area in the government that does not have gender goals, to give possibilities to all people in society. There is no reform that I can present to the finance minister without the question: where is the gender analysis on this issue? For example, an educational reform proposal must be accompanied by research into how it will affect girls."

Bah Kuhnke was here at Cannes to speak about the initiative by the Swedish government to promote 50-50% gender equality in the film industry, an industry that worldwide is notoriously male-dominated.
Co-chairing the conference was Anna Serner, the CEO of the Swedish Film Institute, the institute in charge of implementing the reform. The goal is to make sure that 50% of the film projects that are funded by the Swedish Film Institute are those of women.
"Not 40 - 60!" Serner firmly said. "Equal for men and women usually really means 40 - 60. This is rubbish. We want real equality: 50% 50% over time, by 2020. This is not a quota system. Each year, the percentage might be different, but statistically, over a period of time, it will be equal."
She explained that the project was years in the making:
"The idea for Fifty-Fifty by 2020 was in the works ten years ago. Voices were raised in the film industry about who gets the money for projects. The politicians responded. In 2011, the Parliament set a goal to have gender equality in film."
This adhered, she noted, to the feminist government's values.
"You actually use the word 'feminist' openly in Sweden?"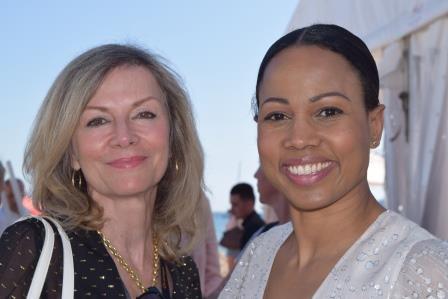 Veronika Wand-Danielsson, Ambassador of Sweden to France, with Bah Kuhnke

The Ambassador of Sweden to France--strolling by with a smile--jumped in:
"Yes, we do! I think that by using the word we actually make change happen."
A change proven by statistics. Throughout the Cannes film festival, many actors from Brazilian Sonia Braga to Spanish Emma Suárez, decried the small amount of strong female roles in cinema. In Sweden, today 39% of speaking roles in film are women, as opposed to 30% worldwide.
Some cinemas in Sweden have even adopted a feminist rating system to "stamp" the film with approval: the Bechdel-Wallace test. To pass the Bechdel Wallace test, the film has to feature at least two named women talking to each other--about something besides men.
The participants in the event opined that Sweden was at the forefront in gender equality in Europe.
Although even Serner, who has held three important leadership positions in her career (as Director of the Swedish Media Publishers' Association, CEO of the Swedish Advertising Guild, and, for four years now, as CEO of the Swedish Film Institute) noted that "of course" she has faced discrimination for being a woman.
"Sometimes you are made invisible, or patronized to."
But she took it all like "water on a goose's back."
Swedish film director Ruben Ostlund, previously at Cannes for his award-winning film Force Majeure, was also at this gathering to support the new governmental initiative.
"Yes it is still mostly male directors in the industry, even in Sweden," he observed.
The statistics are that 30% of screenwriters and 38% of directors in Sweden are women: one of the highest percentages in the world. But not yet 50%.
Ostlund personally advocated yet another reform to help equality: media education for all children, from primary school on.
"We are living in a world that is image based rather than text-based. Education in images would lead to more democracy. When you want to break a structure, it is super important to try to get to the core of the problem."
As the party closed down and the champagne disappeared, I asked Ostlund about his own film, Force Majeure, one I had not seen.
"It starts with an avalanche at a ski resort in the Swiss Alps, with a family on vacation. The soundtrack goes from joy to screams. Everything turns white. A man runs off and leaves his wife and kids."
"So your film is ultimately about this family?"
"Yes," the man grinned. "About many things about the family, like gender expectations."
"Gender expectations? In twenty years of living in France, and interviewing directors, I have never heard any film director, male or female, spontaneously use the term 'gender expectations'!"
Ostlund laughed. "That's because it's France! They still think that women and men are 'naturally' and essentially who they are. La femme! In Sweden, we believe it's 90 percent nurture, not nature. Everyone uses the term 'gender' in Sweden!"
Calling all HuffPost superfans!
Sign up for membership to become a founding member and help shape HuffPost's next chapter