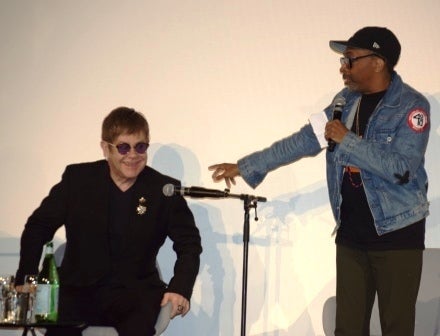 An unexpected pleasure at this year's Cannes was a film-interview extravaganza with Elton John and Bernie Taupin, with Spike Lee stepping in as interviewer. The occasion: the screening of three music videos of "Rocket Man," "Tiny Dancer," and "Bennie and the Jets". Last December, the singer/songwriter duo launched a You-Tube supported contest for young filmmakers to make music videos of three of their songs: Poised and affable, Elton John, sporting a diamond ring glittering on his pinkie finger, explained that the impetus was to give new life to his music. "I love young people. I love making things new," he said. "It's like giving Botox to my songs! "
He continued. "And we need the new. The world is such shit right now, we need the young to make it good!"
The winning young filmmakers--looking very young and excited—were also on stage.

The video to "Bennie and the Jets" featured an expressionist postmodern black-and-white spaceship, with the Jets as future-day space-travelers, doing twists and turns in a modern dance competition. Clearly, I intuited, one of Elton John's favorites (given the enthusiastic handshake he gave directors Jack Whiteley and Laura Brownhill), this video was not the audience's. The pleasure of Bernie Taupin's lyrics lies in that they are wide-open to interpretation. The strictly literal interpretation of the Jets as cool-costumed outer-spacers left no room for the imagination to fly. "Bennie and the Jets", once a favorite, flattened for me permanently into a clever one-liner.
Max Wieland's "Tiny Dancer" received a great round of applause with cheers. "I wanted to make something cinematic," said Max to the audience. Rather than fixing the song to a story, he recreated the city of Los Angeles, with drivers in cars --transvestites, Mexicans, mothers in babes— listening to the song in utopian community spirit, with many glances upward in ecstasy at the sky. The kitsch colorful outfits of these urban crooners—replete with big blue sunglasses and Marilyn Monroe faux hair---gave a lyrical retro spark to the 1970s music. The young director explained that he grew up on Elton John, as his mother was a big fan. The video works to celebrate both the song and the imagined ethos of his mother's era.
My favorite video—and a favorite of the audience--was Iranian director Majid Adin's animated version of "Rocket Man", featuring a man who feels immigrant pain at having to leave his family for another planet. The feelings of homelessness, alienation and nostalgia were palpable in scenes such as the Rocket Man looking lonely in a subway car to words such as "it's cold as hell." The sublime representation of outer space, with unusual tinges of blues and yellows, attracted the eye as much as the lyrics spoke to the spirit---and together evoked the pain of displacement that the filmmaker must have personally experienced. "I can't believe I'm here!" the Iranian director said breathlessly with giggles. "Look, last year I was in a refugee camp in Calais, and now I am back in France having lunch with Elton John at Cannes!"
Elton John shared his own inspiring story about serendipity, as he explained to Spike Lee how he and his creative partner came to know each other. "I was 20, and Bernie was 17," the songwriter said.
"I was pudgy at the time and shy, not particularly confident, and I was tired of doing music in cabarets while people ate dinner. So I applied for a contest with Liberty Records. And Bernie at the same time sent in his lyrics from Lincolnshire, way across the country. To think that this happened! That we both applied at the same time--and won! Sometimes I am amazed by what happens in life. That's what's wonderful, looking back. You take a leap of faith—and it works!"
He continued by speaking about how the two make music together. "He goes in one room and writes the lyrics, and I go write the melody in another room. And the song just comes."
"Wow!" said Spike Lee, nodding. "It's like your talent is a gift from God!"
Elton John nodded and smiled.
"No really!" Spike Lee said. "It is."
REAL LIFE. REAL NEWS. REAL VOICES.
Help us tell more of the stories that matter from voices that too often remain unheard.
This post was published on the now-closed HuffPost Contributor platform. Contributors control their own work and posted freely to our site. If you need to flag this entry as abusive,
send us an email
.