 It's no surprise that Philip Kaufman -- perhaps the most European of American filmmakers -- was drawn to the passionate story of Ernest Hemingway and war correspondent Martha Gellhorn. Kaufman is a consummate adapter of complex novels including The Unbearable Lightness of Being and The Right Stuff, as well as a portraitist of literary powerhouses like Henry Miller (Henry and June) and the Marquis de Sade (Quills).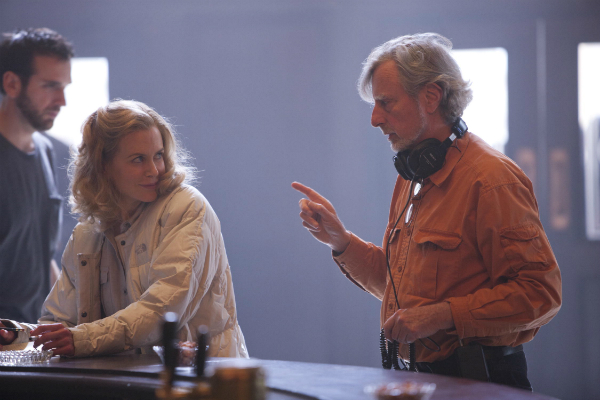 Karen Ballard/HBO
Hemingway & Gellhorn is having a world premiere in the Official Selection of the Cannes Film Festival before its HBO broadcast May 28. Starring Clive Owen and Nicole Kidman as the feisty journalist who became Ernest Hemingway's third wife, it's a thematically ambitious, visually rich and superbly acted motion picture. (Kaufman is also being honored in Cannes with the invitation to give the "Master Class." Among those who have previously been accorded this prestigious presentation are Martin Scorsese, Krzysztof Kieslowski, and Stephen Frears.)
Kaufman elaborated on the origins of his thirteenth film during an onstage conversation that I moderated at the American Pavilion a few yards from Cannes' beach. "I had been developing this for about eight years," said the San Franciscan to a standing-room-only crowd. He was attracted by the same ethos or behavior that animates The Right Stuff, namely what Hemingway called "grace under pressure," an ineffable quality.
"As Tom Wolfe said: you don't really talk about it," Kaufman proposed. "Only a few can live up to it. Gellhorn comes to not only match his 'grace under pressure,' but outdoes Hemingway. She is the 'discovery' of the film." In an interview prior to Cannes, he also acknowledged his desire to keep Gellhorn's reputation vital: "Though she was on the covers of major magazines and is to this day regarded by many as the greatest war correspondent of all time, she has often been reduced to 'Hemingway's third wife,' a mere footnote in his life... She was the first correspondent ashore at Omaha Beach, and one of the first correspondents at Dachau."
Martha Gellhorn (1908-1998) covered even the U.S. invasion of Panama -- at the age of 81. She witnessed D-Day by locking herself in the toilet of a hospital ship. Her 17 books include The Face of War: according to Kaufman, "Marie Colvin -- [the journalist] who was killed in Syria six months ago -- carried this book everywhere." (Gellhorn also co-wrote a play, Love Goes To Press, which is having a New York revival at the Mint Theater in June.)
Kaufman assembled an impressive cast -- including his old pal Robert Duvall in an un-credited role as a Russian officer -- partly on the strength of the screenplay by Jerry Stahl and Barbara Turner. "Clive read the script -- which was sent through a mutual friend -- and called me saying: 'I think this is a stormin' script and I want to do it.'"
When the director met Nicole Kidman at a party, "She said, 'I want to work with you. What are you doing?' he recalled. He told her about Hemingway & Gellhorn. "Two days later, she called me and said, 'I just read the script'" (apparently having obtained it through unofficial channels). She was ready to play what Kaufman called "the model of that 1930s-40s smart, tough babe. "

Hemingway & Gellhorn unfolds in the turbulent Spain of 1936: they fall for each other and the Spanish Civil War simultaneously. Their personal passion is mixed with the exhilaration of anti-fascist resistance and solidarity around them. As in The Unbearable Lightness of Being, Kaufman presents the sensuality of his protagonists against a charged political backdrop -- and with a sophisticated visual style.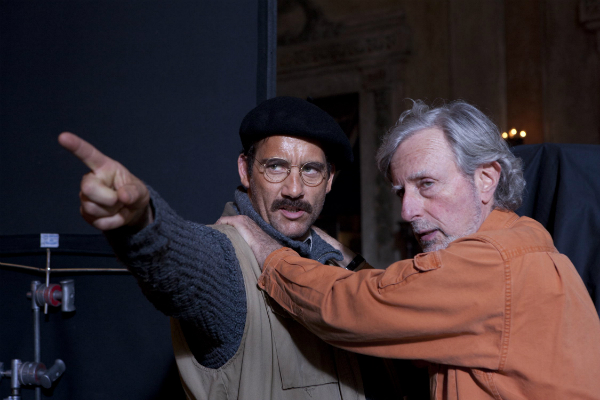 Karen Ballard/HBO
The two films are linked by the brilliant work of legendary editor Walter Murch: he once again seamlessly inserts the characters into archival footage, layering "authentic" images with newly shot ones. "Now we were able to 'nest' our characters back into the archival footage," Kaufman said in Cannes. "You have to authenticate your film when you're putting people in the past."
In my recently-published book on Kaufman's work, I propose that no other living American director has so consistently and successfully made movies for adults, tackling sensuality, artistic creation, and manipulation by authorities (governmental as well as technological). But he has found that it is not easy to get such films made by studios in our current climate. HBO turned out to be the right fit.
"What are the qualities and themes that inspire and stimulate us?" he asked. "Can we make films for adults? That's why I'm glad to be working for HBO. As a kid in Chicago, I always went to films to learn how to behave -- from James Cagney, to learn how to walk, for instance. In a lot of films now, behavior seems irrelevant. What interests me are body language, morality, and how the actor informs the character."

As in Henry and June (the first film to receive the NC-17 rating), a female writer's rite of passage is anchored in her romantic relationship to a legendary American novelist. Like Miller with Anais Nin, Hemingway exists only through Gellhorn's perception: it's her story, and he emerges less with less nobility than her. Despite the absence of female directors in the 2012 Cannes Film Festival competition, at least we have a feminist portrait with Hemingway & Gellhorn.
Annette Insdorf, Director of Undergraduate Film Studies at Columbia University, is the author of PHILIP KAUFMAN.
Popular in the Community