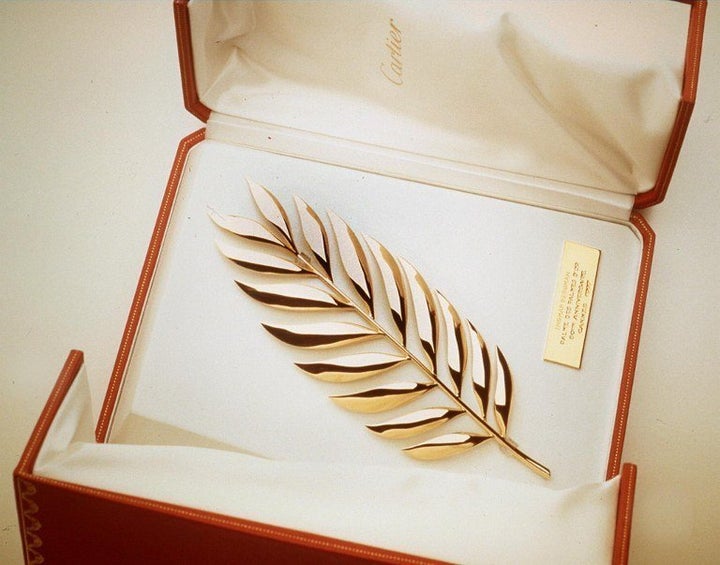 An alternative version of this article will appear in the July issue of Avenue Magazine.
I have hitched a night flight on a friend's G5 to Nice and arrive at Teterboro early enough to sneak three trunks filled with 10 Marchesa gowns onto the plane.
Lisa Maria Falcone arrives with gargantuan Vuitton luggage that fills the rest of the fuselage. We are headed to the 65th Cannes Film Festival. Lisa is making her maiden voyage as the producer of the hot film, Mud.
We are now part of 200,000 filmmakers, dealmakers, studio execs, stars, journalists, models, hookers and yachtsmen ready to see 22 films in competition and party till dawn for 12 days.
Festival executives affected by the global financial crisis are delirious with numerous fashion houses acting as major underwriters and allow them to brand and control the press coverage on the red carpets, sometimes overshadowing the very films the festival is presenting. Sponsors who control the after parties are Chanel, Armani, Calvin Klein, Gucci, Chopard, L'Oreal and de Grisogono. For the unconnected, there is a party price list ranging from $1,500 for a simple cocktail to $10,000 for something teeming with stars in a villa in the hills.
My Brad Pitt look-alike driver, Sebastien, takes me to the Carlton Hotel for the fifth year. As a sign of the times, the facade is devoid of promotion banners, which go for $460,000. Only small portraits of Sacha Baron Cohen as The Dictator grace the entrance where Sacha appeared in full costume on a camel in the driveway earlier that day.
2,300 people in black tie race down the Croisette to the Palais for the opening night of Focus Features's Moonrise Kingdom, a quirky tale of adolescent love set at camp in 1965. Tilda Swinton in Haider Ackerman; Bruce Willis, Ed Norton, Jason Schwartzman, James Schamus and Bill Murray blowing kisses ascend the famous red steps with director Wes Anderson under a huge poster of Marilyn Monroe blowing out candles on a birthday cake. This is the 50th anniversary of her death.
Adding star power are the legendary Jane Fonda, Eva Longoria, Freida Pinto, and Alec Baldwin, who is carrying his 28-year-old fiancée, yoga instructor Hilaria Thomas, up the steps with his film crew in tow. Alec and Jimmy Toback are shooting a documentary, Seduced and Abandoned, about two men attempting to get financing for another film and are omnipresent capturing the entire festival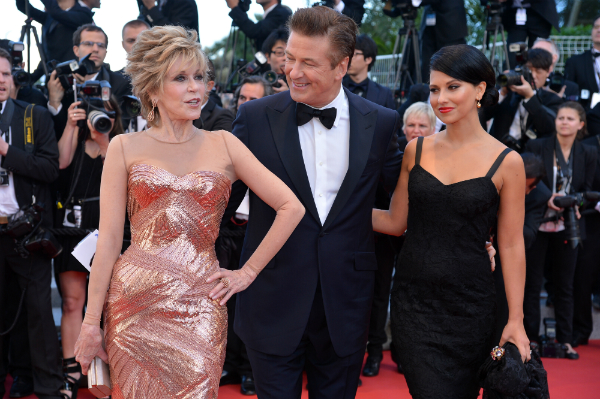 Jane Fonda, Alec Baldwin and Hilaria Thomas at Opening Night
Berenice Bejo introduces jury president Nanni Moretti (an Italian director) and jurors Alexander Payne, Ewan McGregor, Jean-Paul Gaultier in a floor length trouser skirt and Diane Kruger who steals the show in a billowing aqua silk Giambattista Valli as she floats across the stage. Moretti lords over his jurors with more secrecy than seen in his last movie, We Have a Pope.
Alec, Jimmy and producer Michael Mailer hold court late every night at a corner table on the Carlton Terrace next to a life-size sculpture of Marilyn Monroe with her skirt blowing from a non-existing subway. Toback inhales french fries, and Alec eats protein under the watchful eye of Hilaria, having just lost 35 pounds since singing and dancing in Rock of Ages.
Jacques Audiard's screening of Rust and Bone at the Palais is packed. Marion Cotillard portrays a marine-park trainer who loses her legs to a killer whale. Stop. It's a love story. A street fighter, played by Belgian Matthias Schoenaerts, literally sweeps her off her digitally-erased feet and I promise you, she is walking into the Oscars this year in a Dior Haute Couture.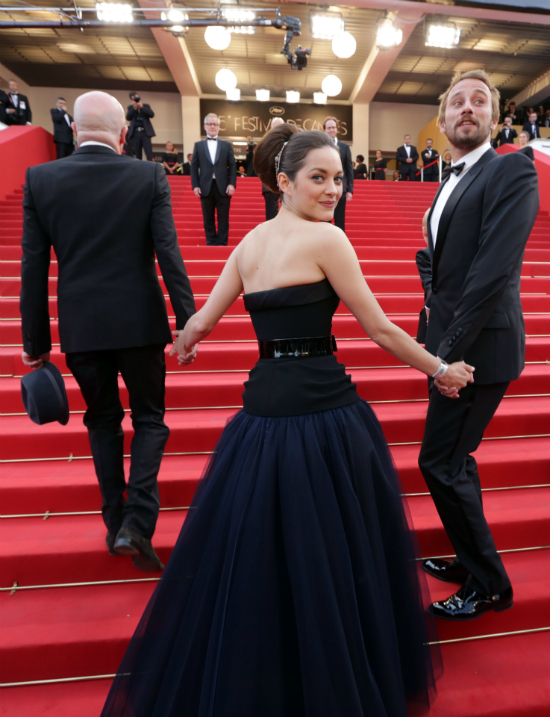 Co-Stars Marion Cotillard & Matthias Schoenaerts at Rust and Bone premiere
Roman Polanski attends a screening of Roman Polanski: A Film Memoir, his own shocking and heartbreaking answer to Marina Zenovich's explosive documentary for HBO, Roman Polanski: Wanted and Desired. Polanski believes that Marina's film possibly antagonized the American judicial system resulting in his house arrest in Gstaad.
Shailene Woodley and Ezra Miller are squirming on a stage at the Martinez Hotel as Sean Penn awards them the Chopard Trophy as "the new generation of socially conscious stars with outstanding promise." Variety's Steven Gaydos and Festival President Gilles Jacob sanction this honor as Chopard's Caroline Scheufele gushes about her love of cinema.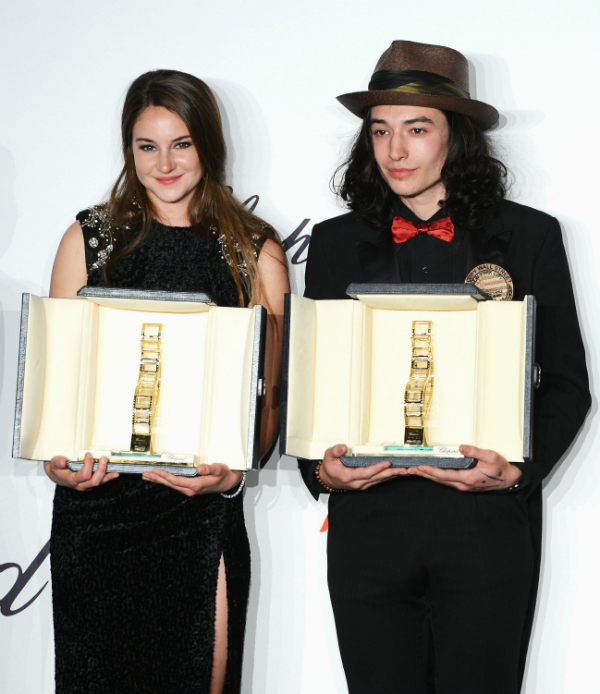 Shailene Woodley & Ezra Miller; recipients of the Trophée Chopard for Best Young Actor and Actress of the Year
It is Calvin Klein and the Independent Filmmaker Project (Gotham Awards producers) that make the biggest splash of star power at their "women in film" party. The festival is criticized for not featuring any female directors, but tonight the glamour girls make up for it in abundance.
At the restored Villa St. George, honorees Naomi Watts, Diane Kruger, Jessica Chastain, Ludivine Sagnier and Shailene Woodley all impeccably dressed in Calvin Klein hang out in the gigantic pool house that doubles for a ballroom. Denise Rich's boyfriend sold the villa to the present owners eight years ago. Fashionistas caught on camera by Alec and Jimmy are thrilled to be in a Hollywood documentary.
Back at the Carlton Terrace, Alec and Jimmy are deep in conversation and always eating. They have interviewed and/or secured commitments from Francis Ford Coppola, Marty Scorsese, Bernardo Bertolucci, Roman Polanski, Graydon Carter, Jeffrey Katzenberg, Ron Meyer, Jessica Chastain and Diane Kruger. The film has taken on a serious patina of filmmaking.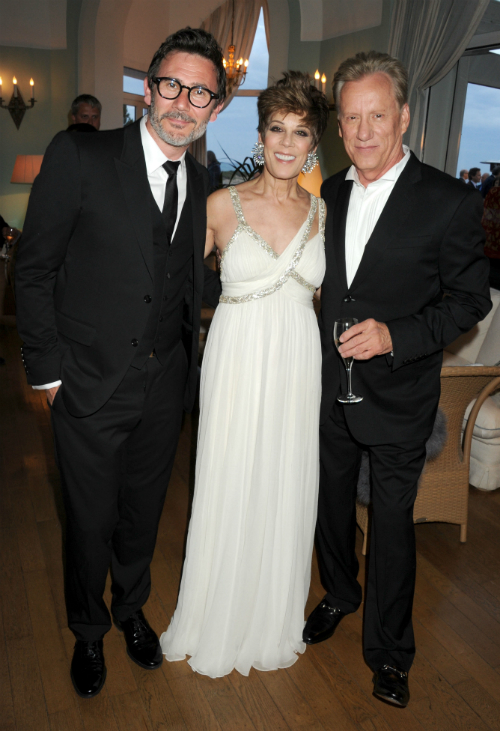 Michel Hazanavicius, Me, James Woods
This morning's screening is Fox Searchlight's Sundance winner Beasts of the Southern Wild, for which Benh Zeitlin wins the best directorial debut. He is the only American in competition to win.
Last year's jury president Robert De Niro hosts a four hour restored version of the 1984 classic Once Upon A Time In America directed by Sergio Leone.
De Niro is teary eyed as he arrives hearing Ennio Morricone's haunting score. Gucci underwrites the restoration. Co-stars Robert De Niro, James Woods, Elizabeth McGovern, Jennifer Connelly and 83-year-old Morricone receive a thunderous ovation. The original 4 ½ hour version premiered in Cannes in 1984.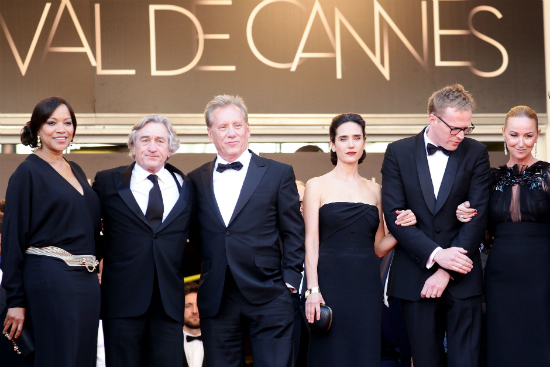 Once Upon a Time in America premiere; Grace Hightower De Niro, Robert De Niro, James Woods, Jennifer Connelly, Paul Bettany and Frida Giannini (Creative Director of Gucci)
Robert De Niro actually says to Elizabeth McGovern in the film, "We haven't seen each other in 30 years," and 30 years later he wasn't kidding. Elizabeth was 19 and Jennifer 12 when the film was shot over nine months in New York, Paris, Rome, Venice, Montreal and New Jersey chronicling Jewish gangsters during prohibition.
Michael Mailer tells me his father, Norman Mailer, wrote the original screenplay based on a novel, The Hoods which ended in a lawsuit Norman won against Sergio Leone.
Giorgio Armani, who speaks little English, hosts cocktails on his 213-foot yacht, Main, for Sean Penn who is staying with him. He also sponsors "Haiti Carnival in Cannes."
Paul Haggis, Sean's girlfriend Petra Nemcova and festival president Thierry Fremaux co-host the Haitian fundraiser making it another official festival event. Sean is a past jury president. Event chairs are Bryan Lourd, MPAA 's Chris Dodd and Roberta Armani.
Billionaire Larry Ellison's low key twenty-five-year-old daughter Megan Ellison is the youngest film financier in town. She is sitting next to Jessica Chastain, who stars in two of her movies; Lawless and Kathryn Bigalow's Zero Dark Thirty about the hunt for Bin Laden. Megan is also producing films for Bennett Miller, Spike Jones and David O. Russell. Paul Allen has an after party on his 303-foot yacht, Tatoosh.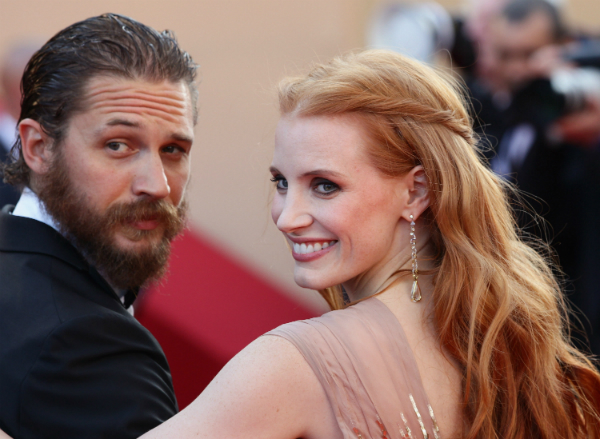 Co-stars Tom Hardy and Jessica Chastain at Lawless premiere
Harvey Weinstein's Lawless is this morning's wake-up screening, inspired by The Wettest County in the World, Matt Bondurant's 2008 fictionalized account of his bootlegging ancestors' exploits in 1930s Franklin, Virginia.
At the press conference Nick Cave says he wrote the screenplay and score at the same time, somewhat of a hat trick.
Shia LaBeouf, Guy Pearce, Gary Oldman, Mia Wasikowska, Jessica Chastain and hot new kids Tom Hardy and Jason Clarke, who will be seen in Baz Lurhaman's The Great Gatsby, surround Australian director John Hillcoat as they all field questions at the press conference about the film's fact, fiction and violence.
The lunch invite from man-about-town Jean Pigozzi says "Please don't bring any extra guests or bodyguards, the place is safe." His Villa Dorane, filled with the world greatest collection of erotic African Art is the setting for an indoor buffet. Traditionally we lounge pool side overlooking the sea and try not to stare at Mick Jagger, but this year Mick is appearing on SNL. Brett Ratner has Mick's bedroom.
Graydon Carter's swanky soiree at the Hotel Du Cap celebrates Vanity Fair's unparalleled dominance in culture coverage and is co-hosted by Gucci's Creative Director, Frida Giannini and Gucci's gazillionaire Francois-Henri Pinault with wife Salma Hayek. Also celebrated is Martin Scorsesse's The Film Foundation's restoration of Once Upon a Time in America and its cast.
Graydon and Anna hold court greeting Charlotte Casiraghi, the new face of Gucci and granddaughter of Princess Grace of Monaco. Also present are Paul Bettany, Simon Curtis, David Geffen with Jeffrey Katzenberg, Tom Freston, Wendi Murdoch and Jane Buffet who are staying on his boat, Ron Burkle, Fox's Jim Gianopulos, Chris Albrecht, Daphne Guiness, Jeff Berg and Len Blavatnik, who chats up Michel Hazanavicius about a Russian war script he is writing.
Hundreds of young people arrive for the after-party on the terrace like lemmings and teeter on the brink of the cliff looking to be rescued by love in lieu of jumping into the Mediterranean.
Sony Classics and Michael Haneke's Amour about love and death is screened, sends a charge through the packed audience and instantly becomes the odds-on favorite to win the Palme d'Or.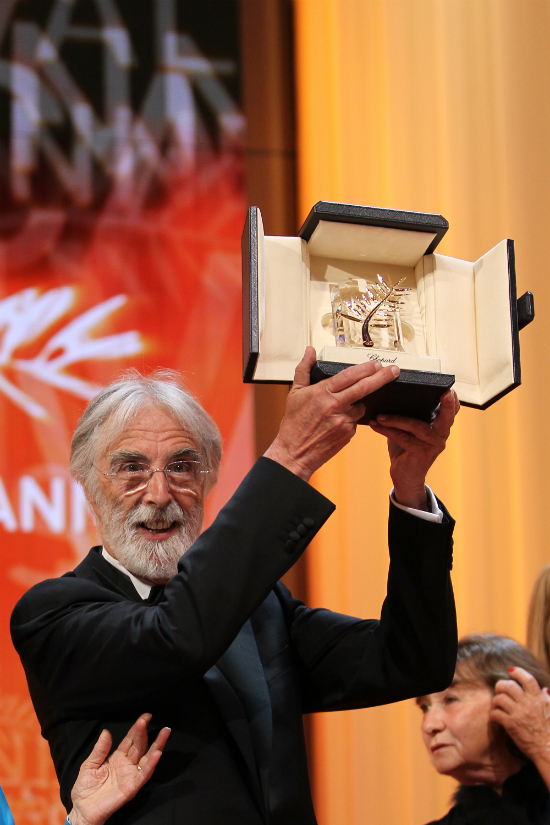 Michael Haneke winner of the Palme d'Or for L'amour
Len Blavatnik and Harvey Weinstein invite the powerful to lunch on board Len's yacht "My Odessa," now moored at a dock in the Old Port because it is blustery and pouring. Lawless director John Hillcoat and his Lawless cast show up in foul weather gear. Harvey invites everyone to an afternoon screening of his latest crowd pleaser, The Sapphires.
Len, the new owner of Mel Gibson's Icon Films, is talking about producing The Butler, a story about a White House butler who serves Eisenhower through Reagan and is set during the civil rights movement. Forest Whitaker and Oprah Winfrey start production, as butler and wife, in New Orleans in July with Lee Daniels directing Danny Strong's intriguing script.
During the deluge Sir Ronald Cohen and his wife, Sharon invite me to tea at their historic villa, Les Glaieuls, built in 1880 originally on 100 acres in the hills of Cannes. There is a 50-seat screening room and spa designed by Sir Norman Foster built below the Olympic pool. Political modern art is everywhere.
An intimate dinner is hosted by Charles Finch, the English entrepreneur at Tetou Restaurant, which looks more like Noah's Ark tonight hanging over the sea in this storm.
The joint, famous for hot bouillabaisse since 1920, serves Bryan Lourd, Adrien Brody and Brit's Jeremy Irons, Jeremy Thomas and Barnaby Thompson. Eligible bachelor Nat Rothschild worries about his dog left on his humongous sailboat and leaves to tend to man's best friend.
Jeremy Irons welcomes media to his documentary, Trashed. In the film, as he stands on piles of garbage, he adds a touch of class as the narrator, elegantly dressed in distressed English country clothes, a neck scarf and a beat up straw hat. His message: "We are doomed."
On the heels of Cannes success story last year, The Artist The Weinstein Company shows clips from Paul Thomas Anderson's The Master, David O. Russell's The Silver Linings Playbook and the razzle-dazzle show stopper of the entire festival, Quentin Tarantino's Django Unchained, leaving the press wondering if Oscar lightning can strike a third year in a row for the Academy King.
Swiss watch makers IWC Schaffhausen's George Kern, Finch's Quarterly Review's Charles Finch and Nick Foulkes host a seated Filmmakers Dinner at the Hotel du Cap-Eden-Roc for 200 including Robert De Niro, Terry Gilliam, Lee Daniels, Ray Liotta, Karolina Kurkova and Petra Nemcova.
This is a big night for Switzerland as another Swiss jewelry and watch company, Chopard holds a "Mystery" party in a secret villa.
A cryptic drawing more like a treasure map is released that shows a winding loop in the hills to circle endlessly and somewhere, sometime, someone will tell you which driveway to stop at.
Sean "Diddy" Combs with flame Cassie Ventura brings his own camera crew filming a documentary for his new network. Alec Baldwin is still schlepping his cameramen as they squeeze equipment into buggies for the ride to the top of the Villa Domergue where they are wowed with retro-tinged jazz, disco tunes, a dancer from Cirque du Soleil spinning in a giant metallic cube frame, and a fortune-teller predicting fame and fortune.
Paul Allen's annual boat bash blowout on the Tatoosh is Cuban-themed with Cyndi Lauper singing. The billionaire humorously plays "Purple Rain" on the guitar with his new band for Antonio Banderas, Tom Freston, Sony Classics' Michael Barker and Tom Bernard and trash connoisseur Jeremy Irons.
There is a mad dash for heartthrob Brad Pitt's, Killing Them Softly directed by Andrew Dominik. Press shove, push and frantically wave their multi-colored credentials in the face of officious and bored French police.
In the vein of Once Upon a Time in America and Lawless we admire another gangster flick with guns, blood, violent beatings, bullets and skulls exploding filmed with a few winks and laughs. The forbidden questions to Mr. Pitt about exactly where and when he will wed Angelina this summer in the South of France are asked anyway.
Sharon Cohen hosts a buffet lunch in the garden of her villa for her WestEnd Films. Director Neil Jordan with Gemma Arterton and Sam Riley are special guests as film clips of their film Byzantium produced by Sharon are shown in the screening room below the pool. Posters announce The Invisible Woman, which is in production now. Ralph Fiennes directs himself in every scene as Charles Dickens in this true story. Who knew after fathering 10 children he took an 18-year-old mistress/actress portrayed by Felicity Jones?
Francis Ford Coppola has owned the rights to Jack Kerouac's On the Road for over 30 years. This morning, his son Roman shows the long-awaited film version of the Beat generation classic, which is a love triangle between Kristen Stewart, Garrett Hedlund and Sam Riley. Viggo Mortensen and Kirsten Dunst co-star. Roman and director Walter Salles bring the entire cast to the press conference.
Strolling into the Carlton, Jimmy Toback and Michael Mailer toss me an extra ticket for Bernardo Bertolucci's Me and You, about a troubled teen and his sister over a weekend. The Palais doors close in 20 minutes. I change faster than Superman in a phone booth and slide into my seat just in front of Bertolucci as he is wheeled into the theater. He has had two failed back operations, will never walk again and directed the film from his wheelchair. He gets a thunderous standing ovation for his artistry and bravery.
Fawaz Gruosi, founder of de Grisogono located in Geneva, throws an extravaganza at the Eden Roc. First you collect your party pass strategically located in his showroom at The Martinez Hotel. Four hulking security guards block the door. Once inside, it's like Ali Baba's cave. Denise DeLuca shows me a 45-carat fancy yellow diamond, briolette-cut orange sapphires and gem-encrusted watches that take your breath away. The stones are mounted like a lighthouse sending signals yachts across the Croisette on the sea.
The party starts with a fashion show by Lithuanian Juozas Statkevicius of pale chiffon gowns floating down an outdoor runway with enough jewels to rival the Queen of England, which dazzle the crowd.
Fawaz hovers over dinner guests Heidi Klum, Milla Jovovich, Andrea Casiraghi and Tatiana Santo Domingo, Eugenie Niarchos, Kelly Rutherford, and Carine and Vladimir Roitfeld. Paris and Nicky Hilton tell me my spiky punk hairdo is "hot."
Lee Daniels shows the The Paperboy. Nicole Kidman is a trailer park Brigitte Bardot. Zac Efron, all grown up, lusts after Nicole wearing underpants. Matthew McConaughey is a hunky gay journalist and John Cusack is the crazy inmate on death-row in this erotic thriller set in1960s Florida.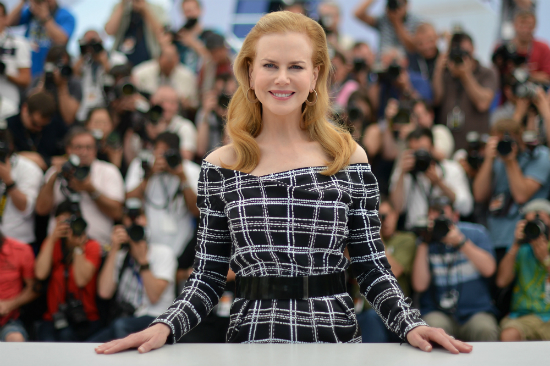 Nicole Kidman at photo call for Lee Daniels' The Paperboy
Lee unabashedly announces at the press conference that his deep understanding of the nutty and violent characters are taken from his personal experience. As he says, "I know these people. My brother is in jail for 18 years for murder." He had Nicole interview seven real women who have long-term relationships with men in jail, adding insight to her stunning performance.
Arriving on Lady Joy, Denise Rich's 170-foot yacht, appropriately disheveled but always chic, Denise whisks me off to her stateroom and instructs her professional hair and make-up staff to fluff me up.
Famous love birds Kanye West and Kim Kardashian are staying on the boat and have just come up from their bedroom for lunch. Kim and I stare at each other's makeup as I sit as close as possible without invading her space. Her skin is like butter. She is quite beautiful.
I rant about every film I have seen. It's a tad too early for Kanye and Kim to digest all this information. Soft-spoken Kanye tells me about his short art film Cruel Summer. Filmed in Qatar, the short is inspired by the Romeo and Juliet-esque classic Middle Eastern tale Antar and Abla.
David Geffen sends the "Rising Sun's" tender, which is larger than my New York Park Avenue apartment to pick me up for lunch. At 453-feet, I board the sixth largest yacht in the world built by Larry Ellison for over $200 million and redesigned by Geffen. From sea level, I climb four flights to greet David. I have three words for him, "Not big enough."
Lunch is with Keith Urban and Wendi Murdoch on an outdoor deck. Again I rant about every film but to a more astute reception. David tells me he never leaves the boat. Would you, if you had a basketball court on board?
On the tender back to shore Keith tells me Nicole and he are moving to the South of France in September for three months while she films Grace of Monaco, a drama about thesp-turned-princess Grace Kelly.
At the du Cap the annual amfAR Cinema Against AIDS Gala raises $11 million.
Some event chairs are Janet Jackson, Milla Jovovich, Kylie Minogue, Karl Lagerfeld, Michel Hazanavicius and Berenice Bejo, Harvey Weinstein and amfAR chairman Kenneth Cole.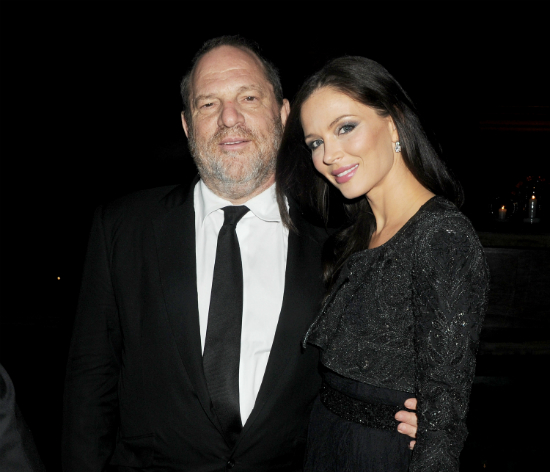 Harvey Weinstein and Georgina Chapman
I'm seated with auctioneer Simon de Pury, Heidi Klum in see-thru silver Marchesa gown and my new best friend Kim Kardashian in a dress that exposes her "Jolie leg," this year's favorite accessory.
Others who attend are Dasha Zhukova, Antonio Banderas, Kirsten Dunst, Garrett Hedlund, Liya Kebede, Julianna Margulies, Joely Richardson, Rose McGowan, Benicio Del Toro, Georgina Chapman, Michelle Rodriguez, producer Charles Cohen and tennis great Boris Becker.
The best auction item is a chance to star in a short film by Karl Lagerfeld, produced by Harvey Weinstein, which sold twice for a total of €850,000.
Cosmopolis is David Cronenberg's adaptation of a 2003 Don DeLillo novel where Rob Pattinson portrays a young Manhattan multibillionaire who goes for a drug-fueled sex-and-death spin in a white stretch limo across town to visit his barber. It's a lyrical tale. A denunciation of modern and aesthetic capitalism, and a serious showcase for Pattinson's talent.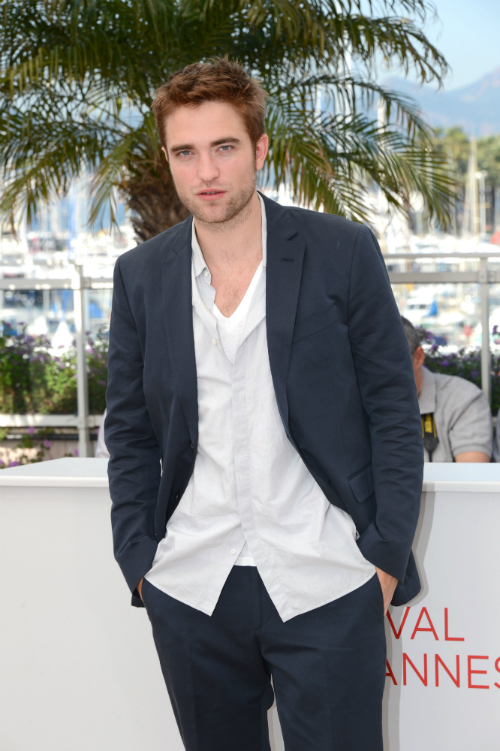 Robert Pattinson at photo call for Cosmopolis
Philip Kaufman conducts a master class showing clips from all his films leading up to his HBO film, Hemingway & Gellhorn with Nicole Kidman and Clive Owen, who are in the audience. Their film recounts one of the great legendary literary romances between Ernest Hemingway and war correspondent Martha Gellhorn.
Nicole, publicist Leslee Dart and I chat in The Majestic Hotel in between interviews as a flash storm rages outside. Nicole and Clive are scheduled to do joint interviews about their tempestuous courtship. Clive is missing. Fifteen drenched fans squeeze into the lift with him en route to Nicole. The elevator gets stuck for more than 20 horrific minutes, three people faint and the paramedics eventually come to the rescue.
Last year, 33-year-old Jeff Nichols from Arkansas won the Critics' Week sidebar with his second film, Take Shelter, a Sony Classics release.
Jeff is back at the last morning press screening. He has emerged as the hot American to watch. He wrote and directed, Mud where Matthew McConaughey distinguishes himself in a riveting performance as a grubby (but gorgeous) fugitive hiding on an island after a murder over his girlfriend's affections. Reese Witherspoon is the femme fatale. Two coming of age boys are the heart of this Stand By Me meets Huckleberry Finn film.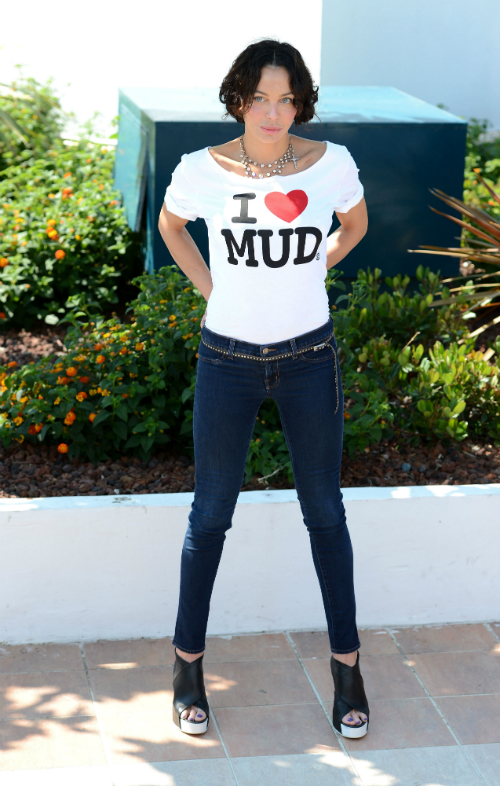 Producer of Mud, Lisa Maria Falcone
As a guest of Lisa Maria Falcone, I attend the premiere and after party of Mud and hang out with producer Sarah Green, Trudie and Sting.
As expected at the closing ceremony, Michael Haneke's Amour wins the Palme d'Or and Sony Classics is looking at numerous Oscar nominations beyond Best Foreign Film.
This year, the Americans present five sensational films, directed by top talent with Oscar worthy performances and masterful filmmaking coincidentally revealing our violent society, but none win.
Flying to New York I stop in London and stay with Lord and Lady Astor. Annabel Astor is the mother of Samantha Cameron, wife of the Prime Minister. Tom Hooper invites me on the set of Les Miserables on the one day most cast members are working. I am mesmerized as Hugh Jackman, Russell Crowe, Sacha Baron Cohen, Eddie Redmayne, Helena Bonham Carter and Amanda Seyfried beautifully sing one of the world's most famous musicals. The next day I am in awe of Ralph Fiennes directing himself in every scene as Charles Dickens on the set of The Invisible Woman. Stephen Daldry, presently producing the Olympic ceremonies invites me to the 7th anniversary performance of Billy Elliot. I meet 20 Billys. Ten Billys perform a fantastic finale with proud papa Elton John embracing them all.
What does everyone in London want to know? "What are the hot films from Cannes?"
Last year, three of the nine Oscar nominated films premiered in Cannes. This year the Hollywood jewels in the crown are locked away in post-production secrecy. No one knows if The Great Gatsby and Argo from Warner Brothers; Les Miserables from Universal; Life of Pi from Fox; Django Unchained, The Master and Silver Linings Playbook from The Weinstein Company; Zero Dark Thirty and The Dark Knight Rises from Sony; Not Fade Away and Flight from Paramount; and Lincoln from Dreamworks released by Disney's Touchstone banner or many more will go the distance.
What a year. Let the race begin.
Calling all HuffPost superfans!
Sign up for membership to become a founding member and help shape HuffPost's next chapter