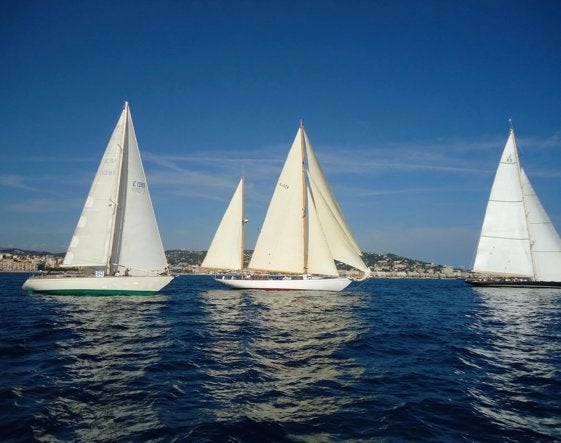 Mother nature more often than not dictates success or failure for a given outdoor adventure. Extreme temperature, wind and precipitation normally don't bode well for success.
But in classic yacht racing at least one of those things, wind, is necessary.
Officine Panerai, the high-end Italian watchmaker, runs its Classic Yachts Challenge on 10 different courses annually, from Antigua to the Isle of Wight to Nantucket. The place I went the last week in September -- Cannes, France -- is where the Challenge holds its final and most important regatta. Cannes, of course, is best known for its film festivals but, being perched on the Mediterranean, it is also a lovely spot for sailing.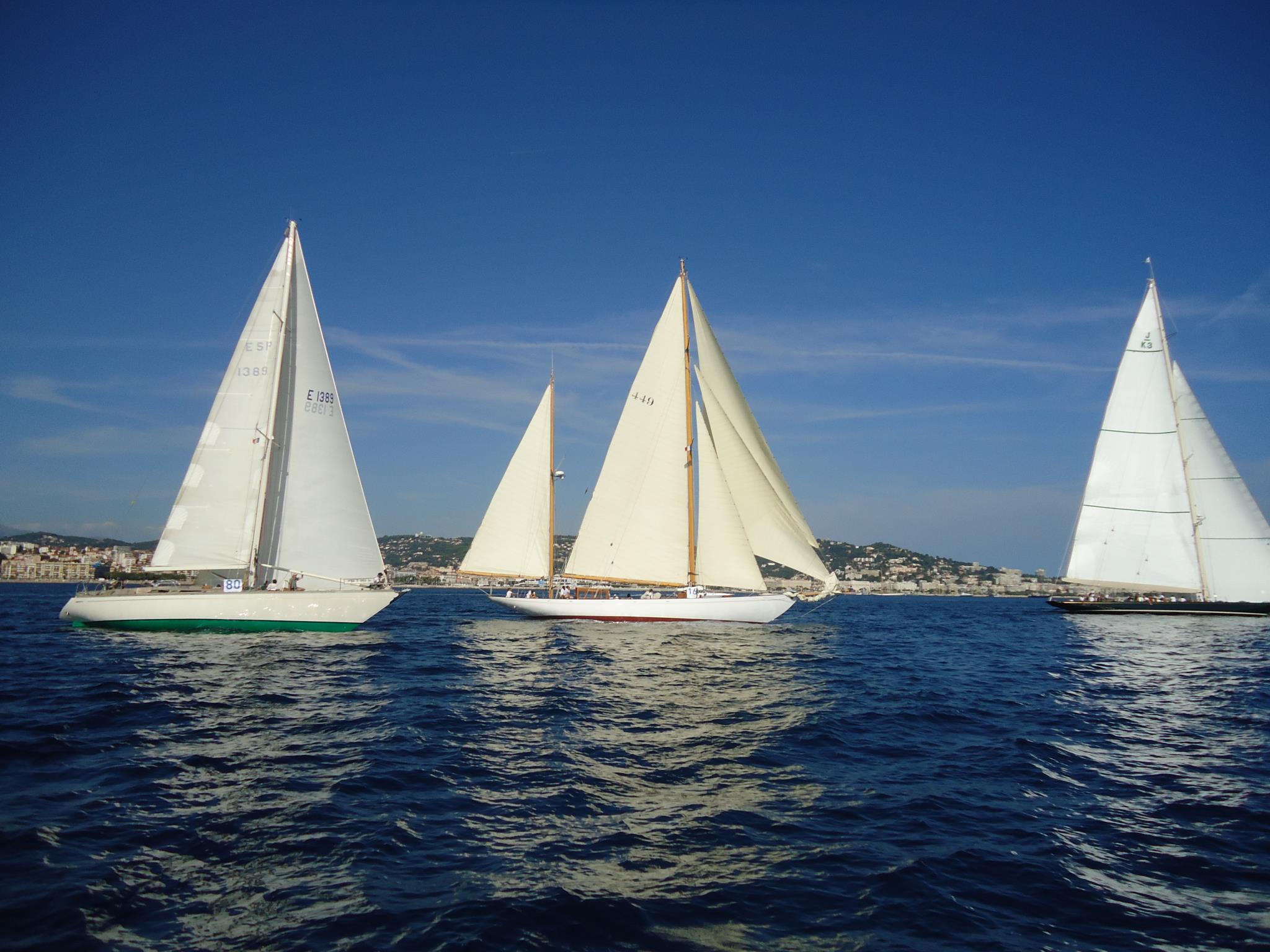 Angelo Bonati, Panerai's CEO, even made an appearance. In 2006, the sailing enthusiast spied Eilean, a luxury yacht built in 1936 that was rusted and run down in a harbor in Antigua. It was far cry from 1982, when the band Duran Duran filmed its lavish "Rio" music video on it. Bonati, 59, decided to refurbish the 72-foot, 50-ton classic, which has crossed the Atlantic three dozen times. After 40,000 hours of repairs, Eilean was ready to race last year and is now a flagship for Panerai.
While I've done my share of adventures on land and in the air, I've never raced sailboats. So before I was allowed to climb aboard Eilean, I needed screening for possible sea-sickness. A yacht race can last several hours and, once started, cannot be stopped to let off a sick passenger.
On my first full day in Cannes then, I joined up with a photographer boat. Because I'm susceptible to motion sickness, I was worried. I took a precautionary Dramamine an hour before heading out and also wore a wrist-band. Earlier in the week, winds topping 20 knots had pushed Eilean 45 degrees to the water during her races.
We spent the afternoon zipping around the choppy Mediterranean, catching sailing crews in action. Six different race classes were being run simultaneously with boats ranging from 25 feet to 125 feet (and costing a few hundred thousand to several million dollars). At the end of the day I was fine, and the following morning boarded Eilean [boat #449, photo at top] for the race.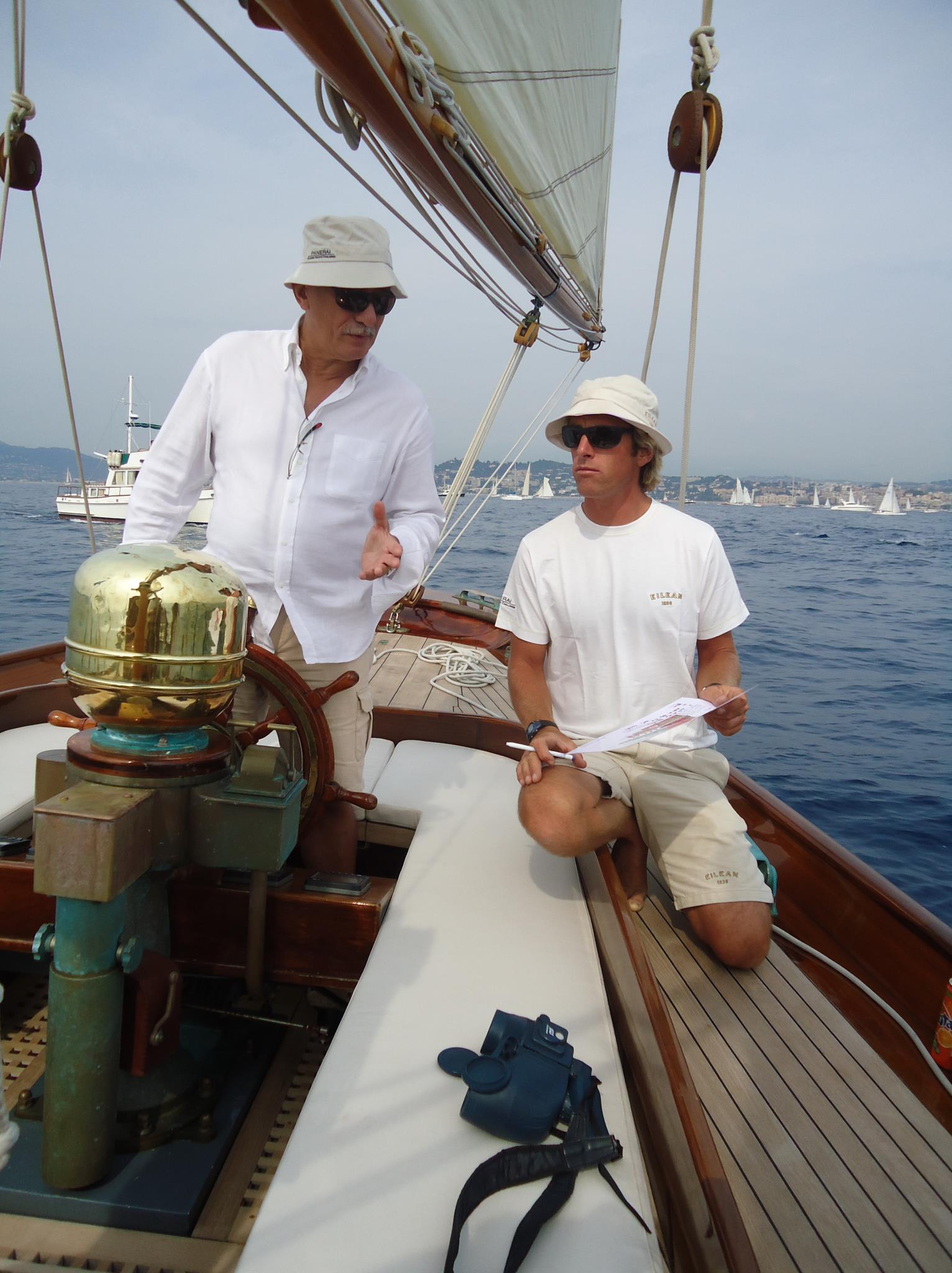 Eilean runs with a crew of 14 -- four full-timers and 10 part-timers. In addition, two optional spots are open. Bonati took the first to help steer and I would do whatever else was needed (think physical labor like winding wench pulleys). Andrew Cully, the 34-year-old captain took me under his wing.
Going into that final race day, of four that week, Eilean was only in 11th place within its class (Epoch Marconis greater than 15 meters) so there was some nervousness. The day before, the boat had collided with another yacht -- an Italian job -- and nobody wanted a repeat. Plus a top-10 finish would be nice. While Eilean isn't designed purely for speed (its comfort and beauty compromise that), it is supposed to be competitive.
As we motored out, I watched the crew go about its business. Using variables like wind speed and direction, wave height, course points, etc, they hoisted and set Eilean's various sails for the best ride. Because of noise, most crew communication is done via hand signals. It's a bit like watching a giant calculus equation quietly unfold before your eyes.
When we reached the start, our sails were up and we were ready for the sound of the gun. I was pumped! But then came the first news of a delay for lack of wind. Huh? We hung at the start for almost an hour, receiving intermittent updates on the radio. Finally, Cully said the race was cancelled and that all 58 boats would have to motor back to port. Just like that, we were done.
Bonati, disappointed like the rest of us, figures that the morning's haze and cloud cover did not allow enough of an air and water temperature difference to create meaningful wind. He shook his head, said it happens, but rarely. The results from the previous racing days would stand, and the 2011 season was over.
While I didn't get the experience of racing like I had hoped, I did get a nice introduction to Cannes and a basic grounding in classic yachts. I now know the difference between bow and helm, jib sail and main sail -- and what a "wench" is. And, as an adrenaline junkie, I don't plan to write off classic yachts yet. I would like to get in a real race before passing judgment. My plan is to try again in Antigua next April. Rumor has it Duran Duran will be there to celebrate the 30-year anniversary of its "Rio" video.
That's cool, for sure, but I'm personally more interested in the thrill of 20-knot winds in a boat bobbing 45 degrees to a choppy sea. Of course, the counterpoint is I'm also terrified by the horrors of sea-sickness.