The moment you sit down with Tiffany Johnson, 27, you know you're dealing with a different kind of girl. Her larger than life smile, infectiously delightful personality, with an ever-eclectic and very-personal taste in clothing doesn't scream, but certainly approaches, taps you on the shoulder and let's you know, "I'm here."
She's spent years as an associate producer for some of the biggest award shows on television, and contributing here and there behind the scenes on film projects for friends, lending her sense of style, keen eye for artistic gold, and aura of comfortability to every set she sets foot on. But her fashion is what always makes you notice.
It's no surprise that her directorial debut, short-film Ladylike -- produced alongside Jenapher Forline Moguel and Lena Waithe, producer of Dear White People -- oozes with the charisma, drips with style, and depicts two women who are decided about their fashion; the film even chose to first promote the film with a look-book to show off the characters' style.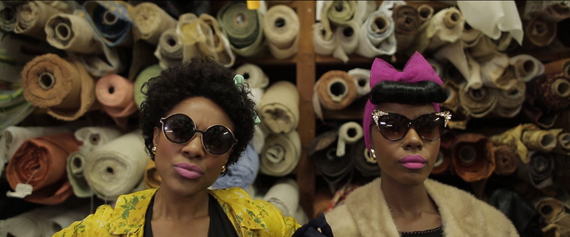 "The image we wanted for these girls was a retro, vintage aesthetic," explains Johnson. "We wanted them to embody what it means to be a lady, all of the style and glamour of what it meant -- to them -- to be 'Ladylike.'"
The film exploded into Johnson's mind while perusing Pinterest (per usual) one day. She saw images she describes as: "no face, no perfectly coifed hair, just a torso from neck to crinoline-skirt hemline. And of course that ax, so properly poised in her dainty hands." That photo was part of a series of photos by an artist, depicting women in 50s dresses holding "particularly sinister tools." From an ax to a chainsaw, the juxtaposition of the women and the deadly items in their hands left her inspired, "I must give these ladies a story."
You ask Tiffany about how this story came to life with these two striking women, it all started with the imagery painted in her mind about how it looked, felt, sounded, and how these women addressed the world.
"We strived for it to not look 'costumey,' but realistic; the goal was for it to look natural, that these were women that just embrace this style daily," she recalls with a passionate smile. "It's their armor, their uniform for their [very different] line of work."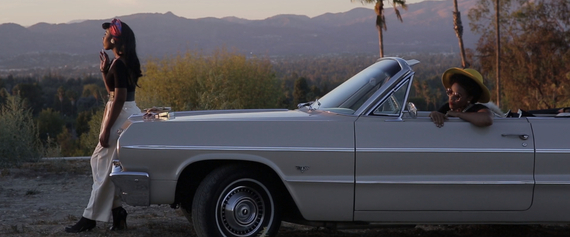 In the Ladylike world, the ladies live a glitzy life of leisure by day, but by night, the sky isn't the only thing that takes a turn for the dark.
"They're mysterious. Anything you learn about the kind of people they are comes through their interaction." said Nick Williams, the film's co-writer and best friend of Johnson since they met in film-school. "We intentionally don't give the audience much more than that. What I love about the two of them, they remind me of the embodiment of what Viola Davis said in her SAG Award speech when she talked about just being a woman, multifaceted, complex, emotional, happy and sad, not having to fall into some stereotype of being women of color."
Johnson and Williams cast Nia Jervier & Courtney Sauls (both recently appearing in the critically acclaimed "Dear White People") to play the leading ladies, Vaughn & Harlan, respectively.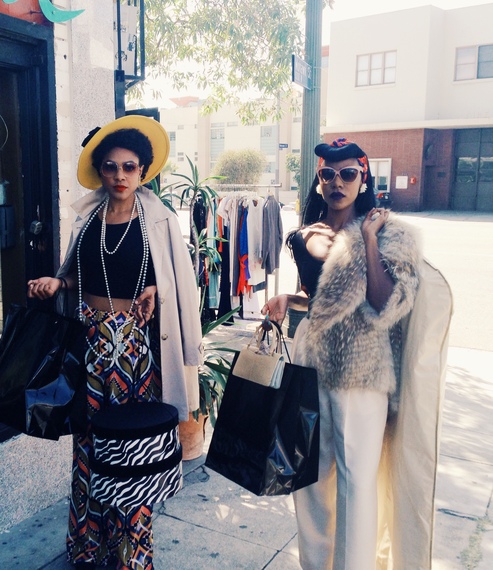 "The inspiration for Vaughn (Jervier) was Bianca Jagger. She sort of pioneered menswear for women," said Johnson, "she was all about structure, being polished with clean lines, muted colors, always put together. For Harlan (Sauls) we went a little more to the opposite of that. She's all about color, fun, girly looks. She's in prints, a little bit louder."
Just last month Ladylike saw it's first-ever audience -- at the "Diversity In Cannes" showcase during the Cannes Film Festival. No one was more surprised to be in France than Johnson -- born, raised, and current resident of Compton -- so imagine her surprise when she won the Director's Choice Award.
"I was floored, ecstatic... beyond overjoyed... shocked and honored," Tiffany recalled. "This was the first time that anyone has even seen the film other than the people who worked on it. I was just excited to be a part of the showcase, it was nice to know that our film was chosen as one of their favorites."