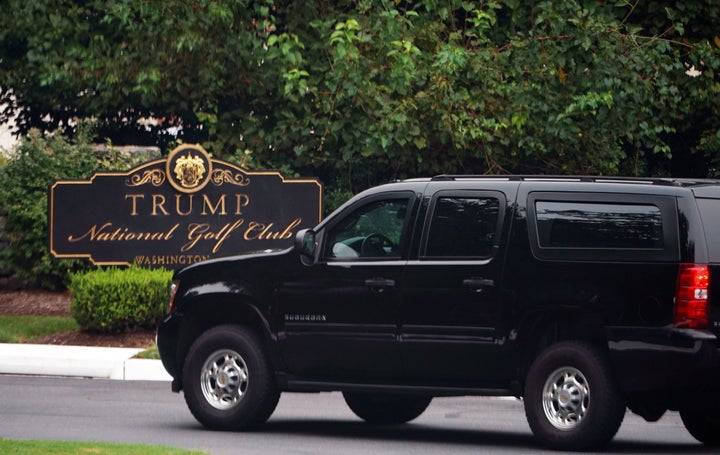 An association of canoers and kayakers has filed a lawsuit charging that the Department of Homeland Security and the U.S. Coast Guard are illegally barring access to a major stretch of the Potomac River for President Donald Trump's frequent golf outings in Virginia.
In a break with tradition from protocol for other presidents, DHS over a year ago imposed a "permanent security zone" that bars the public's right to use a popular two-mile stretch of the Potomac River from shore to shore along the Trump National Golf Club in Loudoun County whenever Trump decides to travel there to golf.
For other presidents, usually only temporary and very limited restrictions had been imposed on areas accessible to the public.
In addition, there is also no adequate notice when the security zone will be enforced, upending river users' recreational plans. Access has typically been denied over weekends and holidays, when members of the public are looking forward to getting out on the Potomac.
The DHS and Coast Guard are illegally "revoking the public's legal right to access and enjoy a popular section of the Potomac River" whenever Trump decides to drop in on Trump National, the suit states. River access has been denied at least 32 times, according to the suit, while the president has the freedom to spend nearly 25 percent of his days golfing.
"It is unconscionable that public access to this important stretch of the Potomac ... is cast into doubt so the president can play golf at his whim," canoe association chairman Barbara Brown said in a statement.
During his campaign, Trump repeatedly criticized President Barack Obama for what he called his too-frequent golf getaways from the White House. As of early August, Trump had visited golf courses on 154 days in less than two years in office, according to NBC. That's already nearly half the days Obama spent golfing during his entire eight years in the White House.
"If I win, I may never see my property ... again," Trump said at a 2016 campaign rally. "But because I'm going to be working for you, I'm not going to have time to go golfing, believe me."
The DHS permanent security zone is open-ended. Following a flood of complaints, DHS pledged to revisit and revise the rule but has yet to do so a year after initial criticism.
"DHS was legally required to address these comments and revise the rule — and it promised that it would do so," the suit states. "Nevertheless, the rule has been in place for more than a full year and DHS has taken no steps to revise the rule or otherwise respond to comment in any way."
Anne Harkavy, director of Democracy Forward, said in a statement: "The president can retreat to his private club and play golf, but the administration can't shirk its obligation to hear and respond to the public's concerns about a permanent deprivation of legal access to part of the Potomac River."
Popular in the Community